Schedule New Jobs on the Move & Enable Your Team to Quickly Create Digital Job Sheets in Advance. For a 14-Day Free Trial, click here!
A Full Featured Job Sheet Management System Designed to Manage and Streamline Your Entire Business from Start to End.
Create, Assign & Schedule Jobs
Track Staff & Monitor Progress
Authorise & Invoice Immediately
Create, Customise & Email Quotes – Anytime, Anywhere!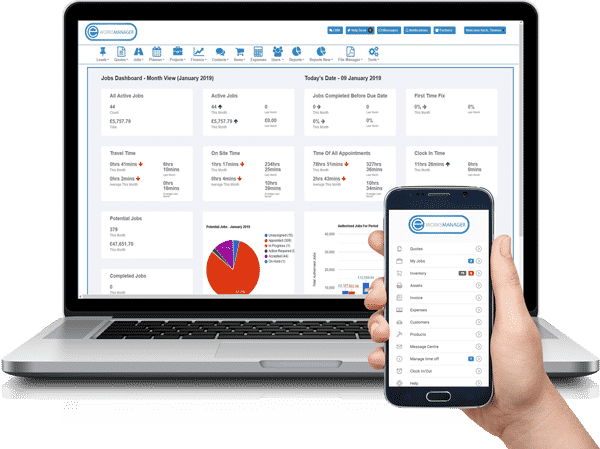 Are you searching for a way to improve your electrical engineering business? Our app and software places everything you need in one easy-to-use location and allows you to focus where you need it most. Click here to find out more.
When you have your own team going out into the field to fix electrical problems for clients, you need to make sure that they are always completing their jobs to the highest efficiency possible. This can include improving the way you organise and assign jobs and the way in which your employees feed back to you about what is happening on the job. If you are looking for a software which can handle this, ours is ready to help you no matter what size of team you have.
Electrical Engineering App Software
How Can Eworks Manager's Electrical Engineering App Help Electricians?
As an electrician, managing your workforce can be a difficult task. This is especially true when organizing all those electrical rewires and electrical test certificates. But not when you use Eworks Manager, a leading Job Management Software, to keep your business organised and productive.
Re-active Jobs
Knowing where your electricians are located and what jobs they are working on is easy when using Eworks Manager. We have a Built-In Job Tracker, allowing you to easily manage and track your workforce out in the field. The office can access all work schedules, showing you the current status and location of all their jobs. If a customer were to call in, your office has an update for them at the tip of their fingers. Also, with our new Vehicle Tracking Feature, you can track your drivers on the job within our all-in-one system. The notifications section and Triggers takes away any delay there may be with communication. If a recommendation is added from site or if additional parts are needed to complete the job, your field worker can action this. He can action this either from the Mobile App and your office can be notified immediately.
Planned Work
Eworks Manager is a great way to streamline your Time Management and job organisation. The Job Planner helps staff schedule new jobs on your desktop, mobile or tablet. Our Job Sheets Feature enables your team to quickly create digital job sheets in advance for each planned job and edit job sheets on the move. All job sheets are digital, and all certificates may be completed and signed for onsite. Booking in your recurring jobs is easy too. Eworks will store them in your system and they will re-appear closer to the appointment time so you can assign a worker on the job.
Electrical Engineers
Our software is built specifically for electrical companies. It assists them with the organisation of finances, past, current, and future jobs. It also enables you and your customers to log jobs, plan jobs, send job SMS notifications, monitor inventory, and more.
Management
Our Job Sheet Feature allows your team to easily take before and after photos of all jobs with our mobile App. This is handy for management approval and evidence of work. Notifications can be sent to management once a job is complete or if management intervention is required. This ensures that all jobs are authorized and sent for invoicing on time and that any queries can be dealt with quickly. The system automatically calculates each electricians time traveling a job, traveling to and from site as well as time on site. This helps when it comes to invoicing your customer for travel and labour charges and makes sure you calculate your staff wages correctly.
Contact us about a free trial today.
Call us: +44 0151 653 1926
Email us: info@eworksmanager.co.uk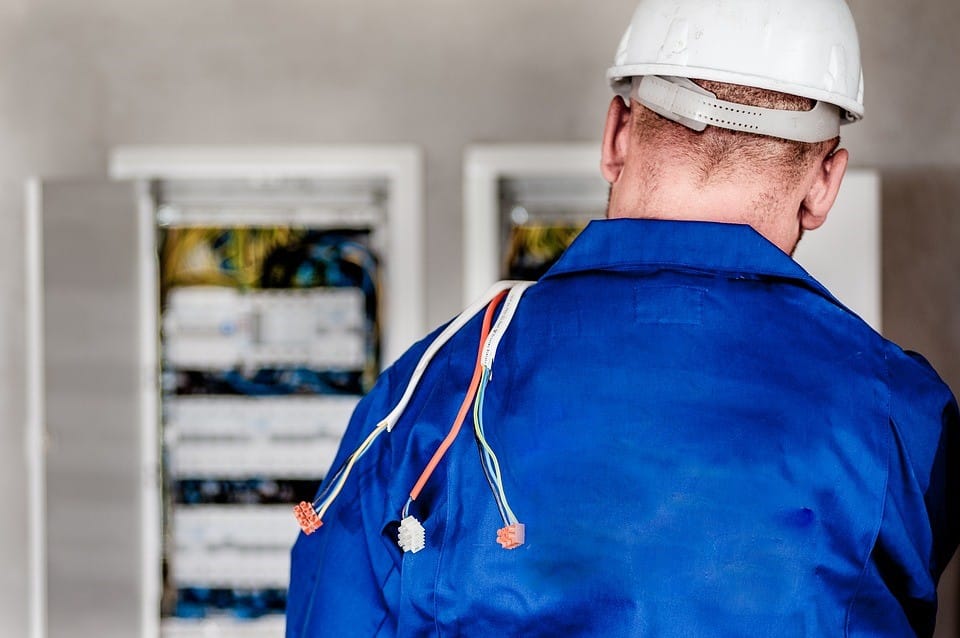 FAQs
1Workforce Management
Create jobs or job sheets from the admin system, or the app. Assign jobs to a project or multiple trade jobs.
See More
2Real-Time Job Tracker
Real-time job tracking helps you react to all the issues that happen in the field that you don't know about, instantly!
See More
3Workforce Planner
We have a virtual whiteboard that allows you to see all your jobs that have been booked in.
See More
4Monitor Employees
The APP will take your employee's current location and then give them directions to their next job.
See More
5Does This Software Improve Efficiency?
When used correctly, our electrical engineer software should be able to improve the efficiency of both you and everyone in your team. This is done through the use of our electrical engineering app, the main portal and software which everyone on the team will have access to. From here, they can log jobs, send out quotes, and more. With everything being handled from one app, they can spend more time focusing on whatever job happens to be at hand.
6How Will It Benefit My Employees?
As the employer, you need to know where your employees are and how they are getting on with their jobs. The app allows you to know this thanks to its real-time tracker. Your employees will be able to update the tracker with each part of the job, allowing them to monitor their own speed and efficiency while completing it, and it will also give them the location and directions to the next one.
7How Will It Benefit Me as an Employer?
You as the employer will have a whole range of different tasks to complete to make your business run as smoothly as possible. This latest technology in electrical engineering which we are offering completely streamlines the process. You have everything you need for assigning jobs and sending out quotes and invoices in one easy place which can even be accessed through an app on your smartphone.