Assign All Your Expense Costs to Your Jobs and Report and Manage Operative Payments
Expenses Management System
Eworks Manager's Expenses system allows you to track all your expenses when they occur. This will enable costs to be assigned to specific jobs and lets you to see the exact profit of every job and customer.
Assign all your expense costs to your jobs. You can also report and manage operative payments while your staff are out on the job. These may include petrol money or receipts for new materials.
With
the system
you can create billable or non-billable expenses. This ensures that you have a log of every expense, whenever you may need it. You can also
track
all of your staffs and subcontractor's costs and keep a history on the system, so you can know what your company is paying out.
With our Expense Management System, you can furthermore assign expenses to a
project
and
invoice
or
purchase
orders. This allows you to make quick work or seeing what needs to be paid and calculate profit accordingly.
We have many
reports
available for expenses on the system. For example, you can see how much a job cost you to complete. You can also see how much profit you made within a week, month or year.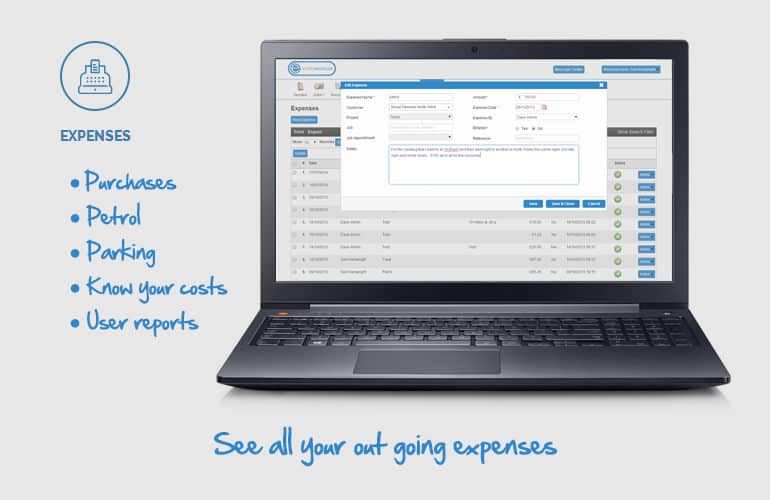 Unlike most Job Management Software out there, we provide constant
support
to all our customers. Whether you have a quick question, require some more training on the admin system or the
App
or require a bespoke to change, we are always here to help with our fantastic customer service team and 24/7 support email. Eworks Manager offers many company benefits and above all is just one feature. So if you're ready to ditch the paperwork and start your Eworks journey, sign up for your
14-day free trial
and try it out for yourself!
If you would like to hear more about our expenses feature, please call our office directly or pop us over an email. We would love to chat and book in a free online demonstration of the software and discuss this feature in more depth.
Call us: +44 0151 653 1926
Email us: info@eworksmanager.co.uk
---
Record Expenses
All purchases can be recorded as they happen
Take a photo
You can add a photo of receipts for proof of purchase in the app
Record Costs
Asses your purchases, change price, record directly
Manage Expenses
Eworks allows you to manage your payments to your users