Customer support holds the key to success for your field service business. With outstanding customer support, you can:
stand out in a competitive industry;
boost customer satisfaction;
grow your market share; and
ultimately increase your profits.
For this reason, you should be focused on improving your customer support, and you can use this guide to get started.
In our guide, we'll discuss: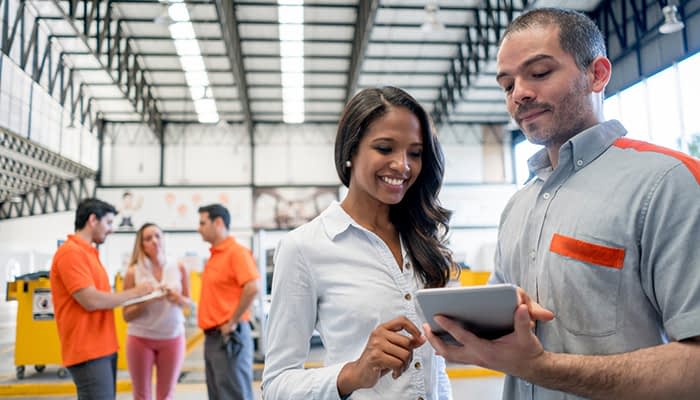 What is customer support?
Customer support includes all the activities required to assist customers with queries, issues and complaints to ensure they get the most out of the service they've purchased. Customer support aims to answer questions and solve problems to create positive experiences that promote customer satisfaction and ensure people return to your business.
How good customer support can help you stand out

To grow a successful field service business, you need to stand out in your industry to attract more customers, increase your market share and boost your profits. But it can be challenging to stand out when so many others offer the same or similar services. One of the most effective ways to differentiate your business from your competitors is to show your customers that they're your priority with good customer support.
Good customer support shows your clients that you're invested in their satisfaction. While your goal is to offer them a service, if they're unhappy, you're willing to go the extra mile to make them happy.
So, how does it help you stand out in your industry?
With good communication and excellent customer service skills, you can resolve issues quickly and efficiently and improve customer satisfaction. Happy customers will likely share their positive experiences with friends and family or post positive reviews online, helping to build a good reputation for your business. A good reputation will encourage potential customers to choose you over your competitors.
Customers seek positive experiences and will be more willing to spend their money when they know they'll get assistance from you before and after they purchase a service.

What can you do to improve customer support?

So, what steps can you take to start providing exceptional customer support that elevates customer satisfaction and differentiates your business from your competitors?
These simple yet effective tips will help you improve field service customer support.

Review your field service experience

Before you find ways to improve your customer support, look at your field service experience and find issues that could lead to complaints and queries. By addressing these concerns first, you could reduce your complaints, putting less stress on your support team.
Start by asking customers for feedback to gain insight into their experience. Multiple customers may share the same or similar complaints, helping you identify weaknesses or flaws in your processes. You can then use this information to improve your field service experience. To prevent mistakes that could lead to complaints, ensure your technicians are well-trained and have the right resources and tools to provide quality service.

Train your support team

Training gives customer support specialists the knowledge they need to assist customers and find the best solutions quickly and efficiently to increase customer satisfaction. Customer support training should cover service knowledge, soft skills like empathy, active listening and clear communication, and your procedures for dealing with customers.
With an in-depth knowledge of your service, soft skills for effective communication, and a plan of action, your team will have the confidence to deal with unhappy customers. It will also empower them to identify when a different course of action needs to be taken, take the initiative, and implement it. An autonomous team can assist customers quickly and efficiently, increasing your response time and customer satisfaction.

Categorise your tickets

Assigning support tickets to your staff as they come in is an inefficient way to manage queries and complaints. You must categorise your tickets to ensure the right person attends to the question or complaint and that your team attends to urgent complaints as soon as possible.
Categories like issue type, service, department and priority can speed up your resolution time and help your team manage the support ticket queue efficiently. For example, you can use the issue type category to assign a ticket to the specialist with the best skills to assist the customer or use the priority category to ensure pressing matters are dealt with immediately.

Simplify communication

When a customer is frustrated or dissatisfied, they want to be able to share their problem with you as soon as possible, which is why it's crucial to simplify communication.
The easiest way to simplify customer communication is to use a platform like Help Desk Software, where customers can log tickets on the system. Once a specialist has received a ticket, they can send a personalised questionnaire to the client to gather detailed information about the issue rather than communicating with the customer via telephone or email.

Streamline processes

Streamlining customer support processes will reduce time-consuming tasks and increase productivity, as your support team will have more time to complete more tickets. It will also help to improve your response time, which could boost customer satisfaction.
With Help Desk Software, you can store answers to frequently asked questions on the cloud-based system, which your employees can use to respond immediately to customers. Your team can also use the software to convert tickets into leads, quotes and jobs. All the information from the query or complaint will be added to the lead, quote or job so that the employee responsible has all the details required to take action and keep the customer happy.

Keep your employees happy

Your customer support team is responsible for creating positive experiences and building relationships with your customers. If your employees are unhappy and don't feel supported, their feelings could influence how they interact with customers. On the other hand, when your workers are happy and supported, they're more engaged at work. Engaged employees will go the extra mile for customers, doing everything possible to resolve issues and create positive experiences.
To keep your customer support specialists happy, follow these tips:

 

Provide your team with the right tools to do their work efficiently.
Share clear processes and guidelines for them to follow.
Avoid micromanaging specialists and trust them to do their jobs.
Reward their achievements.
Ready to improve your customer support? See what our Help Desk Software has to offer for free with a 14-day trial, or get in touch with our team to sign up or learn more.