Get Full Control of All Your Jobs. Keep Track of Your Projects and Never Lose a Job Sheet Again. For a 14-Day Free Trial, click here!
Job Management System - Job Tracking Software For Your Field Service Team
Improve job planning, streamline processes and workflows, and manage your projects and technicians with our all-in-one software.
Our software is the key to effective workload management. You can manage every aspect of your business in one place, including jobs, quotes, invoices, leads, inventory, assets, digital documents, and so much more.
Whether your goal is to improve time management, automate manual tasks, optimise your processes, or increase productivity, you can get the job done with Eworks Manager. Job scheduling, lead management, quoting, invoicing, vehicle tracking and route optimisation can all be done from our cloud-based platform. You can also create digital documents, manage customer support tickets, get a bird's eye view of your stock levels, and track asset maintenance jobs.
The highlight of our Job Management System is you can manage your projects and workforce wherever you are with our Mobile App. Whether you or your technicians are in the office or on-site, you can access all your work-related tasks and documents via your mobile devices.
We understand the challenges of field service management, and we've created a tool designed to meet your needs and help you optimise your operations, making it the perfect solution for your business.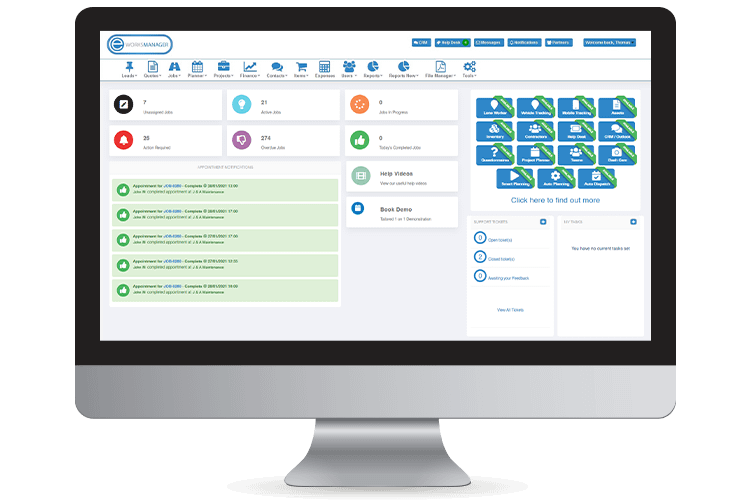 Schedule Jobs Ahead of Time
Create digital job sheets and assign them to your employees ahead of time to create a conflict-free schedule. Our Time Planner's drag-and-drop feature allows you to allocate a job or appointment to a technician's schedule, making it easier to view availability and assign jobs quickly. Once a job has been given to a technician, they can accept and change the appointment status with our Mobile App.
To save you even more time, you can schedule recurring jobs. With recurring jobs, you can determine how often you want the job to be repeated, whether it should reoccur daily, weekly, monthly or yearly, and if the recurring appointment should have an end date. You can also assign it to a specific user in your team if you need a particular employee to complete the task every time.
Our Job Tracking Software offers an efficient job scheduling solution and ensures that your technicians never miss an appointment because the schedule is automatically synced to your team's mobile devices.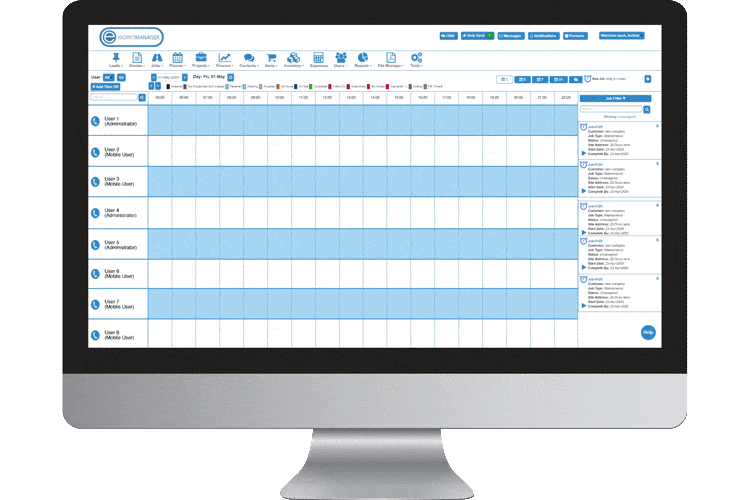 Support Your Technicians with Real-Time Tracking
Live Mobile Tracking lets you see where your technicians are in real-time to ensure their safety and support them when they're in the field.
With Live Mobile Tracking, you can quickly locate and monitor your technicians by tracking their mobile devices. The feature is ideal for your business if your employees work in isolated locations and you need to know where they are at all times for their safety. Tracking can be disabled after hours to ensure that tracking data is accurate.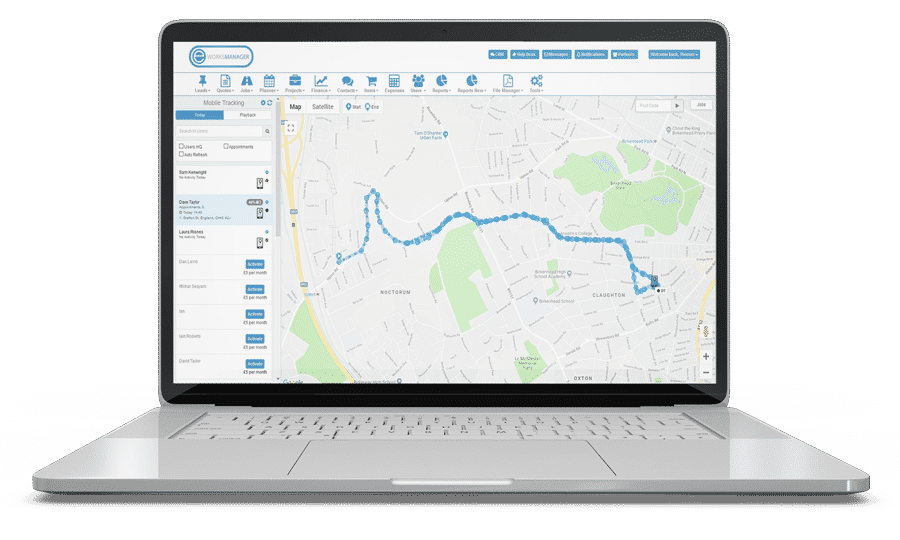 Collect Feedback with Questionnaires
Create and use questionnaires to collect feedback from your technicians and your customers. You can create a daily questionnaire for your field workers to complete to ensure they've arrived at the job site with the correct safety wear and following all other health and safety rules before they start working. They can quickly complete the questionnaire on their mobile devices before starting the day.
You can also use questionnaires to capture customer data or feedback on-site. Your clients can answer questions about the quality of the service to confirm that their needs and expectations have been met and share feedback. You can include checkboxes, drop-down lists and text fields in your custom questionnaires to collect valuable information.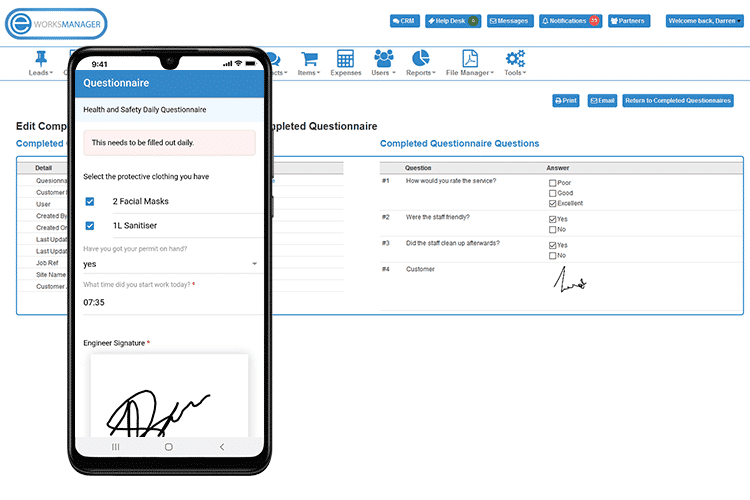 Protect Your Remote Technicians With Lone Worker
No matter where your field workers are, you can keep them safe with Lone Worker. When workers travel to remote or unsafe areas, they can activate the feature to start a timer, requiring them to check in regularly with your admin team. Once the worker has arrived safely at their destination, they can deactivate Lone Worker.
If the technician is in immediate danger, they can hold a panic button for three seconds to trigger a panic alert to let your admin team know they need help. Lone Worker is an efficient way for your employees to let you know if they're in danger, helping you keep them safe and get them out of the situation as quickly as possible.
Digitise Your Documents and Certificates
Our software reduces your paperwork by allowing you to digitise your documents and certificates. All your digital documents are stored on our cloud-based system, so you and your team can access them on-site via our Mobile App.
Your technicians can also use our Job Tracking Software to capture data digitally in the field to reduce paperwork. The information will automatically be added to our system, ensuring that confidential data is stored on a secure platform.
With Eworks Manager, you can avoid misplacing documents or forgetting to take them to job sites and keep all company information safe.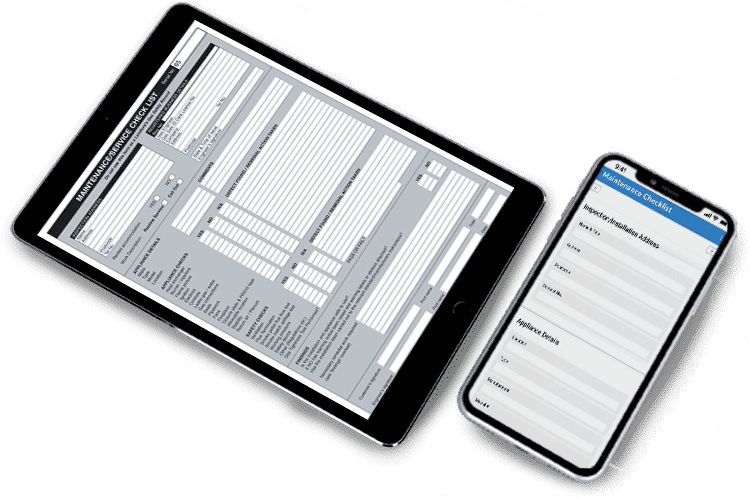 Generate Field Service Reports
With our Job Management System, you can ditch your spreadsheets and other reporting tools and use one platform to generate comprehensive reports for every area of your business. You can create various reports for jobs, quotes, customers, invoices, users, assets and vehicle tracking. Monitor your team's performance throughout the year and compare all your data in one place to determine if you're meeting your goals.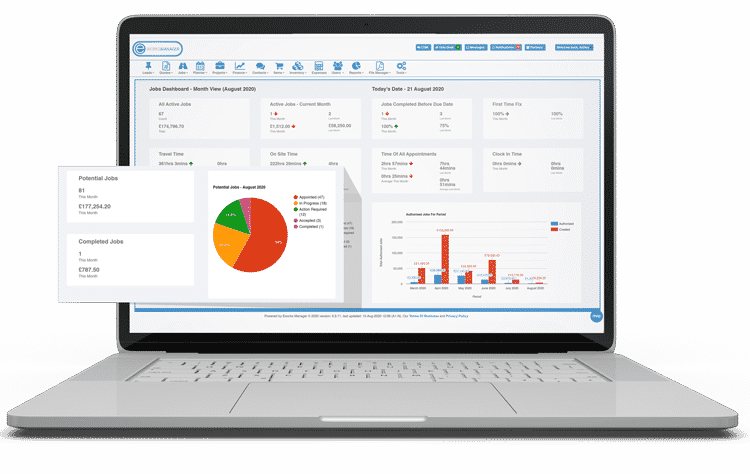 The Complete Business System
Some additional features that would benefit your business
Jobsheet & Workforce Management System FAQs
1What is a Job Management System?
A Job Management System is a cloud-based solution your business can use to manage your workload and workforce. The software is designed to streamline and automate manual tasks to increase efficiency and boost your team's productivity.
2What is job management?
Job management is your approach to managing your field service jobs. It includes coordinating your workforce's schedule, ensuring the worker with the right skills is assigned to a job, providing technicians with the necessary equipment and materials, and monitoring real-time location to keep employees on track to meet deadlines.
3How can I track my job progress?
Our Live Panel gives you a real-time overview of the jobs your team is working on, including whether they're on-site or on their way to a customer. The status of every job is displayed so you can see which jobs have been completed or are on hold.
4Is there an app to keep track of my work schedule?
Yes. You can use our Mobile App to manage your workforce's schedule and monitor job performance. Your technicians can view their schedules via the app and sync the data to their mobile calendars. You can download our Mobile App from the App Store or Google Play.
5How does a Job Management System improve my business profitability?
With a Job Management System, you can streamline and automate manual processes to make them more efficient and save time. Reducing busy work allows you to focus on delivering an outstanding service that sets you apart from your competitors and boosts customer satisfaction, helping to attract prospects, increase sales and improve profitability.