Have Full Control. Create, Manage and Assign Your Jobs Efficiently. For a 14-Day Free Trial, click here!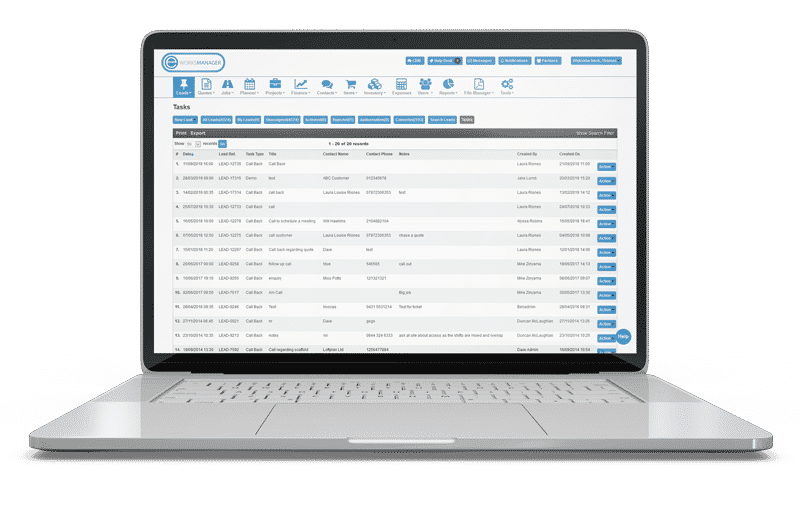 Re-active Jobs
Eworks Manager's App allows your team to see jobs on the move. Our Geo planner lets your customers log jobs effectively. It also allows your team to see the latest jobs that have been logged and in which areas they lie. Also, with our new Vehicle Tracking feature, you can live track your drivers on the job using our all in one system.
Planned Work
The job planner helps staff schedule new jobs on their desktop, mobile or tablet. Our job sheets feature enables your team to quickly create digital job sheets for each job in advance and also allows editing of job sheets on the move.
HVAC
Our software is built specifically for HVAC companies. It assists with the organisation of past, current and future jobs, finances and more. It enables you and your customers to log jobs, plan jobs, monitor inventory, track your vehicles, monitor employees in real time and much more.
Management
The job sheet feature allows your team to easily take before and after photos of each job with our App. This can be used for management approval and evidence of work. Customers can create support tickets and notifications can be sent to management before and after jobs are completed. You can see how long a job has taken and how many hours your staff have completed, in turn, allowing you to calculate staff wages efficiently.
Unlike most Job Management Softwares out there, we provide constant support to all our customers. Whether you have a quick question, need more training on the admin system or require a bespoke change, we are always here to help with our super friendly customer service team and 24/7 support email system. Eworks Manager offers many company benefits and, above all, is an all in one system. If you're ready to ditch the paperwork and start your Eworks journey, sign up for your 14-day FREE trial and try it out for yourself!
If you would like to get in touch and discuss our software further and why we think it could benefit your business, please feel free to call our office directly or send us an email. We would love to chat and book in a free online demonstration of the software, so you can see why we are the leading Job Management Software for yourself!
Call us: +44 0151 653 1926
Email us: info@eworksmanager.co.uk