Job Management Software for the Field Service Industry
QUOTE - MANAGE & TRACK - INVOICE
Manage all your Quotes, Jobs and Invoices in an all-in-one system with Eworks Manager.

Start Your Free Trial Now
Watch Our Video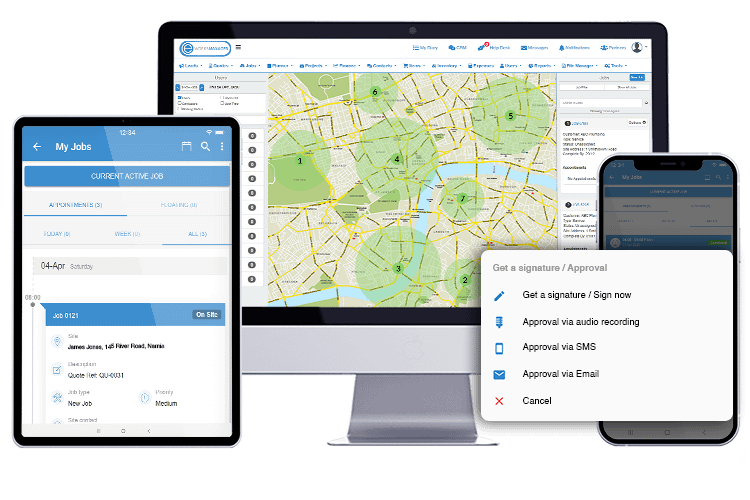 What makes us better
Features setting us apart

FREE CUSTOMER SUPPORT
Receive all the help you need to get up and running on the software in the shortest possible time. All online training and support is included in the subscription. Live chat, ticketing system & help videos are also available.

LONE WORKER
Ensure the safety of your field staff and customers with our Lone Worker feature. Allow your workers to check-in at periodic intervals and alert admin staff if a check-in is missed.

ADVANCED SCHEDULING
Switch your planning to Autopilot with our Advanced Scheduling. Auto Planning can save your business hours by accurately scheduling as many jobs as you want, allocating around 100 jobs per minute!
Job Management Software that will help you run your company with more intelligence and control
"Best Job Management Software Specialists" - Softech International Software Awards
Eworks Manager, the number one Job Management System! Our system comprises of 2 main elements, the admin system, and the app. When used together, you gain total control over your jobs and staff, allowing your company to run in the most streamlined, cost-effective way and achieve maximum profit from your companies' products and services.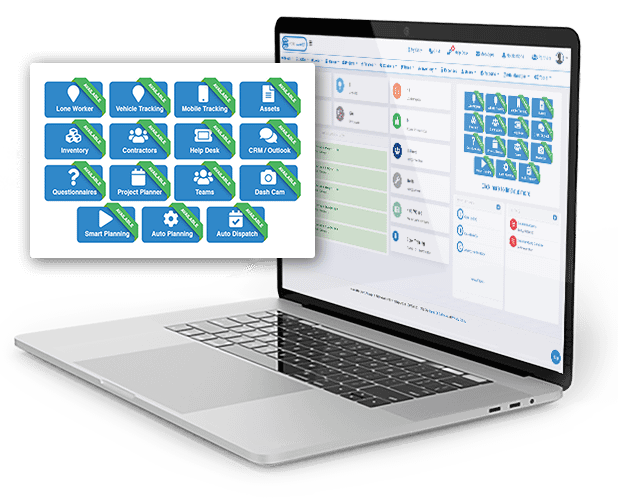 All in One Management & Planning System for
Total Control
---
Our admin system allows you to keep control of your WHOLE business in one place.
---
Our system gives your leaders the control they need over sales, planning, completing jobs and projects, purchasing, assets, inventory, invoicing and your workforce - Read more below about our fantastic features.
---
The System
The App
Free Trial
Quotes
Create, send, and manage quotes on the admin system and app while on-site!
Job Management
Create jobs or job sheets from the admin system or the app. Assign tasks to a project or multiple trade jobs.
Job Planner - Diaries
Our virtual whiteboard allows you to visualise all jobs with their relevant status.
Monitor Employees
The app takes your employee's current location and gives them directions to their next job.
Vehicle Tracking
Our system includes tracking and distribution of jobs to your vehicles.
Asset Management
Monitor, schedule, and maintain all your customer and company assets.
Inventory
Manage all your warehouse stock levels and control your van stock with ease.
Invoicing
With an invoicing system built in - plus integrations into top brands - you control your finances.
Power to the Mobile
Worker in their Hand
---
With a feature rich Mobile App, your workers and sub-contractors can achieve all that is required of them.
---
Our Mobile Application allows your mobile worker to have total control. SECURITY is a vital part of most companies, and we give you control over what you want your workers to see, don't worry!
---
The System
The App
Free Trial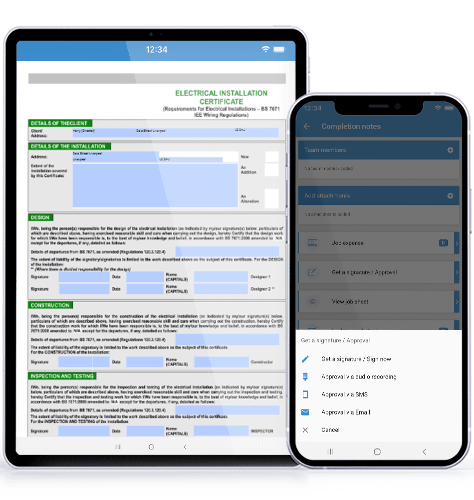 Offline Features
Wherever you are working, you can complete your jobs without any data connection.
Mobile Quote
Build a detailed quote with our Mobile Application. Simply add your customer and select from a range of pre-populated services.
Job Sheet
Getting signatures or approval from customers or operatives is built into our system. Your job sheet is automatically created based on the job information.
Photos
Take photos before and after jobs, attach them to the job sheet to send to your customer or for storage purposes. Even upload multiple photos at once.
Monitor Employee Location
The app takes your employee's current location and gives you sufficient data to plan more economically.
Mobile Documents
Any paper documents can be made digital into our system and can be complete from your mobile or tablet device.
Mobile Expense Tracking
Each cost can be assigned to a specific job on the go, enabling you to track all your expenses as and when they happen.
Mobile Invoicing
Creating invoices on the go allows you to send your invoice immediately after finishing a job.
The Complete Business System
Some of our Features That Will WOW you

Offline App feature
Our app works with Android and IOS devices, and with a built-in offline feature, you can guarantee your operatives work smoothly.

Built-in CRM software
With our CRM software built into the system you can manage your calls, emails, tasks, notes, complaints and see a full history. Our Outlook integration allows you to sync your internal emails for future refferals.

Customise your Documents
All your business documents can be customised and digitised into the Eworks Manager system. Whether it be your job cards or documents that need completing on the go.

Manage schedules
With a built-in diary system, you can plan, monitor and track all your jobs in real time. If things don't go to plan, our alert system will let you know.

Reporting
Eworks Manager has a built-in reporting plugin that can help you understand your companies performance, figures, sales, spending and a whole lot more, all in one place!

Customise in a few steps
Import your customers, products and users through our easy set up process which allows you to add custom fields to all sections.
Useful info
12-week Onboarding and Online Support Included
Available on Desktop and Mobile Devices
Fully Integrated Vehicle Tracking
Future Updates Included
No Large Setup Costs
Secure and Safe
Try our Software, FREE For 14-Days
Start a 14-day Free Trial. Unrestricted and Totally Free! Keep control of your entire business in one place.
Secured data. No fixed-term contracts. No card details needed.