What makes us better
Features setting us apart
FREE CUSTOMER SUPPORT
Receive all the help you need to get up and running on the software in the shortest possible time. All online training and support is included in the subscription. Live chat, ticketing system & help videos are also available.
EMBEDDED PAYMENTS
Accepting and reconciling payments is easier with our embedded payment products. EworksPay saves you time and money whilst offering a payment experience your customers will love.
ADVANCED SCHEDULING
Switch your planning to Autopilot with our Advanced Scheduling. Auto Planning can save your business hours by accurately scheduling as many jobs as you want, allocating around 100 jobs per minute!
Streamline your Business Operations with our Job Management Software
Are you looking for an effective way to manage your field service business? Eworks Manager is the solution you need.
Our user-friendly Job Management Software is designed to simplify your processes, from lead management to customer payments.
Let's look at how our software can help you streamline your operations and improve efficiency:
Lead Management: Nurture Leads and Increase Sales
Turn prospects into loyal customers. Use our software to qualify leads, track conversations, set reminders to follow up on leads, and centralise lead information. Ensure no sales opportunities are lost and convert more leads into paying customers.
Quote Management: Get Quotes to Clients Faster
Speed up your quoting process. Create a custom template to create and send quotes in less time. Track the status of quotes and send reminders to customers who have yet to accept quotes. Getting quotes to clients faster can help you make a good impression, stand out from your competition, and win more business.
Job Management: From Scheduling to Invoicing
Simplify job management with our all-in-one software. Use one system to schedule and assign jobs, track progress, get real-time updates, and complete billing. Store all information and job sheets in one place to minimise misunderstandings and delays and stay ahead of deadlines.
Digital Documents: Paperless Job Management
Say goodbye to paperwork forever. Digitise documents like contracts, inspection forms and compliance certificates. Share records with your field workers and give them access to documents in the field with our mobile app. Going digital saves time and reduces the possibility of anyone in your team misplacing confidential paperwork.
Asset Management: Optimise Maintenance Management
Transform how you track and manage assets. Monitor asset location, status, and maintenance history; schedule recurring maintenance jobs; and attach compliance certificates to assets. Our software can help you avoid breakdowns and expensive repairs to improve asset lifespan.
Inventory Management: Keep Stock in Check
Prevent overstocking or understocking. Track stock levels, create picking lists, do stock checks, and create purchase orders. Ensure you always have supplies for jobs, and avoid costs associated with excess inventory with Eworks Manager.
Purchase Order Management: Streamline Procurement
Simplify your procurement process. Create purchase orders, keep tabs on approvals, and track ordering costs. Centralising purchase order management saves time and reduces errors associated with manual procurement processes.
Invoice Management: Timely and Accurate Billing
Simplify your invoicing process. Create and send professional-looking invoices, track payment statuses, set up recurring invoices, and send reminders for overdue payments. Get invoices to clients in less time and get paid faster with our Invoice Software.
Embedded Payments: Simplify Customer Payments
Streamline your payment process with EworksPay, our embedded payment products. Accept customer payments online, over the phone, or in person using the app. Give your customers a fast, reliable way to pay and improve cash flow with integrated payments.
All in One Management & Planning System for Total Control
---
Our admin system allows you to manage your WHOLE business with one platform.
---
It gives your leaders complete control over sales, quoting, jobs and projects, assets, inventory, invoicing and your workforce. Learn more about our outstanding features below.
---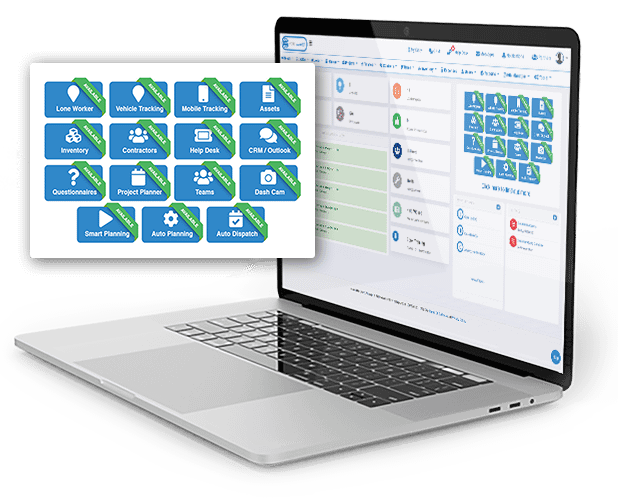 Power to the Mobile Worker in their Hand
---
Our feature-rich Mobile App gives your workers and sub-contractors the tools they need to do the job.
---
Our Mobile Application gives your mobile worker total control over their tasks and responsibilities. And because we know security is important to you, we give you complete control over the information your workers can see on the system.
---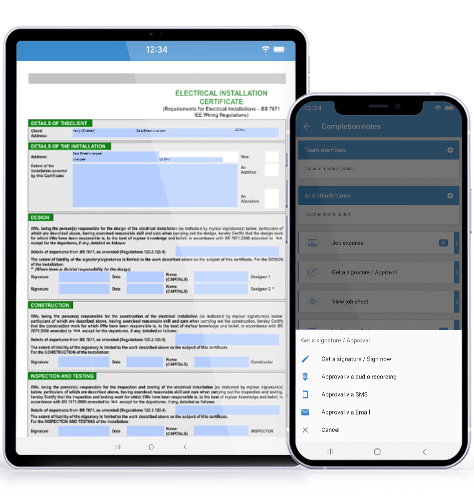 The Complete Business System
Some of our Features That Will WOW you
Our software integrations save you time and automate workflows - even while you sleep!
Connect seamlessly with 5,000+ external apps and automate workflows between them with our Zapier integration.
Use our API documentation to link with other popular platforms.
Automate repetitive tasks without writing any code.
Integrate your databases, email newsletters, forms, surveys and so much more.
Optimal Maintenance
2021-09-09
Eworks are one of the best Job management systems on the market today and their customer service team are always happy to help in whatever way they can. Learning a new system can be difficult, but Eworks and the team make this transition so easy with all of their support – would highly recommend using this software to streamline your entire business all within one system
Staff very supportive 24/7, the system has benefited my business massively over the past 3 years I have been using this software. Would highly recommend!
Great service, great company and have transformed the way we operate our business !
Excellent piece of software! Staff are very helpful and always have ongoing support. Wouldn't go anywhere else!
In 2015, I was part of a senior management team tasked with sourcing a resource allocation and CRM system with the ability to segregate security levels and user accountability for sales leads, quotes, project and job management, final costings and final invoicing.After many months of debate and research we choose Eworks Manager by Webpoint, which shone above all others. I was tasked to build the system into the current company's work flow and data, this took some time but was worth it.I was so impressed with Eworks Manager's ability to cover all aspects of sales and resource within a company and also the way you can adapt it to your specific requirements, the customer support by the Webpoint team, who go above and beyond, that when I set my own company up I choose Eworks Manager as our main resource and CRM system without hesitation.I cannot recommend Webpoint and Eworks Manager enough.
Useful info
12-week Onboarding and Online Support Included
Available on Desktop and Mobile Devices
Fully Integrated Vehicle Tracking
Future Updates Included
No Large Setup Costs
Secure and Safe