Create & Manage Recurring Maintenance Jobs with our Asset Management System. For a 14-Day Free Trial, click here!
Keep track of all your assets in one place with Asset Management Software
Our cloud-based Asset Management System streamlines asset management, making it easier to track and manage your equipment
With our Asset Management Software, you can create recurring maintenance jobs, manage your assets, and monitor your equipment and machinery in the field. You can easily keep track of your assets, including your office equipment, vehicles, tools, and customer assets. Our software uses cloud technology to store all your asset management information in the cloud, so you can access it wherever, whenever, via our Mobile App.
Our Digital Asset Management System integrates with our Job Management System, giving you one platform with all the tools you need for field service management. While managing your assets, you can check up on leads, create quotes and invoices, schedule jobs, track expenses, and so much more.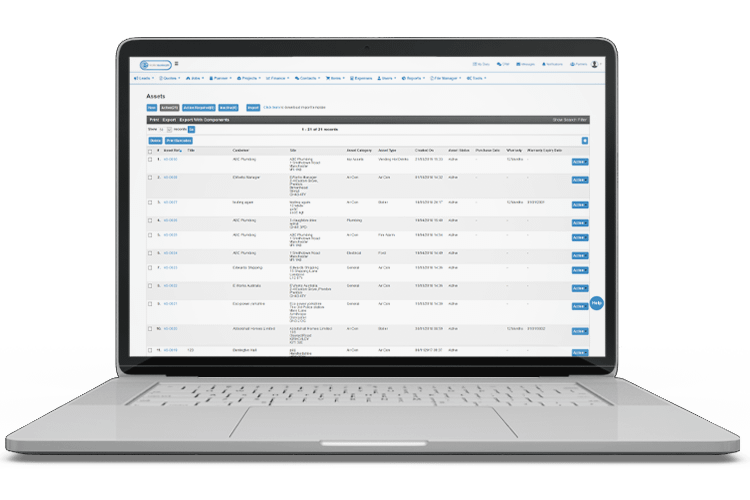 Assign Assets to Jobs and Invoices
Whether your technicians are responsible for servicing your equipment or customers' assets, it's easier for them to know what items they're working on and where they're located with Asset Management Software. With Asset Management Software, you can allocate assets to Jobs. When Jobs are assigned to your team, they can view all the details related to the job, including any specific products that need to be used to complete the maintenance job.
You can also assign assets to your Invoices to help you keep track of all costs for your jobs. From the assets dashboard in the system, you can view all the Invoices your assets have been assigned to, and when creating a new Invoice, you can add the items your team serviced.
Keep Track of Your Asset Maintenance
With Asset Management Software, you can see where your equipment and machinery are, the maintenance jobs created for assets, and all other activities related to the asset, helping to improve asset management. When you're signed into the system, you can see and change the location of all your items and view any jobs, invoices, or recurring jobs set against the asset.
A complete asset maintenance history can help you track all maintenance work completed to ensure that assets are being maintained regularly to keep them in good condition and increase the lifespan of your equipment or customer assets.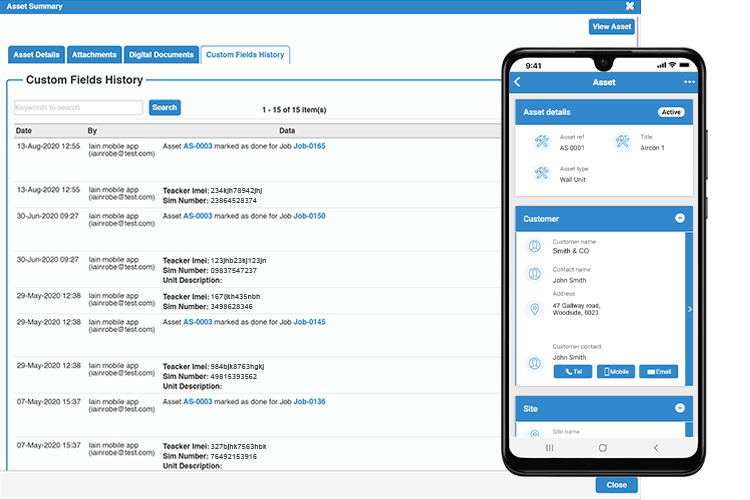 Create and Manage Recurring Maintenance Tasks
Schedule recurring maintenance tasks to save time and ensure asset maintenance is done on time and as often as required. By creating a recurrence rule in the system, our software will automatically create future jobs for you to ensure you and your team never miss a maintenance task. Our recurring maintenance jobs feature reduces your workload so you can focus on the tasks that matter.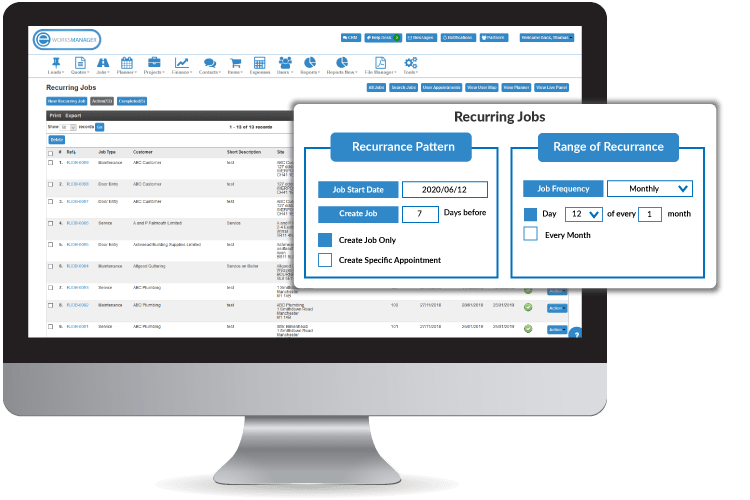 Attach Compliance Certificates To Assets
Instead of carrying paper documents, you can attach compliance certificates and other documents to your assets. Your technicians can access these documents via our Mobile App when they are in the field.
Your workers can complete certificates on-site, adding them to the system where they'll be automatically stored on the cloud. You can also attach user manuals and work instruction documents to your assets if your technicians need access to this information on-site for maintenance tasks.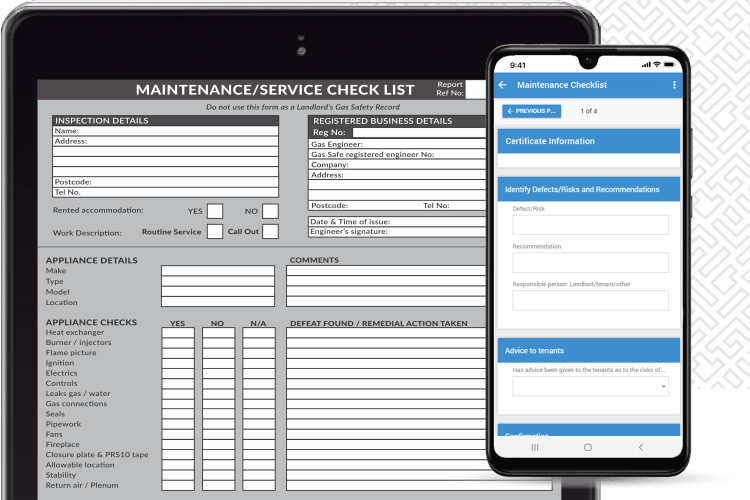 The Complete Business System
Some additional features that would benefit your business
Asset Management Software FAQs
1What is Asset Management Software?
Asset Management Software is a cloud-based solution to track and manage assets effectively. You can schedule asset maintenance jobs, including recurring tasks, attach documents to assets, track and monitor your equipment, and assign assets to Jobs or Invoices.
2What are the benefits of an Asset Management System?
A cloud-based Asset Management System offers your field service business numerous benefits. It can reduce loss, increase the lifespan of assets through regular maintenance, and improve customer satisfaction.
Scheduling recurring maintenance jobs prevents breakdowns and increases the likelihood of finding issues before it's too late to do repairs, allowing you to find a solution and keep equipment in good condition, preventing assets from failing and reducing loss.
Regular maintenance can increase the lifespan of assets. Keeping equipment and machinery in good condition ensures they work optimally for longer and reduces the need to replace assets as often.
Using software can also improve customer satisfaction. If your technicians are responsible for maintaining customer assets, Asset Management Software can help you manage assets effectively, preventing breakdowns and adding value to customer assets through maintenance.
3What should I look out for in good Asset Management Software?
A professional Asset Management System should be cloud-based to make it easier to manage and track your assets anywhere at any time. Cloud technology is a secure and reliable way to store information, ensuring all documents and certificates attached to assets can never be misplaced or fall into the wrong hands.
It should also have a Mobile App so your technicians can locate assets and view upcoming maintenance jobs in the field. The app should be user-friendly to ensure everyone in your team can use it to find the information they need and work quickly and efficiently.
Learn more about what makes a good Asset Management System.