System Features - CMMS System
Welcome to our CMMS system features page - below is a list of some amazing features that will help you be in control of your business
Job Management Features
---
Our CMMS system allows you to manage your jobs with ease. Long gone are the days of using excel and huge pivot tables. Using Eworks Manager will enable you to automate your processes and become more efficient. Never lose sight of another job.
Planning and Monitoring Features
---
Planning jobs is an art. You have good planners and poor administrators that just process requests. Using Eworks Manager, you can plan more efficiently with job locations, job types, engineer skills and product costs. MONITOR THE PROGRESS OF JOBS IN REAL TIME.
Communications & Compliance
---
Keeping track of all your staff and the communication with your customers is impossible unless you have Eworks Manager. Track calls, emails, tasks, notes and complaints. Making sure you comply with all your contracts is an absolute must - We have many features that allow you to make sure every job gets done within the project requirements.
Sales & Finance Features
---
We have many features in our sales system which allow you to keep a hand on building your business. Whether you have a sales team/department or just yourself - these features will help you convert more sales. Making sure all the figures add up - With many finance integrations, you will be in safe hands using Eworks Manager.
Lead Management

Managing leads has never been easier. With our software, you can easily import potential clients and manage existing queries. This cmms system is perfect for those who outsource telesales staff or companies for their appointments.
Quoting System

Using Eworks Manager, you can store all your quotes in one place, report on sales and easily manage your sales appointments. Our cmms system stores everything no matter the quote status!
Invoicing

Our invoicing feature is a full system that allows you to manage your customers and suppliers all in one place. As well as this, no other finance system is required to run your business.
Purchase Orders

Eworks Manager integrates your purchase orders with other financial reports to give you a full company overview. Our system also allows you to add new purchase orders, approve user purchases, and view purchase order statements.
Expenses

With our software, you can track all your expenses as they occur. Our software allows costs to be assigned to specific jobs and gives you a true reflection on profit for every job and customer.
Business Integrations

Not ready to change your finance solution? No problem! Eworks Manager integrates with leading finance software such as Xero, Sage and Quickbooks so all your finances can be stored within one system!
Marketing

Our Integrated Marketing Software allows you to control all your contacts, customers and suppliers in one system. Furthermore, with our marketing export features, you can send this information to each customer or all.
Enterprise Features
---
We have features within Eworks Manager that are specifically built for Enterprise size organisations.
Project Management

Manage your projects in Eworks Manager and track their progress. With financial reports, you will never go over budget.
ERP

Eworks Manager is an ERP software as it keeps your business organised all in one place. The aim for our ERP solution is to make you feel at ease having all your information in one place, to produce work productivity, grow profit and view your business at a 360° angle.
Manage Sub Contractors

Our Enterprise Solution allows you to connect an extensive network of Eworks Manager systems. This connection will enable you to send jobs from your system to your partners system and will track the full progress live. Perfect for managing sub-contractors nationally or internationally.
Project Scheduling

Scheduling Large projects can be a tremendous job. We have a project planner that allows you to plan your works, quote for it, and if successful, commit it to create the work automatically.
System Support and Training
---
We are here to support you...
Support

Unlike most Job Management Software companies, we offer constant support to all existing and potential customers with our very friendly and helpful customer service team! We provide phone support through the week, an online ticketing system and a 24-hour email support.
Training

Within your price package, we offer online training for all our customers whether you need a recap of the system, a particular feature explained or have a new employee that needs to know the system! We offer other training needs so if you would like more information, get in touch!
Help Videos

We have many training videos available explaining each feature on the Eworks Manager system, which is handy for quick training needs and new starters!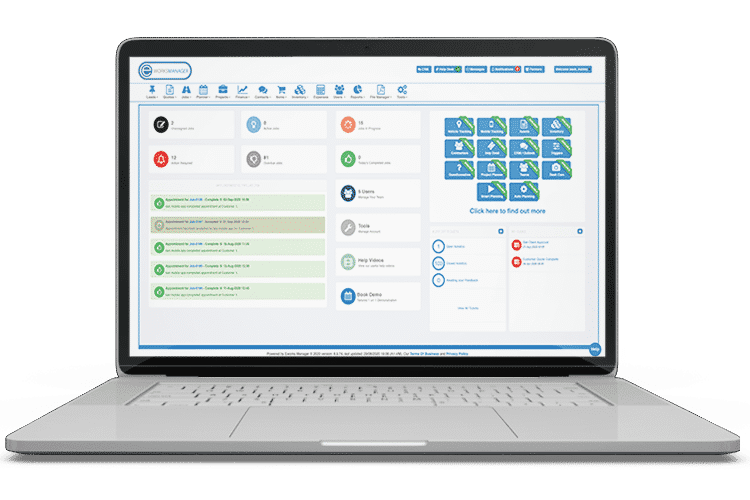 All in One Management & Planning System for
Total Control
---
Our CMMS system allows you to keep control of your WHOLE business in one place.
---
Our CMMS system gives your leaders the control they need over sales, planning, completing jobs and projects, purchasing, assets, inventory, invoicing and your workforce - Read more below about our fantastic features.