Are you looking for a way to grow your electrical business? Whether your growth has plateaued, or you've just started your electrical company and want some tips to get it off the ground, we've highlighted the top ways to grow your business.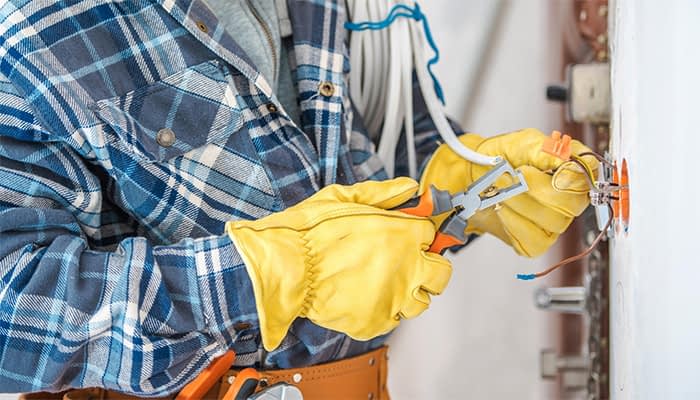 Develop a strong digital presence

More people are using digital platforms to search for services and products, and you need a strong digital presence to attract new customers. Creating a user-friendly website that's attractive and drives conversions is essential. Your website content must be engaging, and you need to share powerful calls to action to encourage people to sign up for your services. You can use paid advertising to develop a strong digital presence and increase brand awareness online. With platforms like Facebook and Google, you can use targeted advertising to reach your audience, directing adverts to people based on age, location, behaviour, and interests.

Invest in upskilling your team

Upskilling is the process of developing your employees' skill sets. Teaching your electricians new skills will help your company keep up with industry trends and technology to stay competitive. With new skills, you can offer new services and products to attract new customers and meet the changing needs of existing clients. Upskilling is also beneficial for employee retention, as workers stay at companies where they are given opportunities to develop their careers. You can also attract the best talent when you have a reputation for investing in employees and prioritising growth.

Always prioritise customer satisfaction

When businesses grow, customer satisfaction is often put on the back burner. Don't underestimate the power of customer satisfaction if you want to grow your business. If you provide excellent customer service to your existing clients, they'll be more likely to recommend your service to others, share positive reviews, and use your services again. Improving customer satisfaction is not a once-off activity but something you must constantly improve. So, how can you improve customer satisfaction? Start by asking customers for feedback and use their input to personalise and enhance your products and service.

Ask your existing customers for testimonials

Testimonials are powerful tools for businesses, especially in the service industry, where customer experiences give your brand credibility. When considering a purchase, 92% of consumers read online reviews and testimonials, and 88% trust online reviews as much as personal recommendations. After reading a testimonial, potential customers may be more willing to trust your business. Ask loyal customers who use your service regularly for testimonials, as these customers will be the best advocates for your business. You could ask them to share a written testimonial, or you could interview them and create engaging video content. You can share testimonials on your website, social platforms, and email newsletters.

Create more time to grow your business with automation

Automating manual tasks will save time and give you the chance to focus on growing your business. Fewer mistakes are made when tasks are automated, so there are fewer errors to correct, saving you even more time. You can automate tasks like job scheduling and route planning with Electrical Software. The system also saves your technicians time in the field, as they can access and manage their jobs via a mobile app and send invoices to clients before they leave job sites. They can also use the app to get jobs approved on-site via SMS or email or record the customer verbally approving the project so they can complete tasks quickly and move on to their next assignment.
Ready to grow your electrical business? Take the next step and sign up for our Electrical Software. Start your 14-day free trial or contact our team to learn more about Eworks Manager.