Do you manage assets like equipment, machinery and vehicles for your business or customers? Performing asset audits can be challenging, especially if you're responsible for a large number of assets. They can be time-consuming and complex and require considerable resources and effort.
But with the help of Asset Management Software, you can streamline and simplify your asset audits, helping you improve the efficiency and effectiveness of your operations.
In this blog, we'll explore the following: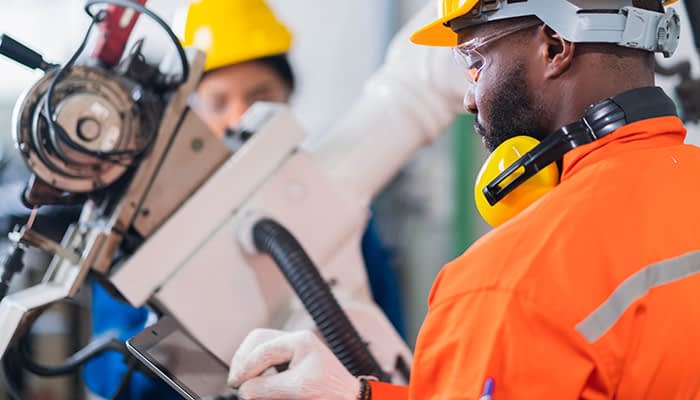 What is an asset audit?

An asset audit is the process of reviewing and assessing your assets to understand their value, location, and condition. The goal of the audit is to provide a comprehensive inventory of your assets, which you can use for financial reporting, insurance purposes, compliance requirements, and asset management. An audit can help you identify underutilised, lost, or obsolete assets and develop a plan to maximise their value.
During an asset audit, your team may do the following:

Inspect each asset.
Check maintenance records and warranty information.
Verify asset location and ownership.
Review contracts and other documentation related to the assets.

You can use the findings of an audit to inform strategic decision-making, for example:

to determine whether to invest in new equipment or technologies;
dispose of underutilised assets;
or improve asset management processes.

What are the benefits of an asset audit?

A thorough asset audit offers several short and long-term benefits. Here are just a few of the benefits an audit can offer:

Improve asset management

An asset audit can help you get a better understanding of your assets, including their location, value, and condition. You can use this information to optimise asset utilisation, reduce downtime, and improve maintenance processes, helping you run your business more efficiently.

Save money

You can reduce unnecessary expenses of maintaining or replacing equipment by identifying underutilised or obsolete assets. An asset audit can also help you identify ways to improve asset utilisation and opportunities to save money.

Ensure compliance

Compliance with regulatory requirements is a critical aspect of asset management. An asset audit can help you ensure they comply with relevant regulations and have the documentation and records to demonstrate compliance.

Improve risk management

An asset audit can help you identify potential risks associated with their assets, such as safety or security hazards. Identifying and addressing these risks can help you reduce the likelihood of accidents or theft.

How to perform an asset audit

To understand how we can simplify audits, we need to look at the steps of an asset audit:

Step 1: Plan and Prepare

Start by defining the scope of the audit, including the assets to be audited and the objectives of the audit. Identify the team members conducting the audit and determine the tools and resources needed, such as checklists and documentation.

Step 2: Conduct an inspection

Next, your audit team should perform a physical inspection of all assets included in the scope of the audit. This inspection involves physically examining each item, checking for any damages or signs of wear and tear, and confirming whether the asset is in working condition.

Step 3: Review documentation

Your team should review all relevant documentation related to the assets, including maintenance records, warranties, service contracts, and regulatory compliance documentation. This step helps ensure all assets are kept in good working condition and compliance requirements are met.

Step 4: Check asset value

Valuations can be used for financial reporting, insurance purposes or to help you determine a fair price to sell assets. Depending on the method your team uses for valuations, this step may involve gathering and considering information like date of purchase, purchase price, the market price for similar equipment, the physical condition of the asset, repair and maintenance history, and the resale value of equipment in the current market.

Step 5: Identify risks

Your employees should identify any risks associated with the assets, such as safety hazards, security risks, or non-compliance with regulatory requirements. Identifying risks helps your business address issues before they become bigger problems.

Step 6: Report findings

After the audit, your team should compile a report detailing their findings and recommendations. This report should include a summary of the assets audited, any issues or risks identified, and suggestions for improving asset management processes.

Step 7: Implement recommendations

Once the report is complete, you should take action to implement the recommendations outlined in the report. Some of the suggestions may include improving maintenance processes, disposing of inefficient machinery and investing in new equipment.

How to simplify audits with Asset Management Software

Here are some ways you can use Asset Management Software to simplify equipment audits:

Centralise data management

Asset Management Software provides a centralised data hub to store all asset-related information, including maintenance schedules, compliance requirements and audit records. Keeping all your info in one place helps you keep data up to date, reducing the likelihood of errors that could lead to non-compliance.

Automate notifications

You can use software to set up automated notifications to remind maintenance teams of upcoming tasks, reducing the risk of missed deadlines and ensuring all assets are inspected regularly. Because notifications are shared online, all your team needs to do is log in to the system to stay informed and take action.

Customise questionnaires

You can create custom questionnaires for your team to complete to ensure all aspects of an asset audit are covered. You can create a unique set of questions related to the asset for every questionnaire. And to ensure it's completed every time a technician completes an audit, you can make it compulsory. Custom questionnaires help you collect data related to your assets to ensure compliance.

Improve reporting

The software gives your team access to reports with data they can use to perform asset audits, including records of maintenance work done. You can also record data from your asset audits on the system for future audits, helping you streamline the process. You can access these reports from your computer or mobile device, helping you stay informed wherever you are.
Sign up for Asset Management Software
Simplify your next asset audit with our Asset Management Software. Contact us to sign up or to book an online demo.
Not ready to sign up? Try our software with a 14-day free trial.