Managing payments in business comes with its fair share of challenges. You have to reconcile payments, follow up on outstanding invoices, and ensure sensitive information shared with you is protected. And on top of all this, you still need to manage your jobs.
But what if we told you we could help you streamline payment processing with the same tool you use for job management? With our new integrated payments solution, you can.
Introducing EworksPay, our integrated payments product for Eworks Manager users.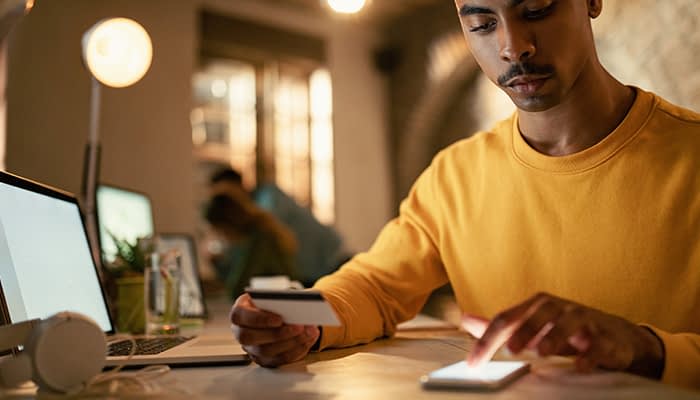 What is EworksPay?

EworksPay, powered by ClearAccept, is our integrated payments software specifically built for our field service customers. The payment system is easy to set up and seamlessly integrates with our software, so you can save time and make it easier for customers to pay you.

How it works

Our integration with ClearAccept gives you three efficient ways to accept customer payments:

Accept payments online

Send customers a secure, encrypted email link to accept card payments.

Accept payments over the phone

Initiate secure payments over the phone in Eworks Manager.

Accept payments in person

Accept payments on-site to reduce the steps in your payment process and save time.

5 reasons to sign up for EworksPay

As an Eworks Manager customer, there's no better way to accept payments than with EworksPay. Here's why:

One solution for everything

EworksPay eliminates the need for multiple systems for job management and payment processing. Every step, from lead management to invoicing to payments, can be done in our system. Switch to EworksPay and manage all your payments in the same place you manage your business.

Hassle-free payment process

EworksPay helps you create a hassle-free payment experience for your customers. With multiple ways to pay, they choose the method that works best for them and pay you immediately. There's no need for bank transfers or trips to the ATM to draw cash with our payment software.

Secure way to accept payments

With third-party payment software, sensitive customer information can fall into the wrong hands. But with EworksPay, you're in control. All information shared stays between you and your customers, helping you guarantee safer payments.

Spend less time chasing payments

EworksPay customers get paid faster than those who rely on bank transfers and cash payments from clients. That's because the easier it is for customers to pay you, the sooner you'll get paid. Give your clients a convenient way to pay you and spend less time following up on outstanding invoices. With EworksPay, you'll also spend less time recording payments, as all payments sync to your customer's account.

Accept payments anywhere

EworksPay gives you the flexibility you need to accept payments anywhere at any time. Accept payments on-site, or give your customers the freedom to pay you wherever they are.
Switch to EworksPay today
Schedule a call to find out how to switch to EworksPay, or contact us for more information.
Not yet a customer? Sign up for a 14-day free Eworks Manager trial or book an online demo to learn more about our software.
ClearAccept Ltd is authorised and regulated by the Financial Conduct Authority under the Payment Service Regulations 2017 (FRN 926372) for the provision of payment services.