The UK's race to zero offers exciting opportunities for renewable energy professionals and entrepreneurs. But the question on everyone's mind is whether the industry is growing quickly enough to overtake fossil fuels and help the country reach its goal of net zero by 2050.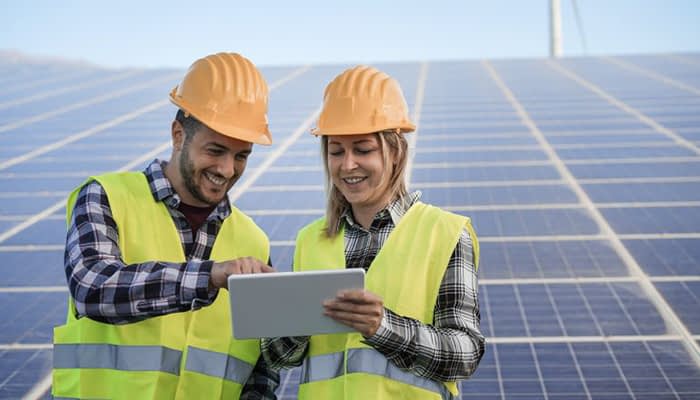 A quick look at the UK's race to zero

The country has committed to a target of net zero, which means reducing carbon emissions to achieve a balance between emissions and carbon removed from the atmosphere.
Various government initiatives have been introduced to ensure we reach this target. These include grants for low-carbon solutions such as electric vehicles and heat pumps, banning new petrol and diesel cars from 2030, and plans to decarbonise electricity production from 2035.

Let's look at the current state of renewable energy in the UK:

Renewable energy has grown tenfold since 2004 (National Grid).
In 2022, 40% of the UK's electricity was made up of solar, wind, biomass, and hydropower (Drax Electric Insights).
Low-carbon power sources produced 82.5% of Britain's electricity from 27 December 2022 to 9 January 2023 (RenewableUK).
The UK hit an energy milestone in 2022 as wind farms produced a record amount of 26.8% of the country's electricity generation (National Grid).

These statistics show that fossil-fuel dependency is declining and that renewable energy is a fast-growing industry with a bright future.
As a renewable energy service provider, installer, supplier or manufacturer, now's the time to take advantage of the industry's growth and get ahead of your competitors.

Does your business have the tools to capitalise on the rising demand for renewable energy?

Several technologies are available to improve workforce efficiency and maximise capacity so you can manage projects as the demand for your products and services grows.
One of the most popular solutions is Field Service & Job Management Software, a cloud-based system designed to help you manage leads, jobs, quotes, invoices, inventory, assets and more online.
Discover how your renewable energy business can use software to manage your workload efficiently to capitalise on the growing demand for low-carbon solutions:

Automate your workload

Repetitive tasks like job scheduling, invoicing and quoting can slow you down and keep you from focusing on meaningful work. Fortunately, you can improve time management and productivity with automation. With software handling these tedious tasks, you can tick manual busywork off your to-do list.

Digitise licences and certifications

As a renewable energy business, you and your technicians will need access to licences and certifications on-site. Instead of carrying physical documents, which can be misplaced or damaged, go paperless and create digital copies with software, which you can access via a mobile app.

Get access to real-time data

Access to real-time data like your team's live location can improve transparency and communication in your organisation. With tracking, you can see where your technicians are and the status of the tasks they're working on to monitor their progress and support them.

Optimise inventory management

Efficient inventory management ensures your team has everything they need to complete jobs and can find the stock they need immediately. With software, you can manage inventory across many locations, create recurring purchase orders to save time and transfer items from warehouses to technicians' vehicles for projects.

Streamline quoting & invoicing

Create and use custom templates to reduce your admin time and get quotes and invoices to prospects and customers faster. Add your logo, brand colours, and terms and conditions to your templates to minimise mistakes, create a consistent look and feel, and ensure important information is always included.

Some of the other features you may be interested in

Our software is an all-in-one tool that helps you manage your employees, resources and processes. With so much to offer, we thought we'd share some of the other features available:
Job Management: Manage your jobs and projects in one place. Create and assign digital job sheets to your technicians to save time and resources.
Lead Management: Import and assign leads to your workers, manage and track communication with potential customers, and convert prospects into quotes and customers.
Asset Management: Create a digital database of your customers' assets, schedule maintenance jobs, and keep track of repairs and services.
Vehicle Tracking: Use Vehicle Tracking to monitor driver behaviour and improve reactive planning.
Mobile Tracking: See where your workers are and the jobs they're working on at all times with Mobile Tracking.
Route Planning: Access to your team's live location allows you to find the nearest available technician to reduce travel time and fuel consumption and increase productivity.
Help Desk: Streamline your help desk process to improve customer service and satisfaction. Monitor complaints, prioritise support tickets with categories, and store answers to common queries to improve your response time.
CRM: Import emails, manage and track calls, and set reminders to follow up with prospects to improve customer communication.
Payments: Use EworksPay, our integrated payments solution, to accept card payments online. EworksPay gives your customers convenient ways to pay and is guaranteed to save you time.
Software integration: Integrate our software with your accounting package to share data between your systems and reduce manual data capturing.
Mobile App: Manage your business wherever you go with our Mobile App. Complete quoting and invoicing, manage online payments, supervise your employees, and more with your mobile device.
Interested in Field Service & Job Management Software?
Contact us to add the software to your digital toolkit, or sign up for a 14-day free trial.