Pest Control is a prosperous industry in the UK. Homes and businesses rely on pest management to keep rodents and insects away. Every season has its own pest problems, which is why the industry thrives all year round. And because food-related businesses are legally required to maintain strict hygiene standards, the demand for pest control experts has risen in the country over the last few years.
There's certainly no lack of work for Pest Control companies, but as your business grows and you take on more jobs and staff, you may find that managing a business with a paper-based system isn't effective anymore. If you're ready to digitise your processes, consider signing up for Pest Control Software.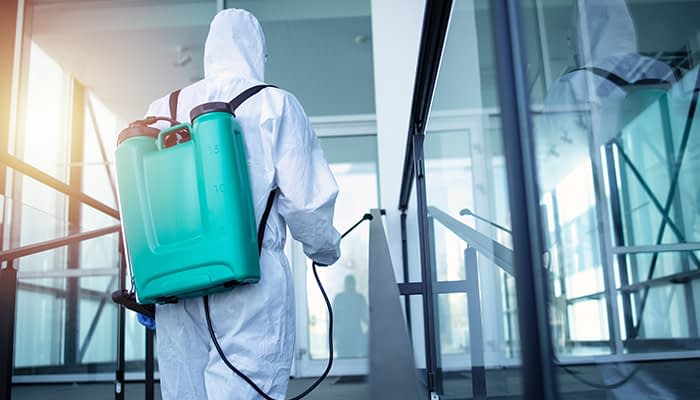 What is Pest Control Software?
Pest Control Software is defined as a system tailored to the requirements of the Pest Control industry. It's designed to help companies solve the distinct challenges they face daily and streamline their business operations to boost efficiency.
Features that add value to your business



There are several ways to automate tasks and make business as usual easier with Pest Control Software.
If your company is responsible for long-term maintenance projects, keep track of every routine task with recurring maintenance jobs. Setting these jobs up is a simple process. Once you've created the job, assign it to a technician, and it will automatically be allocated to the same person every time, or choose to assign it on the day. When you create the recurring job, book the tools required for the job to ensure your technician has everything they need.
Asset maintenance is crucial for any Pest Control business. If your equipment breaks down and there's no time to fix or replace the tools, your technicians won't be able to work, and you'll have to deal with disgruntled customers. Therefore, regular asset maintenance is key. With Pest Control Software, it's easier to keep a record of all completed asset maintenance jobs. Cloud-based software is a reliable option for keeping track of maintenance history – you won't lose the data, and you can access it from any device at any time.
If you need to be on-site from eight to five every day, you'll be pleased to know that you can create and send invoices when you're out of the office with Pest Control Software. Invoicing can be done from your mobile device, and the system can be used to follow up on overdue payments. If you charge specific rates for individual customers or jobs, the additional expenses can be added once a job is completed and before creating the invoice.

Is Pest Control Software a necessity?



As a software provider, we always recommend implementing software that can simplify your everyday operations, as this gives you more time to focus on tasks that require your attention. If improving efficiency is one of your goals, giving your supervisors a platform to manage and oversee your business and staff is non-negotiable. Your business can survive without Pest Control Software, but if you want your business to thrive, it's in your best interest to invest in the software.

Why our Pest Control Software is the right choice for you



Because we provide software for the Field Service Industry, we know what companies need when it comes to software. After years of creating and selling software for HVAC, electrical, plumbing, construction, pest control companies, and more, we have fined-tuned our software to meet common challenges in the industry, and we're always finding new ways to improve our system. We provide first-class training and support because we want your team to use the software successfully. Our goal is to provide a user-friendly and efficient system to help you reach your business goal.
Get started with Eworks Manager today. Sign up for our 14-day free trial, or get in touch with our team for more information about our Pest Control Software.