At Eworks Manager, our goal is to provide world-class Job Management Software to help you achieve your business goals. Our Job Management Solution was designed to give your business the power to schedule and manage your team's jobs, supervise employees, create and manage quotes and invoices, and supervise field workers remotely. We aim to simplify the day-to-day running of your business to maximise efficiency and boost productivity with our all-in-one system.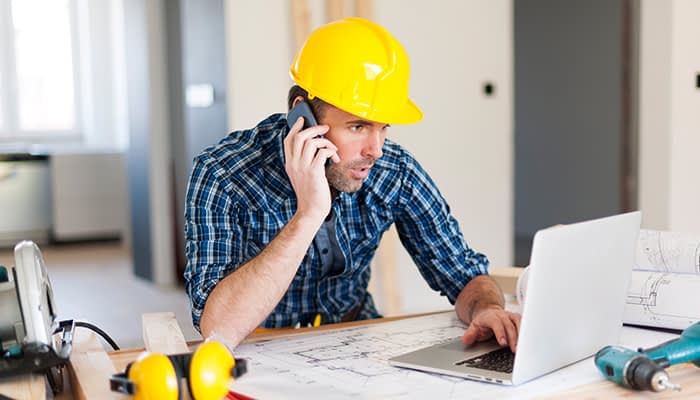 How our Job Management Software works

Our software includes an admin system, a Mobile App and a customer login portal. Our Job Management System simplifies every step that needs to be carried out to complete a project, from creating and sending quotes to sending the client an invoice once the job is done.
When a client requests a job, you can use Eworks Manager to create and send the quote and convert it to a job once it's been accepted. You can then use the system to allocate the job to a technician. With our Time Planner, you can see which staff member is available to do the job, and our Geo Planner lets you find the nearest available field worker to save time. Using our Mobile App, your worker can update their job card while they're in the field.
It's also easier for your mobile engineers to get jobs approved on-site with our Job Management App. They can get Signature Approval with our Mobile App or use contactless approval methods such as Audio Approval, SMS and Email Approval if social distancing needs to be enforced.
Once your field worker has completed the job, and the client has approved, you can create an invoice with the information from the job card, saving you time and giving you access to all the details you need for the invoice.

Additional features to keep track of your team

Our Job Management Solution also features tools that make it easy to supervise your field workers remotely. We offer Vehicle Tracking and Live Mobile Tracking, where you can keep track of your fleet vehicles and locate your field workers at all times. Our Dashcam Software makes it easy to monitor your drivers wherever they are. You can access live video footage and capture videos to review later if the vehicle is in an accident or you need to analyse driver behaviour.
There's a reason why we call our software an all-in-one solution - it has a feature or tool for every task that needs to be completed for every project.

Industries that can benefit from Job Management Software

Eworks Manager can improve the efficiency of businesses in many different industries, including electrical contractors, facility management, HVAC, plumbing and heating, pest control, property management, and so much more.

Get started with Eworks Manager

If you're ready to streamline your daily business operations, choose Eworks Manager and get started with our Job Management System today. Our software is user-friendly, but our customer service team can assist you if you need any help while setting up the system. Our 12-week onboarding process includes online training, and we'll check in with your team weekly to make sure everyone's successfully using the software. We also provide free customer support via email and phone, and if you require additional training, we can arrange extra training sessions.
If you have any questions about our Job Management Software, please contact our team for more information. If you'd like to see how Eworks Manager works, sign up for a free 14-day trial today.