Job Management Apps have revolutionised the field service industry. They empower your technicians by giving them access to information on the go. They can stay connected, organised and productive wherever they are.
But with so many options available, choosing the right mobile app can be challenging. Mobile technology can be a valuable productivity tool. But if it doesn't meet your needs, it can be a stumbling block.
How can you determine if a Job Management App is right for your business? Follow our comprehensive guide, compiled to make the process easier for you.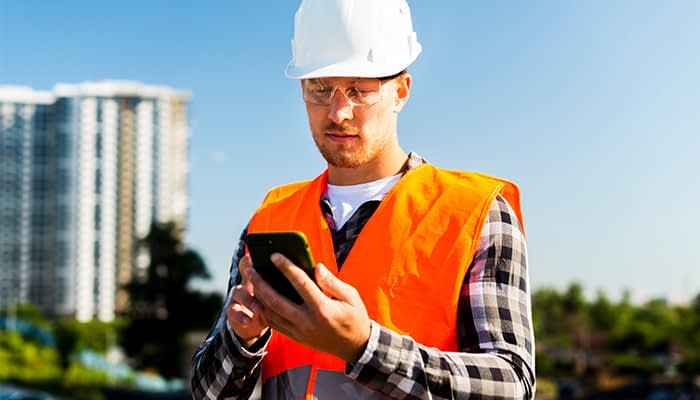 How mobile field service technology empowers technicians

Mobile field service technology gives your team the tools and resources to stay organised and productive. Here's how:
Real-time access to information: Instead of waiting, your team can access job details online. Remote accessibility keeps your team on track to meet deadlines.
Reduced paperwork: Carrying paperwork to job sites can become unmanageable. Your technicians may misplace documents or forget paperwork at the office, delaying their work. But with mobile technology, they can access digital copies from their mobile devices.
Performance tracking and analytics: A mobile app can track every technician's performance. You can use the data collected to identify areas of improvement and set goals for skills development. Tracking performance can keep technicians motivated, especially if you reward their progress.

Finding the best solution for your business

To ensure you choose the best Job Management App for your business, consider the following:

Your team's location

If they work in areas with limited internet access, choose an app with offline capabilities. Your team will be able to upload data and access information, and sync changes made when they're online again.

How much data they capture on-site

Do your technicians collect data on-site? Choose a system that allows them to capture information with digital questionnaires. Instead of filling in paper forms, they can capture data with their mobile devices.

Where they spend most of their time

If your technicians spend most of their time in the field, choose a system with mobile quotes and payments. These features will allow them to send quotes and accept payments on-site. Managing quotes and payments in the field will save your team time and help you get paid faster.

The services you offer

Do your employees install and maintain assets like solar panels, heat pumps, air conditioners or EV charging points? Then you need a solution with an asset management system. You can use it to track each system or machine your team installs and schedule maintenance work. Your technicians can also view appointments assigned to them, eliminating the need for appointment books.

Your clients' expectations

Consider your customers' expectations. If they expect regular updates, choose a mobile app that allows your workers to upload photos of their work. You can review any work done and update customers while your team is on the job.

Where you spend most of your time

Consider where you spend most of your time as a business owner or supervisor. If you can't always be on-site, choose an app that gives you real-time access to your team's progress. Most mobile solutions use tracking to show you where your technicians are, what jobs they're working on and the status of each job in real-time.

The good news? We offer all this and more

Our all-in-one Job Management Software is the perfect solution for your field service business. With our Job Management App, you can support your technicians wherever you are, and they can access project information anywhere.

Reasons to choose Eworks Manager

Our Job Management Software is the only software you need to manage your business. Here's why:

One solution for everything

Manage your payments with the same tool you use to manage your business. EworksPay, our integrated payments software powered by ClearAccept, lets you accept payments online, over the phone or in person with Eworks Manager.

Quick setup wizard

Our quick setup wizard offers a simple way to set up your system. You can upload your logo, add users, import data, digitise your documents and activate plugins all in one place. It helps you configure the system quickly so you can start working sooner.

Flexible pricing

We offer several pricing plans to suit your needs and budget. Our scalable pricing model makes our software affordable for businesses of all sizes. And as your business grows, you can add more users.

Free customer support

Your subscription includes free customer support. If you have a question or need help, you can log a ticket on our system or contact us via email, telephone or live chat.

Dedicated onboarding team

For an additional fee, we can set up your system for you. Our onboarding team will do all the admin work to save you time.
Start your 14-day free trial
Our free trial offers you the chance to try our software for 14 days. Sign up today to get free access to Eworks Manager.
Have a question you'd like to share with us? Feel free to contact us or book an online demo to learn more about our software.