We're excited to share that Eworks Manager now integrates with over 4000 apps to streamline your day-to-day business processes. Our Zapier integration makes it possible for you to automate tasks and build workflows between your apps.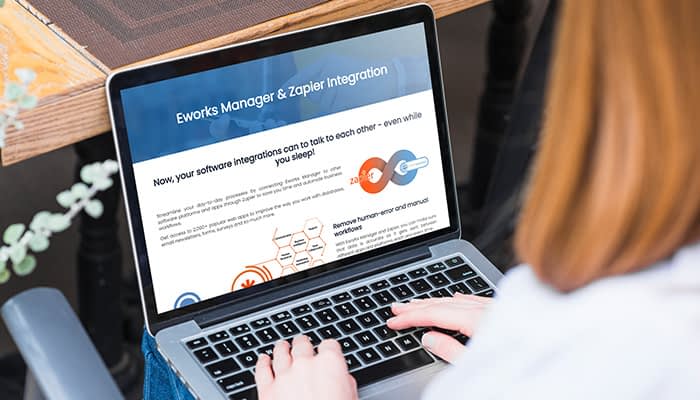 How it works

With our Zapier integration, you can connect Eworks Manager to over 4000 apps to make it easier to manage your data, including forms, surveys, and email lists. Once connected, you can automatically move information between your apps.
To automate your daily tasks and build workflows between an app and Eworks Manager, you'll use Zapier to create automated workflows. A workflow tells your app to take one or more actions when a particular event occurs. Every workflow has a trigger (an event that triggers the workflow) and an action (the action that takes place following the trigger). For example, when you connect Eworks Manager to Google Calendar, you can use a workflow to create a detailed Google Calendar event every time a quote is accepted in Eworks Manager. This is one of the many examples of how our app integration can automate your daily tasks.
The best part about our app integration is that you don't need a developer to connect our system to your app or create workflows. Workflow templates are available, so you don't need to learn how to code. The app integration can be done by anyone in your team, saving your business time and guaranteeing seamless integration with your apps.
When you use workflows to send information between our system and the app, your data will always be secure, and you can set up two-factor authentication for your Zapier account. Zapier offers a range of free and paid subscriptions, with several options available to suit your budget and needs.

Connect Eworks Manager to popular apps

You can connect Eworks Manager to over 4000 apps, including HubSpot, Mailchimp, Pipedrive and DocuSign.

HubSpot

HubSpot is a customer relationship management (CRM) platform for inbound marketing, sales and customer service. When connected to Eworks Manager, you can create workflows to send information between the two platforms. For example, you can create a workflow with a 'new supplier', trigger and the action 'add contact to list'. Every time a new supplier is created in Eworks Manager, the contact will be added to a specific list in HubSpot.

Mailchimp

Mailchimp is a marketing automation platform for email marketing. If you use Mailchimp to manage your mailing lists and marketing campaigns, you can use workflows to automate several tasks. You can create a workflow that automatically adds a new Eworks Manager customer to a MailChimp audience; update a subscriber when an Eworks Manager customer is updated; create a new lead in Eworks Manager when a pre-specified link is clicked in a Mailchimp campaign. There are many other triggers and actions available to connect the two platforms.

Pipedrive

Pipedrive is an all-in-one CRM tool for sales teams. The software can be used to manage leads from chatbots and web forms and track calls and emails. When a new deal is created in Pipedrive, you can create a workflow that generates a quote in Eworks Manager. You'll simply select the 'new deal' trigger and the 'create quote' action. Every time a new deal is created, our system will generate a quote.

DocuSign

DocuSign is an electronic signing service that your business can use to obtain e-signatures for forms and contracts. With our Zapier integration, you can connect DocuSign to our software. If you need to request a signature once an appointment has been accepted in Eworks Manager, you'll create a workflow with an 'appointment accepted' trigger and a 'create signature request' action.
For more information about our Zapier integration, feel free to contact us. If you're ready to get started with Eworks Manager and connect your apps to our Job Management Software, sign up for our 14-day free trial today.