Manage and Support Your Field Service Team in the Field or the Office with our Cloud-Based Software. For a 14-Day Free Trial, click here!
Field Service Management Software for your business
Manage and Track your Staff and Jobs with An Efficient Field Service Management System
Our Field Service Management Software gives you all the tools you need to support your team and manage jobs efficiently. From lead management to invoicing, you can manage and control every field service management task online and reduce your paperwork.
With Eworks Manager, you can manage all your data and documents online. All your client and job information is stored on a secure cloud-based system, keeping your data safe and ensuring everyone in your team can access the information they need anywhere with any mobile device.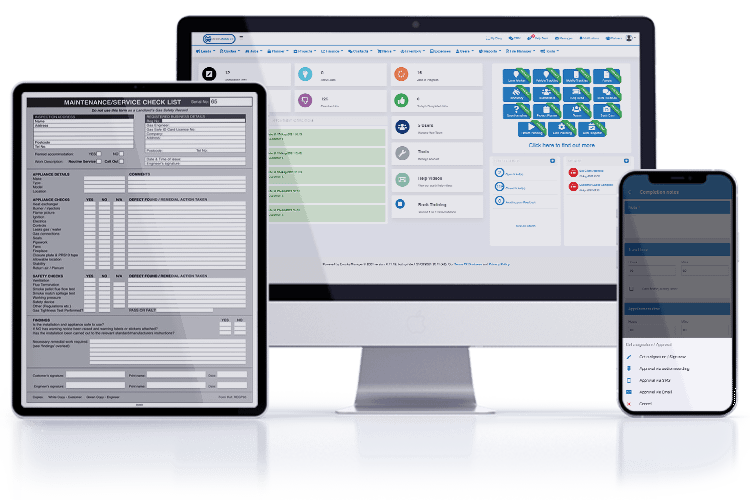 Get Real-Time Updates From Your Field Workers
Monitoring your team's progress throughout the day and getting real-time updates can be challenging when they're in the field and travelling from one job site to the next.
With Field Service Management Software, you can see where your technicians are and the jobs they're working on at all times with our Live Panel. You can see the status of each job, including whether they're on their way to a job, on-site, or completing a job.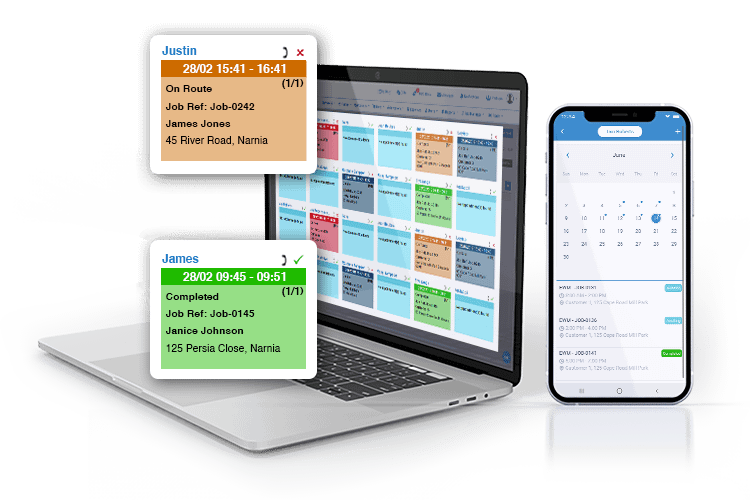 Prevent Scheduling Conflicts
Scheduling conflicts can cause delays and lead to a loss in productivity, so it's crucial to avoid them. But creating a conflict-free schedule on paper can take time and effort. It can be challenging to find a suitable time slot for every appointment, and if there are last-minute changes or emergencies, it may take too long to readjust the schedule.
You can avoid scheduling conflicts with Field Service Management Software by automating job scheduling and using the software to find the best timeslots for jobs based on your team's schedule and skills. The software offers more flexibility than a paper system, as you can quickly change the schedule if a technician is on leave or an urgent customer job needs to be scheduled.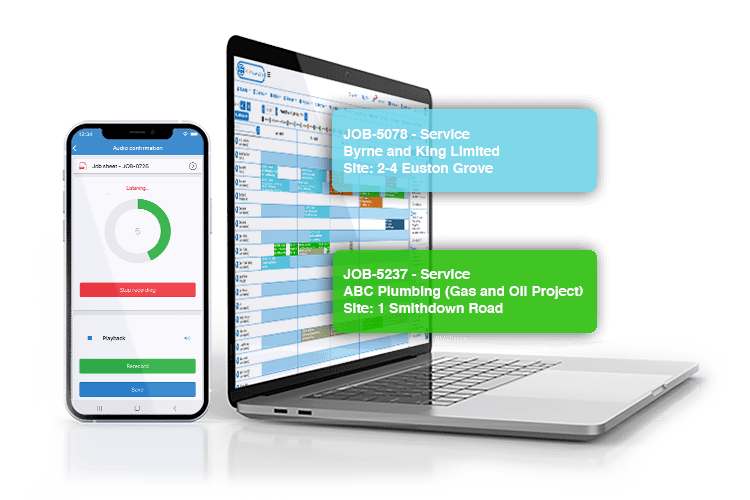 Trade Paperwork For Digital Documents
Paperwork can slow your operations, and documents can be misplaced or fall into the wrong hands. It also creates extra work for your team, as they must capture data in the field and file it or add it to your database.
With Field Service Management Software, your workers can capture data on-site via our Mobile App, and the information will automatically be uploaded to the cloud. Anyone in your team can access the data, improving data sharing in your business.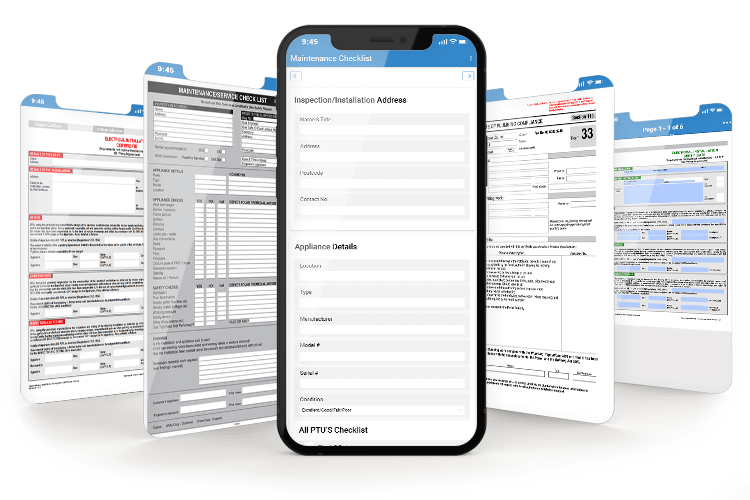 Keep Remote Workers Safe
As a field service business manager or owner, you can only be at one job site at a time, and if your technicians work in remote or unsafe areas, it can be challenging to help them if they encounter danger.
Our Lone Worker feature can help keep them safe and give you peace of mind. Your technicians can activate the Lone Worker feature on our Mobile App and deactivate it once they arrive safely at their destination. You can also use our Vehicle Tracking and Live Mobile Tracking Software to support your technicians in the field and ensure they arrive at job sites on time. If they have an accident, you can use Vehicle Tracking Software to retrace their steps for insurance purposes.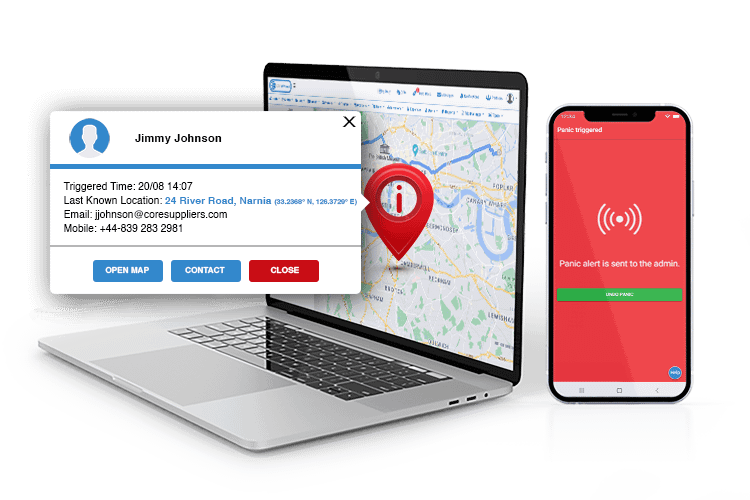 Optimise Your Routes to Reduce Mileage & Fuel Consumption
Keeping your fuel costs low with multiple field workers on the road can be difficult. Optimising your team's routes with software is the easiest way to find the most economical routes to reduce mileage and fuel consumption.
With our Smart Planning feature, you can assign jobs to technicians based on their location to reduce travel time. You can save even more time with our Auto Planning tool, which automates Route Planning, assigning jobs to users based on location.
One of the other advantages of Route Optimisation is improved productivity. Because our software sends the nearest available technicians to jobs and reduces travel time, your team can get more jobs done daily.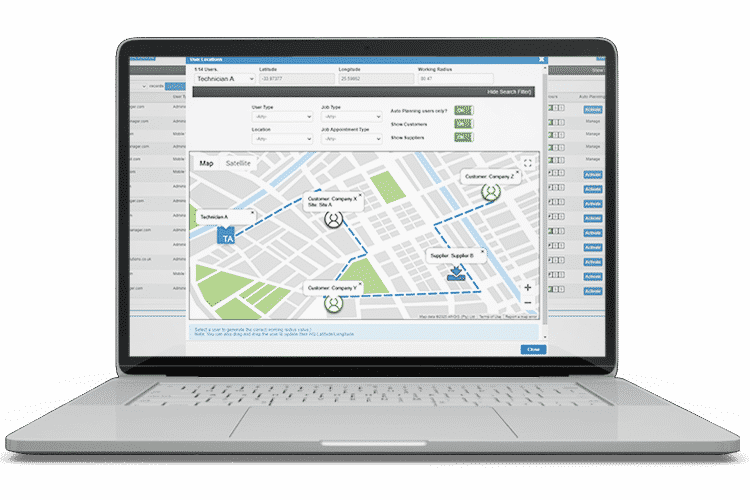 The Complete Business System
Some additional features that would benefit your business
Field Service Management Software FAQs
1What is Field Service Management Software?
Field Service Management Software is a tool you can use to manage your business, technicians and all activities related to your field service operations.
You can use the software to create and manage job sheets, leads, quotes and invoices, schedule jobs, track your vehicles and technicians, optimise your routes, manage inventory and assets, and create and upload digital documents on one platform.
2What makes a good Field Service Management System?
A good Field Service Management System should automate and streamline your processes and manual tasks to save time, increase efficiency and boost productivity.
It should give you a user-friendly digital platform to manage and support your technicians so you can ditch all your paperwork and use one digital tool for field service management.
It should be a cloud-based system so you can access your digital documents and data anywhere with any mobile device. Cloud technology ensures you and your field workers can find the information you need on-site, even when working in remote locations.
The software provider should also offer training and support to help you get the most out of the system for your business.
3What are the benefits of Field Service Management Software?
Our Field Service Management Software offers several benefits for your field service business.
Our software digitises all your documents and provides a central hub where you can store all your data on a secure, cloud-based system. Reducing your paperwork saves time and money and gives you easy access to all your job and project information.
Instead of completing work manually, you can streamline and automate day-to-day tasks. Our software makes it easier to optimise your processes to save time and increase the efficiency of your operations.
You can use one platform for field service management rather than multiple systems for lead management, quoting, invoicing, job scheduling and other field service management tasks. Using one system simplifies field service management and reduces your costs.
Our CRM tool helps you deal with customer complaints faster to improve customer satisfaction. Your clients can log queries or complaints on the system, and you can find a solution and share it with them on the platform. You can manage all communications with the customer in one place, helping you resolve issues quicker and more efficiently.
4Why is Field Service Management important?
Field Service Management streamlines processes and automates manual work to increase efficiency, productivity and the profitability of your business. Effective Field Service Management allows your team to manage their workload and meet deadlines.
Besides improving efficiency and productivity, Field Service Management can improve customer satisfaction. Reducing manual work and increasing the efficiency of processes ensures your technicians meet deadlines, keeping clients happy as their projects are completed on time.
It optimises processes to ensure technicians can work efficiently to increase output. The software can also help you identify inefficient processes that slow your team down so you can find ways to improve them and increase productivity.