Monitor Your Purchases, Your Van Stocks and Control Your Warehouse All in One Place. For a 14-Day Free Trial, click here!
Stock Management Software - The Most Efficient Stock Control System For Your Field Service Business
A Full-Featured Stock Management System Designed to Manage and Streamline Your Entire Business from Start to End.
Typically Field Service and Trades businesses hold stock in their warehouse or stock room and the technicians' vehicles. Some materials get ordered straight to jobs, while other items that are used regularly are ordered into stock and distributed to jobs from there. It isn't easy to keep track of materials when each technician's van is effectively a stock location. This makes it tricky to know the exact number of items that are in stock. Inaccurate data collection can lead to over or under ordering of materials. It can also cause errors when it comes to job costing, as items used from the field worker's van do not always get recorded as a cost to the business. Eworks Manager's Stock Tracking System will help solve all of these inventory issues.
Eworks Manager can offer you a simplified way to manage where your stock is or has been. Effortlessly manage what you have in stock, what has been committed to jobs in progress and what you have available. With our stock control system, you can also know what you need for upcoming jobs.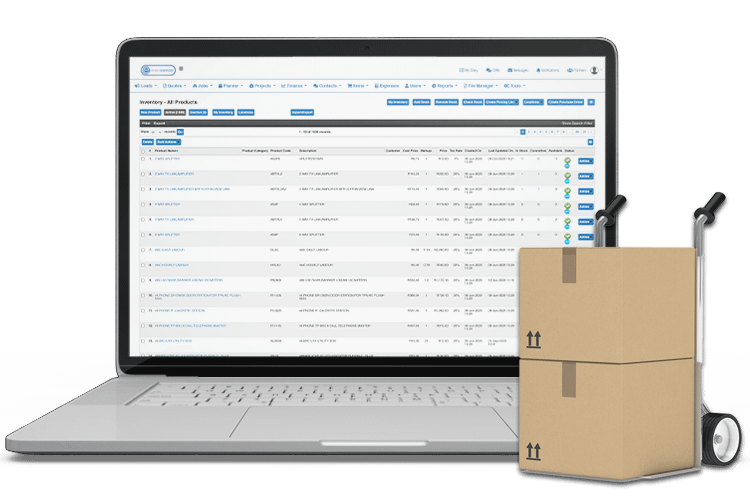 Easily Manage and Monitor In-house and Van Stock
By using Eworks Manager to manage and monitor each of your Locations, stock replenishment becomes an easy task. With total stock and stock value visible for each location, your staff will know exactly what stock each warehouse or Mobile Location has - minimising cases of over-stocking and under-stocking.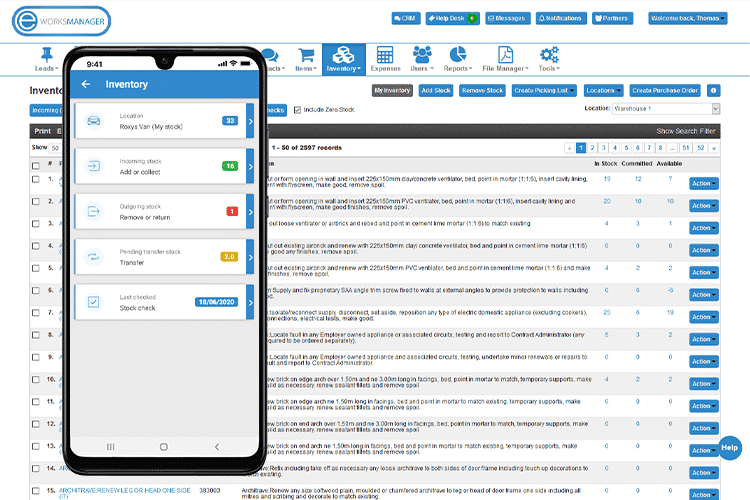 Processing Purchase Orders
You can keep an eye on all Purchase Order information, whether it be ordering stock for a job or for a location. With Eworks Manager's Stock Control Software, you can capture partial deliveries and Invoices from your suppliers. This will ensure that you have all the stock you ordered. Tracking ordered stock also becomes easy with our software. Simply select the location from a drop down, which automatically updates the location's stock count.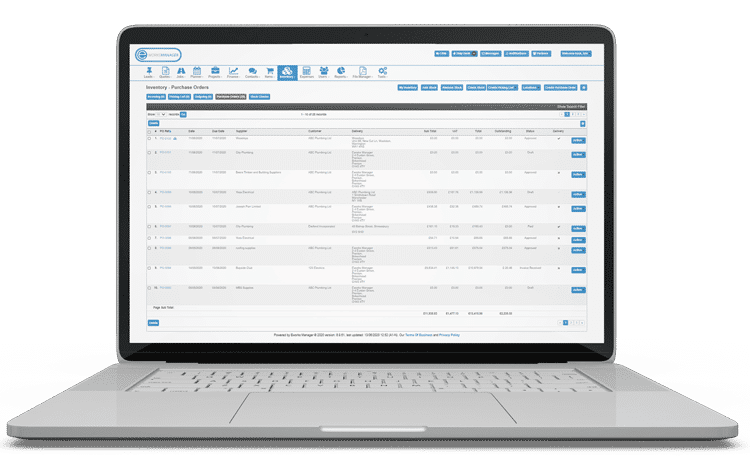 Move or Transfer Stock from One Location to The Next
When stock assigned to a job is not available in the worker's van, the system will automatically generate a picking list for the worker to collect from their designated warehouse. The admin staff can quickly create picking lists to move stock from one location to another. This way, the system can adjust stock values for each location and keep a full history of stock moved.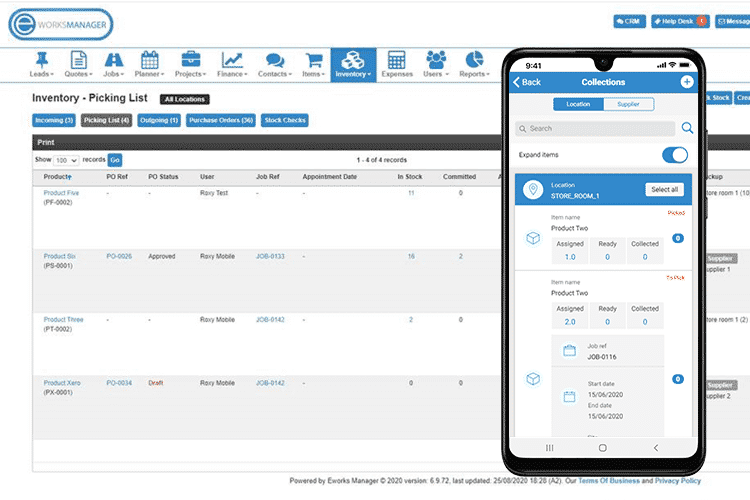 Keeping a Full History
When picking lists are created for locations, when stock is ordered from your suppliers or when staff add or remove stock for specific locations, Eworks Manager keeps a full history of it. This allows you to refer back if any issues arise around the stock.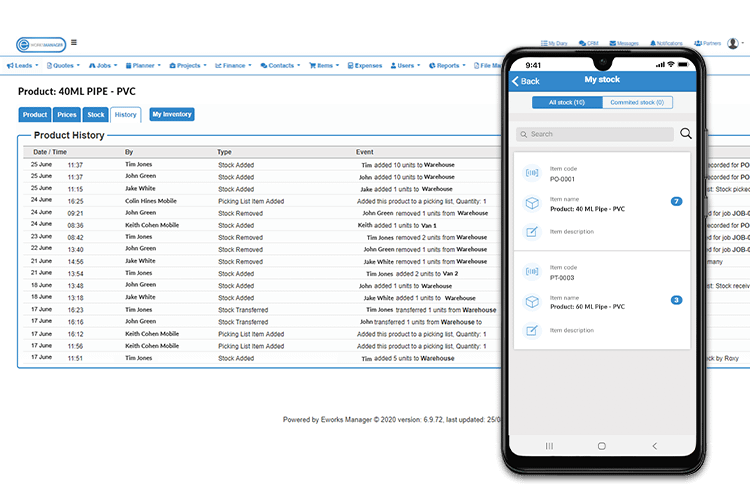 The Complete Business System
Some additional features that would benefit your business
Stock Management Software FAQs
1What is Stock Control Software?
Eworks Managers Stock Control Software helps your business monitor and track on-site materials at your warehouse. Our software also has the ability to track mobile stock in your business vans, as we understand that many service businesses actually use their vans to store materials on the move.
Eworks Manager also allows your team to create picking lists to move stock from one location to another. The system can then adjust stock values for each location and keep a full history of stock moved. This is a fantastic feature for any service or trades business that needs to keep track of their stock based in multiple locations, including inside their work vans.
2Why is Stock Control important?
Stock Tracking Systems improve the accuracy of inventory orders. Proper stock tracking systems help you calculate how much inventory you have on-hand. It helps prevent stock shortages and purchasing too much stock in the warehouse. It also helps maintain an organized warehouse. Your workforce can use the Eworks Manager Mobile App to log what stock has been taken out, so that it can be replaced in the next order from suppliers.Stock Control is also important because your business can keep track of loss of materials or quickly recognize theft of stock. Having complete control over your stock levels also means that your business will never have to delay jobs waiting for orders. Managing your stock with an accurate system will save you time and money in the long run.
3Why is Stock Tracking System better than a manual one?
Digital stock control systems are flexible, and information is more accessible. You can quickly get a stock valuation or find out how quickly a particular item of stock is moving.
Our Stock Management Software stores stock items and pricing data on the system, and alert triggers can be set to automatically notify you when stock levels are running low in your warehouse or in your work vans.
A manual system and doing stock-takes are now a thing of the past, because they are far too time-consuming and tedious. Why not try a system that does it all for you?