'Optimisation' has become a buzzword in the field service community. It's mentioned time and again as a goal every plumbing, engineering, construction, electrical, HVAC and any other business in the industry should be working towards.
But what is field service optimisation, and why is optimisation crucial for your business?
We've shared a step-by-step guide to help you understand: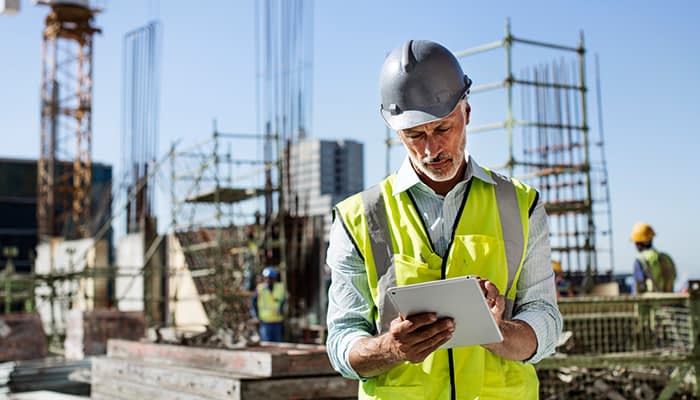 What is field service optimisation?

Field service optimisation includes all efforts to improve the efficiency of your day-to-day business processes. Optimisation aims to identify ineffective steps or methods slowing your team down or increasing operational costs to boost productivity.

Why is optimisation important?

Optimising your operations has a direct impact on productivity. As we mentioned, field service optimisation helps you reduce unnecessary steps and eliminate ineffective methods which lead to errors and duplicate work to create efficient processes.
With efficient processes, your team can work faster and smarter, increasing their productivity while maintaining quality. Improved productivity offers countless benefits for your business, including better communication, increased workforce efficiency, enhanced customer satisfaction, improved compliance, and reduced operational costs.
Field service optimisation also addresses other challenges your field service managers face, and it can help them overcome communication challenges, scheduling conflicts, time management barriers and equipment failure. Overcoming these challenges helps managers create a flexible team and improve business agility, helping to create a company that can adapt to changes in the field service industry and seize new opportunities to grow and improve profitability.

Key areas to optimise

Before you start optimising, think about the day-to-day processes that impact productivity most, and optimise these first. If you need guidance, use these key areas as a starting point.

Job scheduling

Scheduling can be a time-consuming task if your process isn't well-organised. An inefficient scheduling process can cause conflict and confusion in your team, leading to a lack of productivity.

Performance

Your team's performance plays a crucial role in boosting productivity. When your team works together and performs optimally, you can maximise productivity, increase quality and scale your business. Unfortunately, poor performance will have the opposite effect. Optimising processes can make it easier for your team to work together, helping to improve their performance.

Inventory management

Poor inventory management can lead to project delays, affecting productivity and customer satisfaction. Your business relies on the availability of parts and materials to complete jobs, and when these items aren't readily available, your workers won't be able to complete tasks. On the other hand, optimised inventory can save you time, maximise productivity and reduce warehouse costs.

Preventative maintenance

Ineffective preventative maintenance can lead to an increase in unexpected downtime, affecting productivity and operational costs. Unplanned maintenance requires additional labour and finance for repairs. Your workers will also be unable to complete tasks while equipment is being repaired. Optimising your maintenance processes is the most effective way to prevent downtime and equipment failure.

Optimise your field service processes in 5 steps

Now it's time to put your newfound understanding of field service optimisation into practice with these actionable steps.

Step 1: Move away from manual processes

When optimisation is your goal, the first step you should take is to eliminate manual processes and replace them with automation.
Manual processes are unproductive for several reasons. They create extra work for your team, giving them less time to focus on customer projects and tasks that add value to the business. With manual processes, your employees can easily make mistakes. For example, if your employees have to complete paper forms on-site, they may write down incorrect information or misplace the form.
Automated processes improve workforce utilisation by allowing your team to focus on tasks requiring their specialist skills rather than mundane administrative work. With more opportunities to use these skills, they can become more efficient, helping to increase your workforce's productivity. Automation also improves data quality by reducing errors made with manual data entry, optimising data capturing while decreasing your team's workload.
The best way to automate field service processes is with Field Management Software. The software can automate job scheduling, quoting, invoicing and route planning, and you can streamline processes like lead management, asset management, inventory management, vehicle tracking, client communication and customer support.

Step 2: Use real-time tracking

You can optimise route planning with tracking to reduce mileage and save time. Field Management Software monitors your team's real-time location with vehicle tracking, and you can set up the system to use this real-time data to automate route planning. You can use automation to assign a job to the nearest available technician to reduce mileage or the soonest available worker to save time and get a specialist to the customer as soon as possible.

Step 3: Use a mobile app

Your team can access Field Management Software via a mobile app, which gives them access to their digital job sheets and other tools that make it easier for them to do their jobs in the field. They can use the app to complete quoting and invoicing, get jobs approved by clients on-site, capture data and upload digital documents to the system, and share real-time job updates. A mobile app gives your team one platform to manage tasks, optimising job management and communication.

Step 4: Leverage data

Field Management Software is not only fantastic for optimising field service processes but for tracking the success of optimisation. You can track time spent on-site, the number of jobs completed, expenses and income, maintenance jobs, mileage, travel time and more, and generate reports. You can use these reports to measure the success of optimisation and make changes to improve it or show stakeholders how optimisation has improved your business's efficiency, productivity and profitability.

Step 5: Train your team

With reports and data from Field Management Software, you can identify areas of your business that need improvement and provide training to ensure that resources are used efficiently and that your team operates at maximum capacity. It's also essential to train your team to use the software effectively to get the most out of it.

Optimise your operations with our Field Management Software

If you've tried to optimise your operations with a paper system or software on the market but haven't succeeded, it may be time to switch to Eworks Manager.
Our Field Management Software is the only tool you need for field service optimisation. You can optimise lead management, quoting, invoicing, job scheduling, route planning, vehicle tracking, inventory management, and so much more.
To discover our software's full range of features, sign up for a 14-day free trial, or contact us for assistance.