View All Your Vehicles Within Eworks Manager and Assign Jobs with One Click. For a 14-Day Free Trial, click here!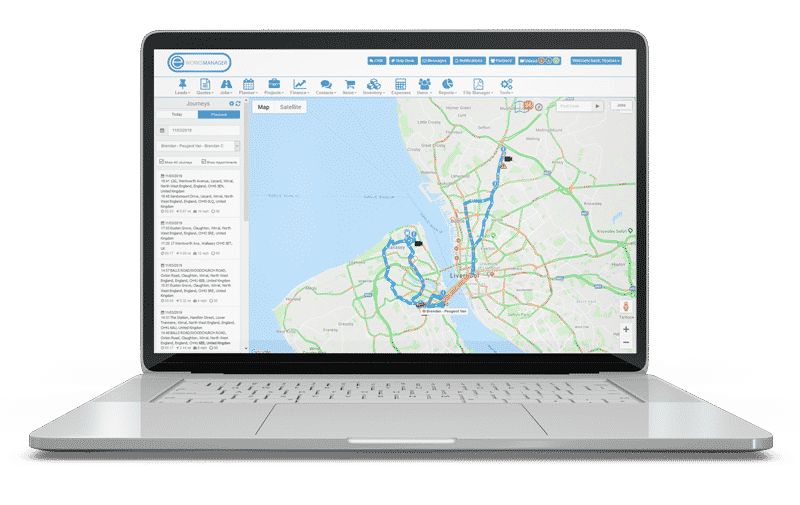 Vehicle Tracking Software
Key Features
Fully integrated into our Job Management Software
Playback allows you to find where your fleet was at a specific time and how far they were away from a location
Reactive Job Planning – Search via a postcode for an address, find the closest engineer and plan in the works
Driver scores – See all your drivers scores and see who your best driver is
Turn off Vehicle Tracking after hours for staff driving personal vehicles
Get live location and receive automatic updates
Business critical reporting allowing you to analyse your fleet
Vehicle Tracking Software for Job Management
The Eworks Vehicle Tracking Software is fully integrated with our Job Management Software which is what makes us unique, setting us apart from other tracking devices on the market. Our system keeps track of your vehicles when they're out on the field regardless of whether your drivers are parked up, taking a break or on the move. You will be able to detect their specific location via our map location. You can plan and control jobs all within one system which would save a lot of time and confusion when keeping track of past, on-going and future jobs. Our system is perfect for allocating emergency reactive jobs as you can observe and instruct your staff whilst they are out in the field. This will help you monitor time management and inform customers on the progress of jobs. You will also be able to see how long it took your driver to get to their job, whether your driver was speeding and how long they were at their destination for.
Reports
Eworks provides driver behaviour reports for all your drivers such as mileage, journey reports, driver speeding reports, user and job reports so you can monitor jobs and staff constantly 24/7. You will never miss a thing! As well as being able to bring up reports on your drivers, you will also be alerted of any device that has been deactivated, for example, if one of your drivers was to unplug their vehicle tracking device, you would be alerted instantly.
---
Be Reactive
Assign jobs knowing you are picking the closest workers to that job
Driver Scores
Monitor your drivers and their safety with our scoring system
Unauthorised Usage
We know when your engineers are working and alert you if they abuse company policy
Reports
Intelligent reporting for better cost analysis