Track Your Vehicles & Manage Your Field Service Business With One Platform. For a 14-Day Free Trial, click here!
An all-in-one solution for efficient vehicle tracking
Track your fleet vehicles, monitor driver behaviour and record your team's journeys with our Vehicle Tracking Software
Our Vehicle Tracking Software helps you keep your field workers on track, monitor driver behaviour, improve employee and fleet vehicle safety, and improve reactive planning.
No matter where your fleet vehicles are, you can trace them with real-time tracking. When your team is out in the field, you can see where each worker's vehicle is, the job they're working on, and the appointments assigned to them.
With our comprehensive reporting tool, you can monitor driver behaviour. Our software gives insight into your team's speed, idle time, acceleration, braking, mileage and travel time to help you identify inefficiencies affecting your costs and productivity.
Keeping your employees and fleet vehicles safe can be challenging, but with our system, you can protect your team and company cars with real-time tracking. If your technicians are lost or in a dangerous situation, you can track them down and get them to a safe place. And if your vehicles are stolen, you can trace them with our Fleet Tracking Software.
Your success in the field service industry depends on your business's ability to adapt to changing customer needs and assist customers quickly. With Vehicle Tracking Software, you can respond to tasks that crop up faster by finding the nearest available worker and sending them to the job site.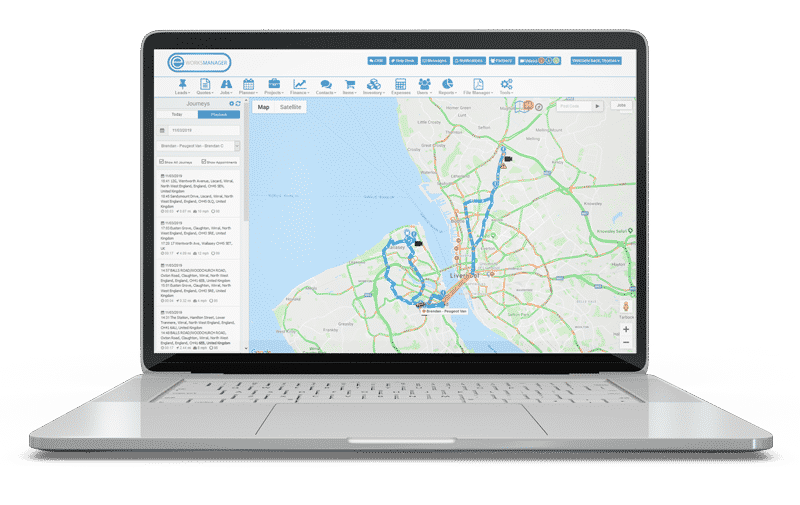 Improve Reactive Planning With Live Location Tracking
Access to your team's live location can help you improve reactive planning. Our software tracks your technicians in real-time, so you can see where they are, the job they're travelling to, and the appointments allocated to them. If a customer urgently needs assistance, you can sign into the system, find the nearest available employee, and assign the job to them.
Improving reactive planning helps you create a flexible workforce that can take on tasks on the spur of the moment. The ability to respond rapidly to customer demands can help you improve your response time, boost customer satisfaction, improve employee utilisation, and increase productivity.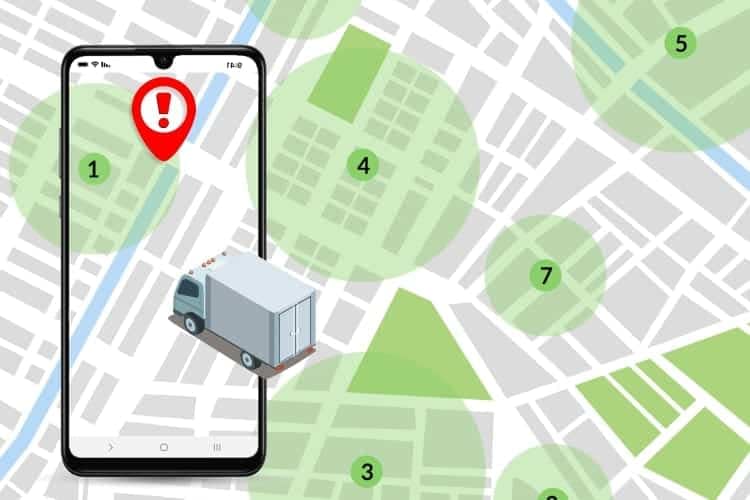 Discover Where Your Technicians Have Been With Journey Playback
With our Vehicle Management Software, you can view previous journeys by selecting the playback button to load the trips your technicians have made. Our playback feature shows you the start and end of every journey and highlights speeding and idle time.
With the ability to see where your workers have travelled and their journeys in detail, you identify inefficient behaviour contributing to excessive fuel consumption, wear and tear, and time wasted between jobs. You can use the information from our playback feature to find ways to improve fuel consumption, reduce damage to vehicles, and improve productivity.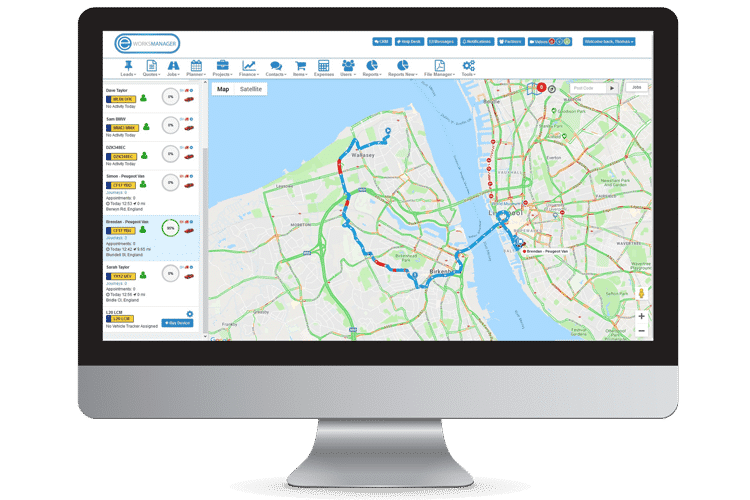 Turn Off Vehicle Tracking After Hours
If your technicians drive their personal vehicles, you can turn off vehicle tracking after hours to ensure your tracking data is accurate and give your workers the freedom to travel anywhere during their time off.
Turning off vehicle tracking gives your technicians peace of mind, as they know you're not tracking them when they're off the clock. Trust helps grow your relationships with workers and improves teamwork and collaboration.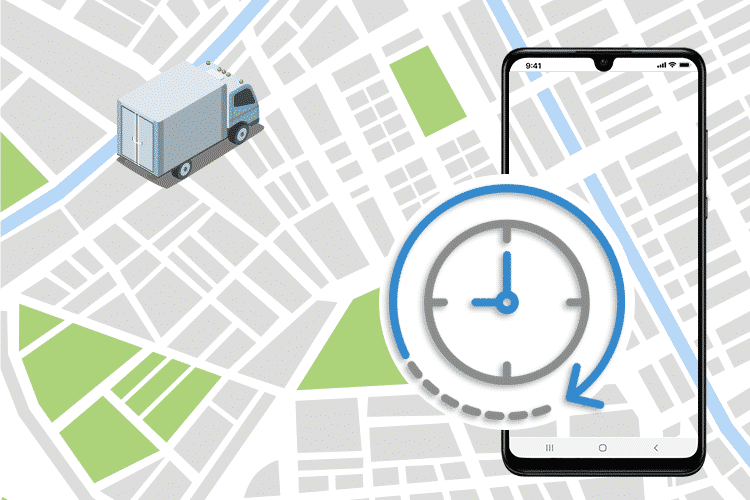 Monitor Driver Behaviour With Comprehensive Reports
Our software makes monitoring driver behaviour easier, even when you're not travelling with your technicians. Our system gives you insight into your team's journeys. You can generate reports to monitor mileage, travel time, idle time, speed, braking and acceleration.
You can also generate a daily score report for every driver. The score calculates the technician's driving style, taking their braking, speed, acceleration and idle time into consideration. You can use the score to identify technicians whose driving style may affect fuel consumption and wear and tear.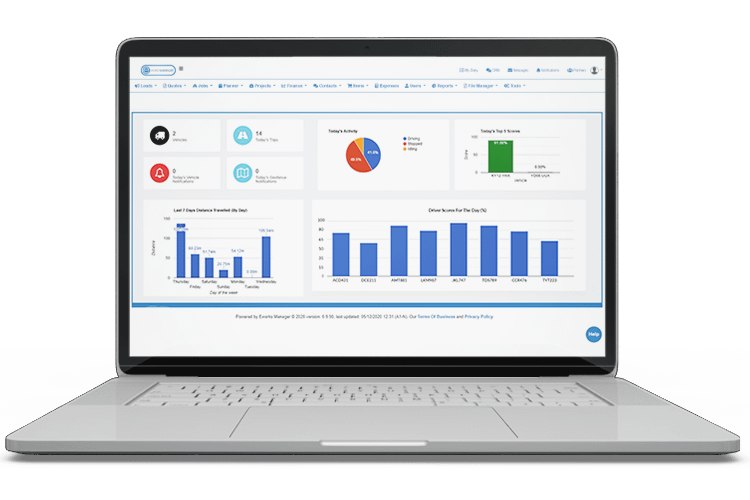 The Complete Business System
Some additional features that would benefit your business
Vehicle Tracking System FAQs
1What is Vehicle and Fleet Tracking Software?
Vehicle and Fleet Tracking Software is a field service management tool that enables you to simplify workforce management and improve job scheduling.
You can track your fleet vehicles in real-time and playback previous journeys to monitor mileage, travel time, speed and idle time. It can also help you improve workforce utilisation and reactive planning.
2What features does Vehicle Tracking and Management Software have?
The core features of our software include real-time vehicle tracking, playback of previous journeys, and driver behaviour reporting. Our software can be used with our Job Management Software to improve job scheduling, route planning and workforce utilisation.
3What are the benefits of Vehicle Tracking Software?
With Vehicle Tracking Software, you can reduce fuel costs by monitoring your team's behaviour behind the wheel and improving their driving style to improve fuel efficiency. Improving driving style can also help reduce vehicle wear and tear.
When used with our Job Management System, you can improve time management with our software. You can automate job scheduling and use Auto Planning to assign jobs to your staff based on their location. Once your team is in the field, you can give them tasks that crop up by viewing their real-time locations and finding the nearest available technician. You can also reduce the time your team spends on the road, giving them more time to work on your customers' jobs.
Your vehicles are some of your most valuable assets, and with our software, you can keep an eye on them when they're on the road and retrieve them if they're lost or stolen. Vehicle Tracking Software prevents the assets from being misplaced and having to be replaced, which can be costly.