A new year brings a fresh start and a chance for you and your team to take on new challenges.
But to take advantage of the new year, you need to have a game plan, so everyone is ready to hit the ground running from the get-go.
To help you get started, here are the practical steps you can take to get your field service business ready for 2023.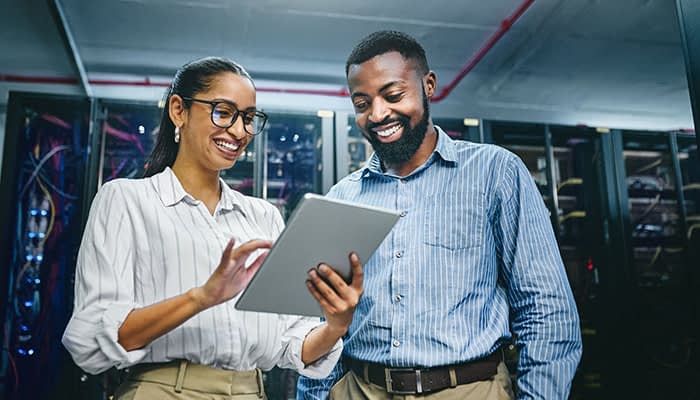 Getting ready for a new year: 3 reasons why it's important

The key to successfully getting ready for a new year is understanding the value of being prepared. These are the top reasons why preparing your business for 2023 is important.

To reduce risk

With careful planning, you can identify potential problems and find ways to prevent, minimise or eliminate them. Managing risks can help avoid losses and unexpected costs and increase productivity by ensuring time and resources are well spent.

Give your team a sense of direction

A plan of action gives your team clarity, so they know what work to prioritise to improve productivity and reduce busy work. A clear sense of direction gives your team purpose, keeping them motivated as they work together towards a common goal.

Improve your chances of achieving your goals

It's easier to achieve goals with a plan, as you can identify the skills and resources you need and create a strategy to reach your targets in time. Deciding how you will achieve your yearly goals ahead of time will improve your chances of successfully meeting your objectives.

How to prepare your business for 2023

Here are some of the actions you can take to prepare your business for the year ahead.

Analyse your data

Data helps you analyse success from year to year and can help you identify ways to improve performance. Use data to determine which processes helped you achieve your goals and which slowed your team down. This analysis will help you identify inefficiencies and update processes to improve efficiency and productivity in the new year.
The most effective way to use data to improve performance is to generate reports with Field Service Software. All your data is stored in one place, making it easier to create reports and compare stats.

Get feedback from your team

As a manager or business owner, you're not always on-site to see what your technicians see. They may have ideas inspired by the day-to-day challenges they experience in the field. Requesting feedback gives you a chance to get valuable insights and reminds your team that they play a vital role in the success of your business. Employees want to be heard and their views valued, and asking them for feedback is a great way to motivate them ahead of the new year.

Engage with your customers

Talk to your customers about their experience with your company in the past year. Asking them for feedback can help you review your customer experience so you can find ways to improve it. Engaging with your clients can also help you identify their needs and expectations for the future. People's needs constantly change, so make sure you go into the new year with a clear idea of what they want and expect.

Prepare a business plan

Preparing a new business plan ensures that your goals and objectives, budget, resources and strategies are revised to help you overcome the challenges you expect to face in the new year. Your annual business plan should include a review of 2022, predicted income and expenses, a timeline for goals, a market analysis, your team's roles and responsibilities, changes to your operations, and a marketing strategy.

Review your software tools

Before entering the new year, consider whether the software tools you use have the capacity and features you need to implement your new business plan and achieve your goals for 2023. You may need a more comprehensive system as your business grows and changes.
If you're using several software products for field service management, consider switching to Field Service Software. The software is an all-in-one tool you can use to manage and optimise every facet of your field service business.

Bonus: A quick look at Field Service Software

To help you decide if the software is a tool your business needs in 2023, take a look at our guide to Field Service Software.
Field Service Software is a tool to manage your field service operations and resources. It gives you complete control over all activities in your business and provides a central hub for your employees to find all the job-related information they need.
Beyond streamlining field service management, the software optimises your processes through automation to improve time management, efficiency and productivity.
Here are some ways to use Field Service Software to improve field service management.

Job scheduling - Automate job scheduling to save time and find the best timeslots for jobs based on your team's location and availability.
Lead management - Import leads and assign them to your technicians. Give them a platform to log all communications with prospects and convert leads into quotes.
Quoting and Invoicing - Create custom templates, email quotes and invoices from the system, convert quotes to job sheets, and set up automatic reminders instead of manually following up on quotes and invoices.
Route Planning - Optimise your travel routes to save your technicians time or reduce mileage and fuel consumption.
Inventory Management - Manage purchase orders, create picking lists, and keep track of the inventory in your warehouses and vehicles.
Asset management - Schedule recurring asset maintenance jobs and keep an accurate history of all maintenance activities.
Get ready for a successful 2023 in the field service industry with Eworks Manager. Book an online demo with a member of our team to learn more about our Field Service Software.
To see what we offer and how you can use our software to streamline your processes, sign up for a 14-day free trial.