Monitor Stock Levels, Manage Purchase Orders and Picking Lists and Optimise Warehouse Storage All In One Place. For a 14-Day Free Trial, click here!
Cloud-based Inventory Management Software for effective inventory management
Improve the control and visibility of inventory with our Inventory Management System.
In the field service industry, efficiency is essential in inventory management, as it saves time and money and ensures that resources are used efficiently. Efficient inventory management gives you access to accurate data, so you know where your stock is, how much is available, and how much incoming and outgoing stock you have.
Our Inventory Management Software makes effective inventory management easy. You can manage supplies, deliveries, the distribution of materials and parts, purchase orders and picking lists in one place. The Stock Management System optimises your warehouse space, tracks inventory in multiple locations, and records all inventory management activities, including stock relocations.
We offer a simple way to manage your inventory from your computer or mobile device. With our Inventory Management System, you have complete control over your stock.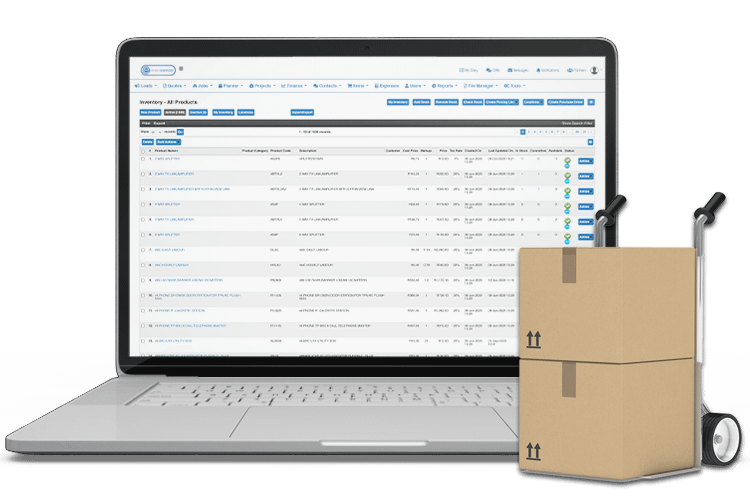 Optimise Your Purchase Order Process
Streamline your Purchase Order process with Inventory Management Sofware. Our cloud-based software provides a central hub where you can create and manage all Purchase Orders in one place. From our dashboard, you'll find the status of every Purchase Order and the potential cost for all orders, helping you track how much you're spending on parts and materials.
If you need to order the same quantity of materials frequently, you can create recurring Purchase Orders to save time and ensure the supplier receives the information on time.
Efficient Purchase Order management ensures you get the parts and materials you need to complete jobs on time and keep clients happy.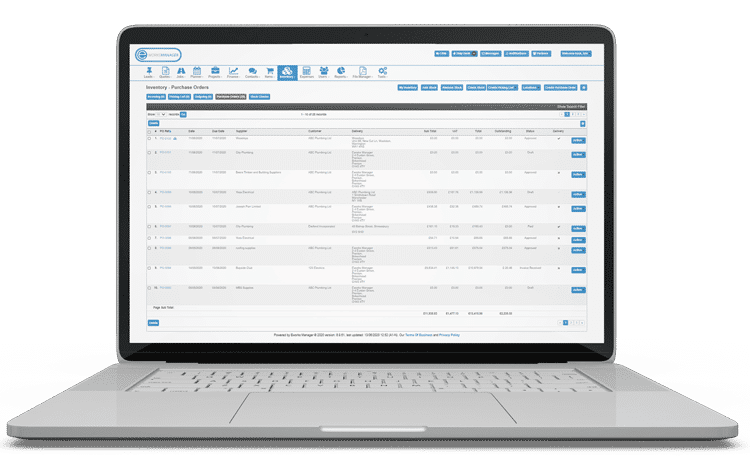 Create & Manage Picking Lists
Our Inventory Management System streamlines your picking list process to make it more efficient and ensure your team can fulfil customer jobs. Once you've created a picking list, the system will automatically be updated to show which items are available and which have been allocated to a user or location.
An effective picking list process is crucial as it saves your team time. Instead of searching for the items they need in the warehouse to create their picking list, your employees can see which items are in stock, make a picking list online, and collect and transfer the stock from the Mobile App.
Our software allows your team to create picking lists with our Mobile App. Giving your technicians the power to add their own picking lists ensures they have everything they need, as they're in the best position to know what items are required for jobs. Your employees can also use our app to view their stock, collect items from a specific location, remove, return or transfer stock, or do a stock check.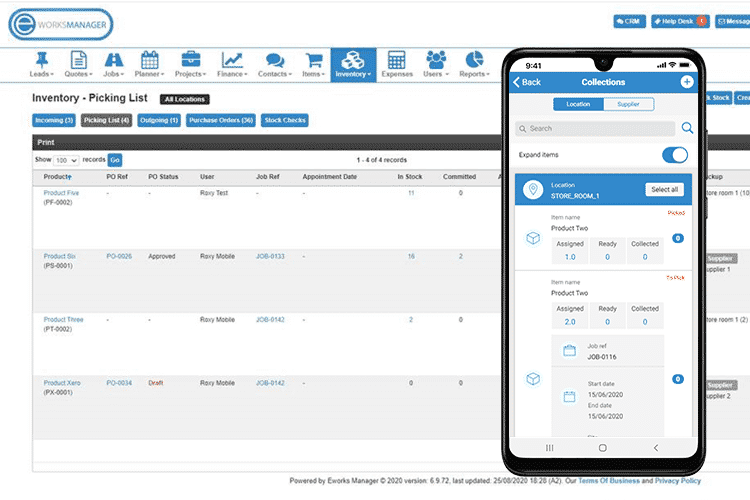 Effectively Manage Inventory Across Multiple Locations
Seamlessly track and manage all the stock in your warehouses and company vehicles with our Inventory Management System. Our software gives you a bird's eye view of your stock levels across your location and shows you all your incoming and outgoing stock, picking lists, purchase orders and stock checks in one place.
Our Inventory Management Software gives you complete transparency over the movement of materials and parts to make it easier to locate stock and prevent items from being misplaced.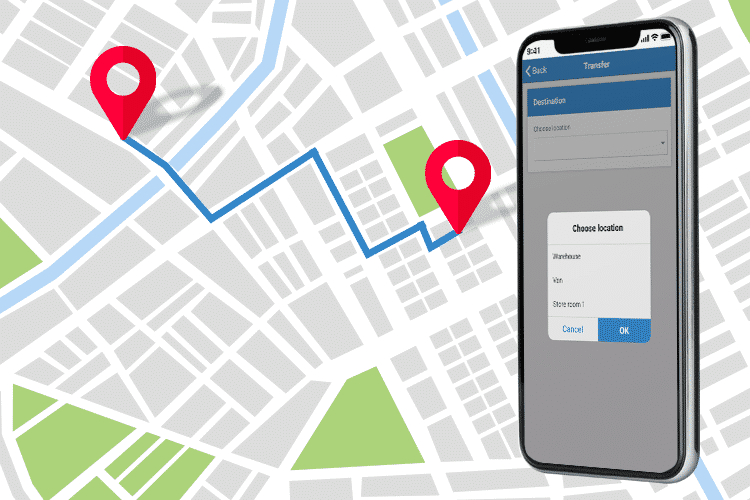 Record All Your Inventory Management Activities
All your inventory management activities are stored on our system, helping you keep a complete history of stock movement. You can see whether items have been added or removed from the system or transferred from one location to another.
An accurate record makes it easier for you and your team to locate missing stock or look back to address an inventory issue. Using cloud-based Inventory Management Software ensures that your records can never be misplaced and saves you the time and hassle of documenting all inventory movement on paper.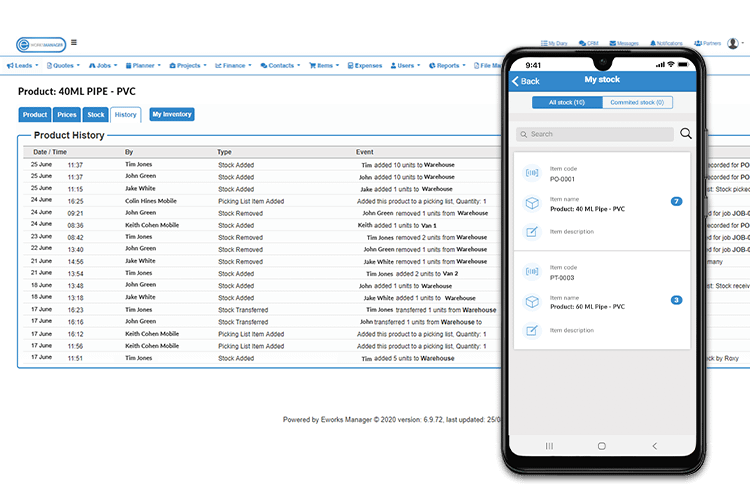 The Complete Business System
Some additional features that would benefit your business
Inventory Management Software FAQs
1What is Inventory Management Software?
Inventory Management Software is a digital tool to manage your inventory online. You can use the software to monitor and track materials and parts in your warehouses and company vehicles and manage picking lists and purchase orders. The software streamlines your inventory processes to save time and money and optimises inventory management to increase efficiency.
2What is the easiest way to manage inventory?
With Inventory Management Software. You can keep inventory organised and optimise inventory management to save time and money. Anyone in your team can locate stock and access inventory data via our Mobile App. An Inventory Management System is the easiest way to manage inventory as everything is done on one system, reducing your paperwork.
3Why is Inventory Management important?
Inventory management sets your business up for success. With all the parts and materials required for jobs, and the ability to locate stock accurately, your team can successfully meet deadlines and work productively.
It also saves time by preventing delays caused by a lack of supply or inability to find materials. Inventory management helps you manage costs by optimising your warehouse space to ensure optimal stock levels and prevent overstocking or understocking. Effective inventory management can also help to reduce errors by improving transparency.
4Why should I use a cloud-based inventory system?
A cloud-based inventory system is more flexible than a paper-based or desktop system. The data is stored in the cloud, and your users can access information anywhere at any time, as long as they have an internet connection. If they don't have access to the internet, they can work offline and sync data to the system later, making the software flexible.
You and your team can sign in to the cloud-based inventory system from your computer or mobile device. Accessing inventory data in the office or on-site is ideal for your field workers. They can view their stock, add a picking list or collect items from a warehouse, return stock, transfer stock to another technician, or do a stock check.
Cloud technology keeps all your information safe. It's secure and ensures that confidential information can't be misplaced or fall into the wrong hands, unlike a paper-based or desktop system, where paper documents can be lost, or computers can be stolen.