Invoicing may be a task you do quickly to get it over and done with, but if you don't check your invoices meticulously, you may make mistakes that could delay customer payments and affect cash flow. Fortunately, you can avoid making these common mistakes with Invoice Management Software.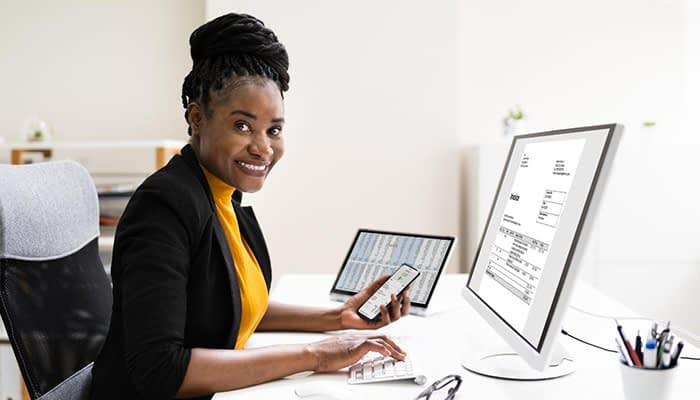 Not including a due date for payment

Clear payment terms, including when an invoice is due, are crucial if you want clients to pay you on time. Timely payments are necessary to help you maintain a positive cash flow, and if you have to follow up on late payments, you'll have to schedule time to contact your clients and you won't have the money you need to pay your company's expenses.
When you generate an invoice with our Invoice Management Software, you won't forget to add the due date for payment, as this field is compulsory for all new invoices. It's also mandatory to add the invoice date, so there's no chance you'll forget to add all the dates required to your invoices.

Not creating digital copies

Paper isn't always a reliable way to keep a record of documents. The information can easily be lost or damaged. If you create digital copies of your invoices, you can store them online and access them whenever and from any device. If your client has misplaced their invoice, you can email or print another copy for them.
All invoices created and sent with our software are stored on our cloud-based system and can be accessed via our Admin System or Mobile App. You can email or print individual invoices, edit draft invoices and duplicate an invoice you've created.

Forgetting to share your terms and conditions

Sharing clearly defined terms and conditions can help your business avoid late payments from clients, reduce the need to follow up on unpaid invoices, and prevent miscommunication, leading to legal disputes.
Our invoices include a section for your terms and conditions. You can create a template for your invoices to ensure that this information is automatically included in all statements created. You can also edit the terms of each individual invoice if you need to add information for a specific customer.

Not sending invoices on time

Sending invoices on time is crucial if you want your clients to pay you on time. Customers may also become impatient if they don't receive invoices on time, and they may forget to pay you when they eventually receive their invoice.
It's easy to send invoices on time with our software. Your technician can use our Job Sheet Software to convert jobs they've completed into an invoice and email it to the client immediately before they leave the job site.

Not following up on overdue invoices

Most business owners and managers don't look forward to following up on overdue invoices. It's time-consuming and frustrating, and it can be tricky to ask for payment in a professional manner when it isn't the first time a client hasn't paid you on time.
Fortunately, our Invoice Management Software reduces the need to manually follow up on overdue invoices. Instead, you can set up invoice reminders, and our system will automatically send emails to customers who haven't paid their invoices.

Sharing incorrect information on an invoice

When you share incorrect information or make mistakes on invoices, you'll have to create and send new invoices to customers, which is inefficient. Your customers may also get frustrated if they have to send the invoice back to you to correct the mistake, which may delay their payment.
When you create a new invoice with our Invoice Management Software, you can choose the customer you're invoicing from a drop-down list, and our system will add the customer's details and billing information. If the information has been captured accurately on our system, the correct information will be added to the invoice. You can also preview your invoice to confirm that the details are correct before sending it to the client.
Avoid invoicing mistakes with Invoice Management Software
Sign up for our Invoice Management Software to avoid making these common invoicing mistakes. Our all-in-one system includes free training and support to guarantee successful implementation and help you streamline other areas of your business. Start your 14-day free trial today to experience everything our software offers.