We recently attended The Facilities Show, an exhibition for the facilities management industry. One of the show's highlights was a smart building immersive experience. We were fascinated by the technology on display and wanted to give you insight into what we learned and look at the role of smart buildings in the future of facilities management.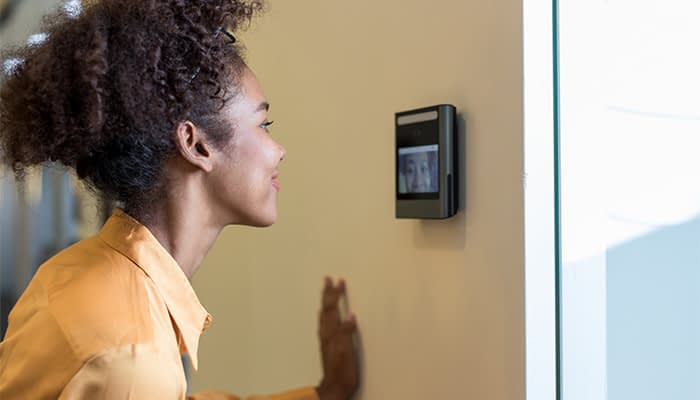 What is a smart building?

Smart buildings are facilities or buildings that use advanced technology and connectivity to improve functionality, efficiency, comfort, and security. With integrated systems, devices and sensors, they automate and optimise building operations to enhance an occupant's user experience.

Smart buildings and the future of facilities management

The Facilities Show created a life-size smart building environment to show visitors how they can use technology to improve a building's efficiency, comfort and safety.

 

The immersive experience featured solutions like smart lockers, room booking panels, destination control and wayfinding systems, and a meeting room where the temperature, air-conditioning settings, blinds and lights could be adjusted.

 

Smart solutions have so much to offer when it comes to streamlining and automating building operations. And because we work with facilities and property management professionals to simplify processes with our software, we wanted to explore why smart buildings should be on your radar and how you can capitalise on the technology to take efficiency to the next level.

The benefits of smart buildings

As shown by the immersive experience, smart buildings offer countless benefits, including the following:

 

Sustainability: Smart buildings use energy management systems to optimise energy consumption, monitor usage, and automate energy-saving measures, helping you reduce the building's carbon footprint.

 

Cost savings: While the initial investment in smart building technologies may be significant, the long-term cost savings are substantial. Energy-efficient systems can reduce utility bills, and predictive maintenance can help avoid costly equipment failures.

 

Improved efficiency: With automated systems to monitor equipment performance and detect faults, you can schedule maintenance before assets fail, reducing downtime and increasing equipment lifespan.

 

Enhanced safety and security: With advanced security systems, you can improve access control and surveillance and prevent unauthorised entry. If there's a breach in security, you can detect and respond to incidents faster, enhancing the safety of office workers.

 

Real-time data and analytics: You can generate and collect data through sensors, meters, and interconnected systems. This data provides valuable insights into energy usage, equipment performance, occupancy trends, and resource allocation, which you can use to make informed decisions.

 

Future-proofing: Smart buildings are flexible and adaptable to evolving technologies and needs, helping you future-proof your facilities.

The challenges of smart buildings

Like most technological innovations, some challenges come with implementing smart building technology. While the benefits outweigh the drawbacks, it's crucial to be aware of the obstacles you may face when taking on a smart building project:

 

Data security and privacy: Smart buildings collect sensitive data. To stop unauthorised users from accessing this data, you'll need to put cybersecurity measures in place to prevent sensitive information from falling into the wrong hands.

 

Legacy infrastructure: Many buildings, especially older ones, may have outdated infrastructure and systems incompatible with modern technologies. Upgrading or retrofitting your buildings to accommodate smart building features can be challenging and expensive.

 

Scalability and flexibility: Scalability is a challenge when implementing smart building solutions. Because buildings vary in size, layout, and infrastructure, you'll need to install adaptable systems that can be scaled up or down.

Using smart building technology to improve the efficiency, comfort and safety of facilities

Let's explore how smart buildings can help you improve the efficiency, comfort and safety of your buildings:

Energy efficiency

With automated systems and sensors, you can adjust lighting, heating, and air conditioning based on occupancy, weather conditions and time of day. Using technology to monitor and optimise energy usage can help save energy, lower utility costs, and reduce your facility's carbon footprint.

Space utilisation

Technology can help you manage office space and ensure workers can always access a desk or meeting room. Employees can see which desks or rooms are available at which times and book spots in advance. Smart booking software is ideal if your building occupants are hybrid workers, as they can make bookings online before coming into the office.

Asset maintenance

Smart building technology enables you to move from reactive to proactive maintenance. With sensors and connected devices, you can monitor equipment performance, identify potential issues, and schedule maintenance or repair jobs with Facility Management or Property Management Software. Predictive maintenance can minimise downtime, increase equipment lifespan, and reduce costly emergency repairs.

Comfort and well-being

With sensors and automated systems, you can improve the comfort and well-being of your building's occupants. HVAC systems can adjust heating, cooling and ventilation depending on the weather and the number of people in the building. Automating your HVAC control system can improve indoor air quality and regulate room temperature, creating a comfortable and healthy environment for employees.

Security and safety

Smart buildings prioritise security and safety by integrating surveillance systems, access control mechanisms, and emergency response systems. These systems can include video surveillance, intrusion detection, biometric authentication, and automated emergency alerts to prevent unauthorised access and security breaches and to protect occupants.

Final thoughts

Smart buildings offer a world of possibilities for facilities and property managers. The technology is changing how you can streamline and automate processes to improve functionality, efficiency, comfort and safety. Stay ahead of the curve and explore how you can use the technology to simplify your job and enhance user experience.
Want to learn more about how you can use Eworks Manager to schedule maintenance jobs? Or how you can use our software to track your maintenance team in real-time?
Book an online demo, and let us show you how our Facility Management and Property Management Software works.