We recently shared a LinkedIn poll where we asked you to tell us which field service superpower you'd choose to make the day-to-day running of your business easier. Adding an extra hour to the day received the most votes, but there was one superpower we didn't include in our poll, and that was delegation.
Delegation is often viewed as a weakness and the last resort when you don't have time to do a task yourself. But what if we told you that delegation is a superpower with significant advantages for your field service business?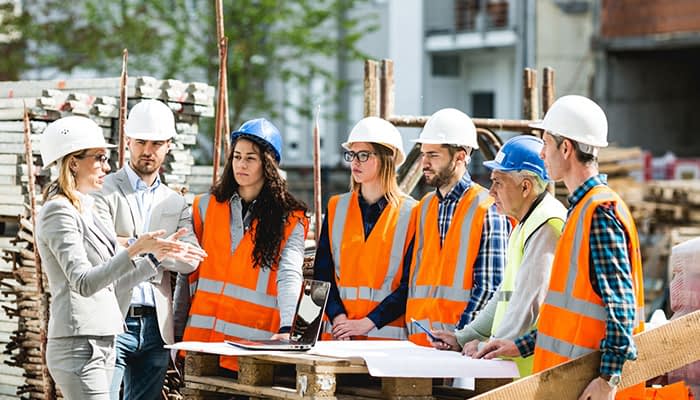 What is delegation?
Delegation is the act of giving employees or team members additional tasks and responsibilities to distribute the workload more evenly. Tasks can be delegated to workers based on their skills, knowledge or experience.
The power of delegation

Did you know that CEOs who delegate generate 33% more revenue than those who don't? Delegation gives you the power to grow your business and profits in a way you could never do on your own.
But it's not just about giving more jobs to your team to make your day-to-day life more manageable. Giving your technicians more responsibilities gives them the chance to learn and develop new skills to become more flexible, self-confident, and productive and learn to work together as a team.
Delegation can be a powerful tool; these are some ways it can transform your business.

It builds trust

If you want to create a culture of teamwork and collaboration where your technicians trust you and their colleagues, you need to build trust. Delegation is an effective way to do this, as it shows your team that you have faith in their skills and ability, improving their self-confidence. Giving technicians the opportunity to contribute and make decisions can help to build trust over time.

It increases efficiency

Allowing technicians to perform tasks gives them the chance to gain skills and experience that will help them work more efficiently. For example, if you ask a worker to complete a job that requires them to find an innovative solution, they'll develop their problem-solving skills. The next time they need to resolve an issue, they'll have the knowledge and skills to find a solution faster, helping them do the same task in less time.

It saves time

If you're struggling to keep up with your deadlines and are always behind on your work, it may be because you're taking on too much. With delegation, you can get support from your team and prioritise your to-do list by giving tasks to your supervisors and technicians to ensure that every job gets done on time.

It gives your team purpose

Meaningful tasks motivate technicians to put their skills to work because the work is challenging and exciting. When your technicians have a sense of purpose, they'll be more engaged and productive, helping to create an efficient team. Giving your team meaningful work allows them to learn new skills and develop their capabilities. As they become more skilled, they'll work more efficiently, and with a growing knowledge base, you'll be able to take on more projects or offer new services and grow your business.

It gives you time to focus on your priorities

The question isn't always whether you can do all the work on your plate but whether you can do it well. When you're overstretched, making mistakes is easy. Don't compromise the quality of your work by taking on too much. When you hand over tasks and responsibilities to your team, you have more time and energy to do an excellent job of the tasks left on your list.

How to delegate successfully

If delegating is something you know you should do but avoid because you don't know how to do it successfully, let us help you.
We've identified a few steps you can follow to become a better delegator.

Choose the right people

The key to delegating is choosing the right people in your team for the job. Keep your team's experience and skill level in mind when assigning tasks to your technicians to ensure you give them jobs they'll perform well but also be interested in so you can increase employee engagement. Try to find a balance between playing to your team's strengths and giving them the chance to develop new skills.

Share your expectations

Make sure your team knows what you want them to achieve when you give them a task to do and share clear instructions from the get-go. A lack of clear expectations will leave your team feeling anxious and unsure of what to do, and they may make mistakes or fail to meet the deadline.

Communicate with your team

While you should avoid micromanagement, keeping the lines of communication open and checking in with them is a good idea. Set aside time during the week to discuss the tasks they're working on and any problems they're facing so you can brainstorm solutions or suggest ideas.

Give your team the resources they need

If you want delegation to be successful, ensure your technicians have the necessary resources to do the tasks you've assigned. If they don't have the physical tools to do the job or even the extra training or information to get it done right, you'll be setting them up for failure.

Do you have the right tools to start delegating?

If you can make delegating a simple, straightforward task, you'll be more likely to start doing it. To make the job easier, start using the right tools. A digital solution like Task Management Software streamlines delegating and helps you keep track of all jobs you've assigned to your technicians.
With our cloud-based software, you can create and schedule tasks, add tasks to leads, quotes and job cards, and monitor your team's progress with real-time updates. Best of all, your field technicians can access and complete their tasks on-site by accessing the software via our mobile app.
Delegating can be challenging, but it's an effective way to get support from your team and for them to gain new skills and experience that will benefit your field service business.
Start delegating tasks effectively with Task Management Software. Sign up for our 14-day free trial, or contact us to learn more.