Job Scheduling Software within a System that works for you!
With Eworks Manager, assigning your jobs could not be any easier. We have a virtual whiteboard called the Time Planner that allows you to see all your jobs that have been booked in.

The Time Planner, each status of a job is a different colour. When you view the time planner you can see where your workers are, the progress of ongoing jobs and if a job has been cancelled or put on hold.

Our colour-coded blocks are updated in real-time, so when your field workers select 'On Route' on the Mobile App, the colour of the block will change immediately.
Our Job Scheduling Software is perfect for the organisation of any business.

Assign future appointments ahead of time and show all of your jobs in a daily, weekly or monthly view. Simply drag and drop jobs into a slot and enter the job description. The appointments are synced to the system, so if need be; you can manage existing jobs by moving them to the requested times. This action will also automatically alerts the user that their appointment has changed.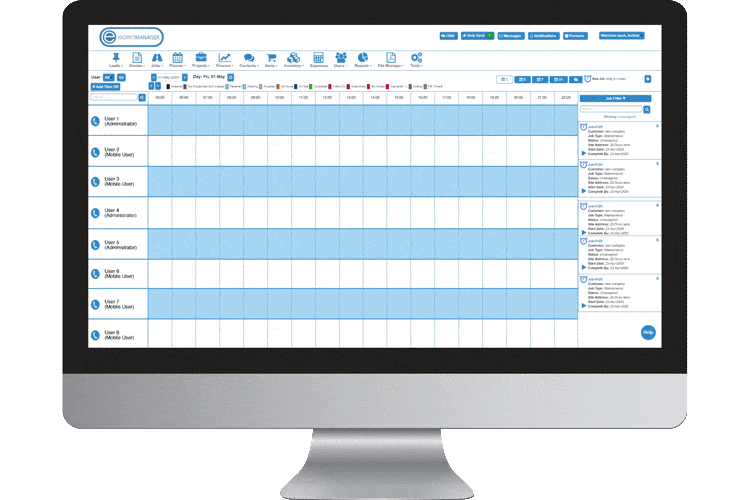 View floating appointments and recurring jobs, and assign workers to the jobs in advance. Our
Job Scheduling Software
syncs to the calendar and includes all the job details, such as the job number, the times, the customer with the address details and the current status of their appointment. Mobile workers will be able to see what their next job entails when they use the
Job Scheduling App
.
Additional Tools from Our System
Our
Geo Planning Software
lets you view the live location of workers out in the field. This way, when a new job comes in your team can see who is the closest and next available worker and assign the job to them. This feature helps you assign jobs in the most efficient and economical way possible.
Eworks Manager offers
Project Management Software
for your team to create projects for various staff working on a job. Set limits for projects so you can track the costings and invoice for the whole project or parts of the job. Extensive management reports are also available.
Eworks Manager's
Job Scheduling Software
and planner will save you loads of time and help your business become far more efficient than ever before!
Our
Job Management Software
offers so many wonderful features that are revolutionising the way people do business.
Why not try it out today with our
14-Day Free Trial
and see how it will benefit your business?