Locate All Your Workers on a Map and Schedule Based on Location
Planning Software
If you run your own business, you will know the struggle of an endless amount of paperwork and post-it notes dotted around the office and then the task of sorting through them to manage your business, day to day. This sort of planning can be tedious and frustrating; however,
Eworks Manager
has been designed to help companies with just that, especially with our
Planning Software
.
With our geo map view, you can view where all your workers are and when you receive a job we let you know who is the closest member off staff to go to the appointment. You will then be able to see if this person is available, and then assign them to that job, and if not, you can go to the next nearest field worker. Our employee monitoring software and App will take your current location and then give you directions to your next job. All this is mapped on our CMMS Software for admin staff to track all jobs and staff, back at the office.
In the admin system, you can also see where all your users are at all stages of the job. Using maps can help you plan work ahead as well, making sure you're not having operatives travel in a zig-zag fashion, thus wasting time in the van and more time getting the job done efficiently and effectively.
Use maps to help you plan, execute and track giving you peace of mind knowing the location of your workforce. If you have purchased our vehicle tracking system, you will also be able to track your cars and vans on a live map and assign them jobs to do from your job management system. Having all your operatives and jobs in one system helps you keep control of all your business all within one system.
Unlike most Job Management Software's out there, we provide constant support to all our customers, whether you have a quick question, require some more training on the admin system or the app or require a bespoke to change, we are always here to help with our super friendly customer service team and 24/7 support email.
Eworks Manager
offers many company benefits and above is just one feature so if you're ready to ditch the paperwork and start your
Eworks
journey, sign up for your 14-day FREE trial and try it out for yourself!
If you would like to get in touch, please feel free to call our office directly or pop us over an email, we would love to chat and book in a free online demonstration of the software!
Call us: +44 0151 653 1926
Email us:
[email protected]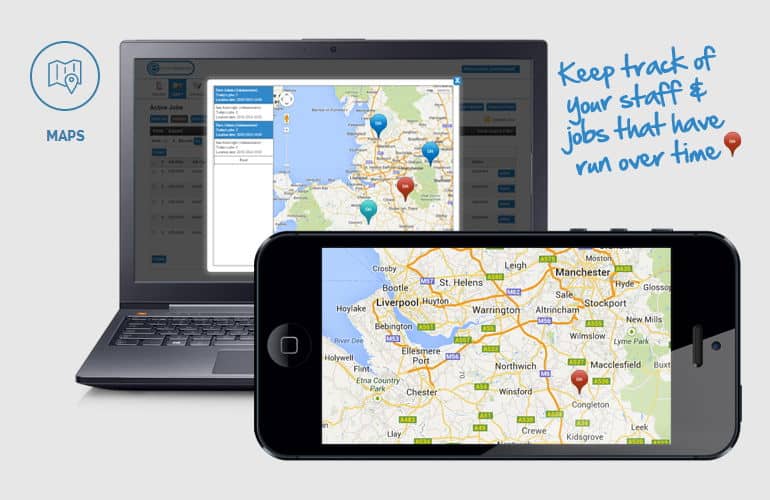 ---
Find Closest Person
Click one button and find your nearest operative
Locate all workers
We track all activity on our App
Plan Future Jobs
See future appointments and plan for efficiency
Contractors
Store all your contractors on a map and send them local jobs