Manage Your Communications With Your Customers and Suppliers in One Place With Outlook Integration. For a 14-Day Free Trial, click here!
CRM Software - Customer Relationship Management Software to enhance the bond between your business and your customers
Manage all your Customer and Supplier data within our all-in-one CRM Software Solution
With Eworks Manager's CRM feature, you can track and manage all your customer information. This makes sure that nothing slips through the system! The CRM tab is present on jobs, invoices, quotes and many other sections of the system, making it easy to find and easy to manage.
Our CRM feature is designed to maximise business organisations, management, and success. Not only will this keep your business organised and efficient when it comes to your customers, but will also help your business meet its overall business goals and objectives.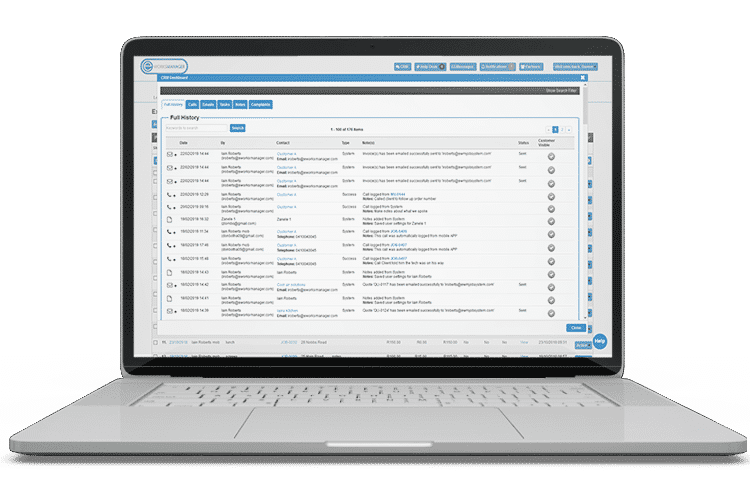 Improved Communication Storage with Outlook Integration
Eworks Manager integrates with Outlook to import customers and customer communications. This provides a full history of all interactions with your customers and allows workers to keep abreast with any and all dealings with the customer and any complaints they may have had. Our Outlook plugin ensures emails are synced and stored against customers so that no information is ever lost or forgotten.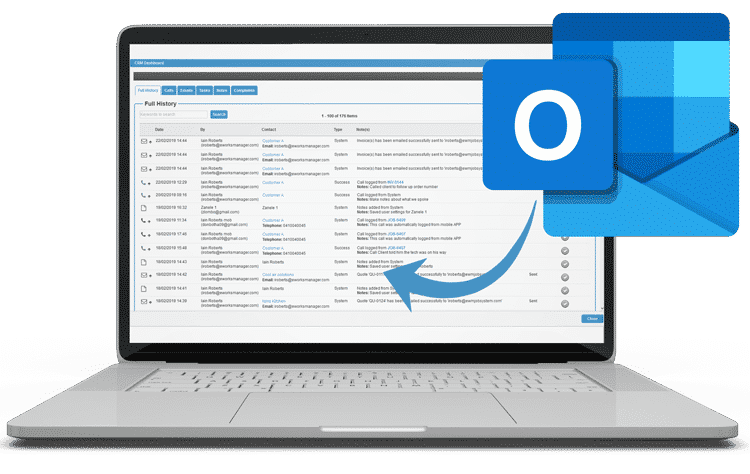 Record and Track Calls and Responses
Our CRM and Marketing Software allows you to capture all telephonic conversation details for referral. You can then add user notes to these calls for any actions or responses taken, ensuring you have a full history of all client interactions.
By making use of this software, you can keep your staff updated on the latest dealings with the customer and improve your business connections by keeping in contact with your customers, all while managing your daily workload.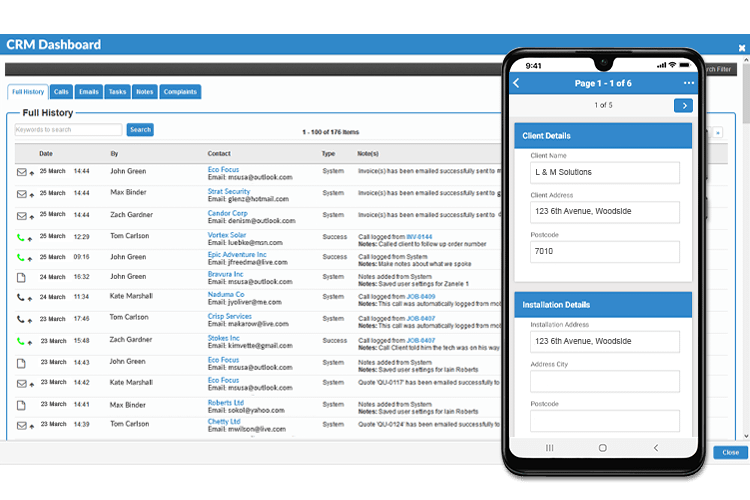 Fully Integrated within our Job Management Software
With our Company CRM Software integrated into our Job Management Software, it allows you to keep all your customer information in one place. You can pull quotes, jobs and invoices for each customer and run detailed reports on each action made within a customer's account. This lets you see which customers are making you money, which ones you struggle to receive payment from, or which ones have repeat issues.
Monitor Tasks and Receive Notifications of Job Actions
Tasks are assigned to jobs and customers and can be tracked within our CRM based Software. This allows you to have a full view of all customer dealings and create alerts for each of the tasks and jobs linked to each customer. Alerts could be anything from the customer creating a job through the customer portal to a worker arriving on-site and notifying the customer of his arrival.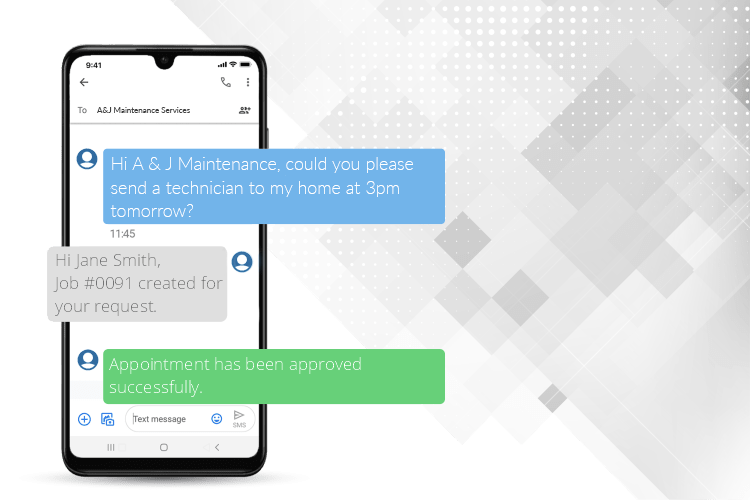 The Complete Business System
Some additional features that would benefit your business
CRM Software FAQs
1What is CRM Software?
CRM stands for customer relationship management. Customer relationship management software is a bundled software package that helps companies better organise and access customer information. Our Company
CRM Software
takes all the information gathered in our software and combines it into a customer view, providing you with every piece of information relevant to each customer.
2What can I do with CRM Software?
Implemented properly, a
CRM Lead Management Software
will store and manage your client and prospect data, track your interactions and help you win more clients by boosting your sales team's ability to close deals. It will also improve your support team's customer service and automate your marketing.
3Why is it important to use CRM Software?
CRM Software helps salespeople to schedule their diaries more efficiently and prioritise tasks to ensure customers are not forgotten, and prospects are contacted on time. CRM Software allows salespeople to spend more time with customers, which leads to more deals closed and a more substantial customer base.