Manage your communications and record, Calls, Emails, Tasks, Notes, Complaints all in one system
Customer Relationship Management
•Create customers and set their payments terms so you can track there contracts
•Customers can be imported into the system with a simple import facility from most other systems
•Allow discounts for individual customers, these can be applied automatically to your costings
•Have products or SORs for individual customers, allowing you to construct individual price lists
•Export customer information for use in other programs via our export feature
•Marketing feature available for you to market to your existing customers, simple export into mailchimp
•Customer login ??? customers can login and view the progress of there jobs. They can create new jobs for you, and approve invoices to speed up payments. This feature will need to be enabled for each client by you if required. You will have unlimited customer logins free of charge
•Having the facility to track CALLS, EMAILS, TASKS, NOTES, COMPLAINTS all in one place. WHether this is job specific or in general
•Outlook integration - EWorks Managerhas an outlook plugin that you can send any emails directly from oulook into your eworks account.
•You can manage all your customers site addresses, and contacts for easy communication.
•Run comprehensive customer reports -who do you make profit from ? More importantly who do you not make profit from ?
WE HAVE MANY MORE FEATURES NOT LISTED HERE
Call us: +44 0151 653 1926
Email us: info@eworksmanager.co.uk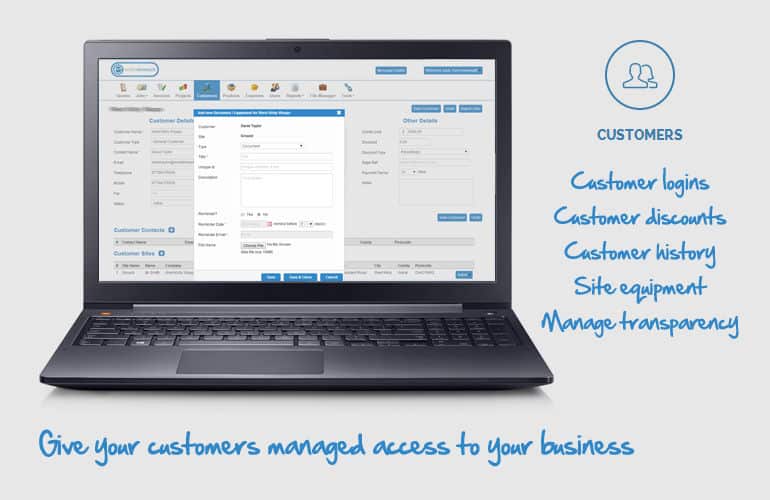 ---
Outlook Integration
Transfer emails into Eworks system with our plugin
Record Calls
Record all your calls and track responses
Monitor Tasks
Monitor Tasks and get alerts to your jobs
Manage complaints
Track and monitor complaints and see the history to resolve