A Job Management System provides field service managers with the resources they need to track, organise, and control all work order details in one place. They can quickly generate work orders, update requests, and monitor work completion across multiple job sites.
This system streamlines the process of scheduling and monitoring preventive maintenance by allowing managers to create a new job or appointment and assign it to an engineer in a matter of seconds.
What Is The Significance of a Job Management System?
Long-term success requires a well-organised work order process. Businesses still need to log hundreds of jobs every day and, as a result, require a fast and efficient method of tracking and scheduling their work. This contributes to greater efficiency and happier clients.
In Eworks Manager, each job has a central location where you can monitor and document all of your job information. Contact details, appointment times, parts needed for the job, attached certificates or documents, notes, messages history, invoices, quotes and more are all included. With all of this data securely stored up in the cloud, you will find anything you need to know about a job in a single, convenient location. With effective job monitoring, it's never been easier to simplify your business's operations.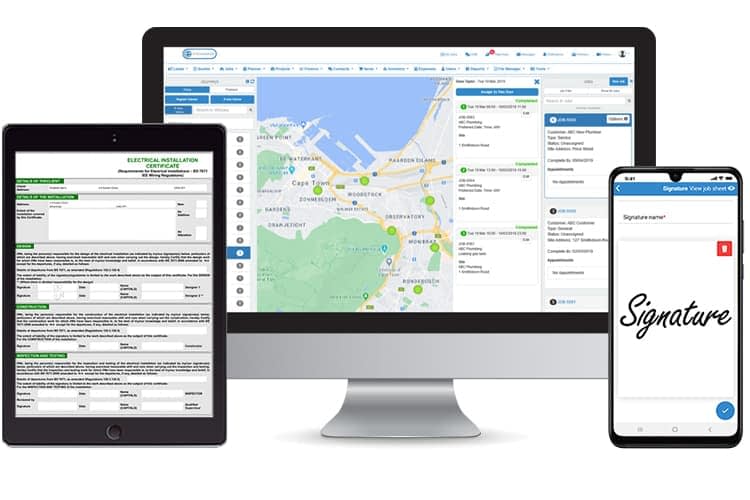 Plan effective maintenance schedules
Eworks Manager allows your admin team to select a recurrence of appointments to each site. Whether these jobs need to recur weekly, monthly or even annually, the system will create these appointment dates for you automatically. Once your jobs have been scheduled, you can easily allocate technicians and equipment to each job. Eworks Manager can also help estimate work completion times, allowing you to see precisely how long a job should take. This feature enables you to allocate your supplies and equipment effectively.
Get Your Team To Complete More Tasks Each Day
A Job Management System automates all of your jobs, significantly reducing the administrative burden. This prevents errors and speeds up the time it takes to add a new job, schedule it, and assign it to a technician. Technicians are no longer required to return to the office to request paperwork. All work is now sent online via the Eworks Manager Job Scheduling App, saving them loads of time at the end of each working day.
Improved information transparency
Clients can view the real-time status of a job via Eworks Manager's customer portal without having to contact you via phone or email. This will reduce administrative tasks and save a significant amount of time in the workplace. Customers can log in and request quotes, create new jobs for you and view the progress of their jobs. They can also view and add any notes created within the CRM system, which will help you and your client communicate more effectively. Your admin can also enable this feature individually for each client. You will have free access to an unlimited number of customer logins.
---
To learn more about Eworks Manager, start a 14-day free trial of our Job Management System or book a demonstration with us!