Enterprise Resource Planning (ERP) Software is a tool successful companies use to ensure their business runs efficiently. With ERP Software, you can use one platform to collect, manage and interpret real-time data to improve reporting, planning and productivity. The software streamlines all operations in every area of your business. There are several ways ERP Software can give your business a competitive edge while simplifying your day-to-day processes.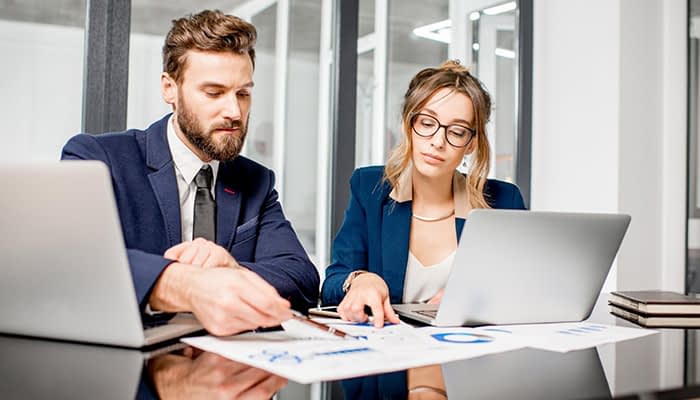 Convert Leads into customers

To remain competitive, you need to respond to enquiries as soon as possible to convert Leads into customers. A quick response shows potential clients that you are efficient and keen to offer your services. With our ERP Software, you can assign Leads to your employees to know who is responsible for every enquiry your business receives. You can then monitor your Leads with our system, viewing those that have been actioned, rejected, or converted. Once an employee has connected with the customer, they can use Online Quoting Software to send the prospect a Quote.

Manage your jobs with one platform

ERP Software is an all-in-one platform you and your supervisors can use to create and schedule jobs and where technicians can view their jobs and provide real-time feedback. A comprehensive platform like ERP Software prevents miscommunication and ensures that everyone in your team is on the same page. With our software's Time Planner, you can drag and drop jobs you've created onto a technician's calendar. When they log onto the system, they can view their schedule and complete their assigned tasks.

Generate reports to measure productivity

Reports help you understand how efficient your business processes are, and they can help you determine which operations can be improved to boost productivity. Without accurate reports, it's impossible to know if your operations are effective, if you're reaching your targets, and if your business is profitable. Reports single out your company's strengths and weaknesses, so you can develop a strategy to tackle shortcomings. With ERP Software, you can generate reports for Quotes, Invoices, Jobs, Purchase Orders, Vehicle Tracking and more, giving you a complete overview of your business.

Track and manage company assets

Whether it's vehicles, office equipment, or machinery, your company's assets need to be maintained regularly to keep them in working order. Asset maintenance prevents unnecessary breakdowns and downtime, resulting in decreased productivity. Asset Management Software provides a platform your business can use to implement planned maintenance, as you can track asset maintenance history and schedule recurring maintenance jobs. You can also use the software to locate assets in the field or your warehouse, attach certificates and compliance documents to assets, and assign them to Jobs and Invoices.
Bring all your data and business activities together and streamline your processes with our ERP Software. Connect with our support team to learn more about Eworks Manager and our software. Sign up for our free trial to get full access to our system to see what our ERP Software offers.