As the UK transitions from fossil fuels to green energy, the demand for renewable energy solutions, including solar power, is on the rise.
As a certified solar panel installer or an electrical contractor looking for business opportunities, now's the time to capitalise on the growing demand for the low-carbon energy solution.
Whether you're looking for a career change or you're a qualified electrician ready to start your own business, you'll find everything you need to know about starting a solar panel installation business in this article.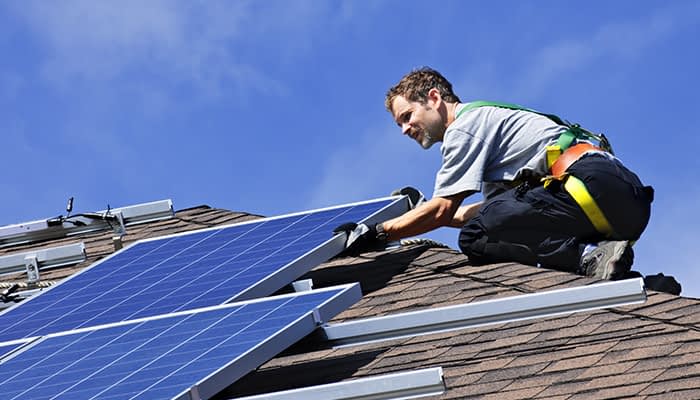 Solar power in the UK

The solar industry is growing, with more and more people turning to renewable energy to power their homes and businesses.
The country currently gets 43% of its power from renewable energy, and more than half of this renewable energy comes from solar.
There are several reasons why the demand for solar power is rising.

It's become more affordable. Solar installation costs have dropped 70% since 2010 due to grants, incentives, and the reduced cost of manufacturing solar panels, making it a viable option for more people.
The cost of energy is high. Homeowners are looking for ways to reduce their electricity bills, and in the long run, they can save money by installing solar panels.
It's environmentally friendly and sustainable. More people are becoming aware of the importance of reducing their carbon footprint, making solar power an attractive solution.
Customers can profit from the excess electricity generated. Home and business owners can make money on the electricity they don't use through the Smart Export Guarantee (SEG), which pays them for every unit of electricity they feed into the grid.

With the high demand for solar power and the reduced cost of installing solar panels, there's never been a better time for you to start your own solar panel installation business.

How to get started

So, you're ready to set up your solar panel installation business. What's the next step?
Discover everything you need to know to get started.

Research the market

Before you start your business, research the market to determine the level of demand for solar panel installations. Look at current market trends, competition, and regulatory requirements. This information will help you develop a solid business plan and make informed decisions about your business.

Get the necessary licenses and certifications

To start a solar panel installation business in the UK, you must obtain the necessary licenses and certifications. You'll also need to register your business, get public liability insurance, and secure a Microgeneration Certification Scheme (MCS) installer certification.

Develop a business plan

A business plan is a roadmap for your business and outlines your goals, strategies, and expected outcomes. Your business plan should include a marketing strategy, financial projections, and a timeline for achieving your goals.

Secure funding

Every new business needs to secure funding. You'll need capital to buy tools and equipment, pay employees' salaries and suppliers for materials, and maintain a positive cash flow. You can secure financing from banks, investors or government funding programmes.

Hire a skilled team

A successful solar panel installation business requires a skilled and knowledgeable team. Hire electricians, engineers, and sales representatives with experience in the renewable energy industry. Provide training and development opportunities to ensure your employees stay up-to-date on the latest technologies and techniques.

Build your brand

Building a brand that differentiates your business from your competitors is vital as a newcomer. All the elements of your brand, including your brand's look and personality, should work together to communicate the value your business offers. A strong brand helps build trust with and attract loyal customers.

Network and collaborate

Building relationships with other businesses and organisations in the renewable energy industry can help you grow your business. Attend trade shows and events, join industry associations, and collaborate with other companies to increase your visibility and grow your customer base.

Tips for building a successful solar panel installation business

Starting a business is easy; running a successful organisation is the real challenge.
We've shared how to start a solar panel installation business, so here are some tips on building and operating a successful company.

Focus on customer satisfaction

Customer satisfaction is the key to success in any business, and running a solar panel business is no exception. Ensure that your customers receive high-quality services, and consider their feedback when making decisions about your business. Offer after-sales support, and follow up with customers to ensure they are satisfied with their solar panel installations.

Stay up-to-date with industry trends and technologies

The renewable energy industry is constantly evolving, and staying up-to-date with the latest technologies and trends can help you stay relevant and competitive. Subscribe to industry publications, including magazines and blogs, and follow industry leaders and experts on social media.

Prioritise quality and safety

Quality and safety are of utmost importance in the solar panel installation industry. Ensure that your technicians are trained in the latest technologies and techniques, and implement strict safety protocols to minimise the risk of accidents on the job. To ensure your team follows safety rules on-site, send them digital questionnaires to complete via their mobile devices to confirm they've followed safety protocol before they start working on a job.

Improve operational efficiency

At any stage of business, operational efficiency is essential, but as your business grows, it'll become even more critical. With more jobs, technicians, assets and inventory to manage, it can help you save money, improve time management, increase productivity and boost customer satisfaction.
To improve efficiency, reduce or eliminate your manual busywork as much as possible. Tasks like job scheduling, lead management, inventory management, quoting, and invoicing can be streamlined with Field Service Management Software. Cloud-based software also gives you access to real-time data, including your team's live location and job updates, to help you monitor your team's progress.

Bonus: What is Field Service Management Software?

Field Service Management Software is a cloud-based solution created to streamline and automate processes to help you improve field service management and get the most out of your workforce and resources.
The software allows you to manage your field service operations from your desktop or mobile device, giving you the freedom to supervise and support your team from anywhere.
It's the ideal solution for any field service business, including your new solar panel installation business. You can import and assign leads, create and share digital job sheets, create custom invoice and quote templates, schedule jobs, optimise route planning, and more.
Add Field Service Management Software to your digital toolkit
Contact us to sign up for our cloud-based software, or sign up for a 14-day free trial.