HVAC Software equips you with the tools you need to manage and grow your HVAC business.
If you are an HVAC business owner looking to shift toward a more flexible cloud-based platform, then you have come to the right blog. We have seen a boom in HVAC business management software in recent years, because the benefits of running your entire business online are only improving business.
A great business management software should ensure your field service team is ready to bump up productivity, improve customer service and complete more profitable work. Paperwork and customer records can be imported into a single system, giving you efficient access to all of your customers, suppliers and jobs.
At Eworks Manager, we understand the needs of HVAC businesses. We have developed a Job Management Software with features that cover all the bases for HVAC companies. Our business is to streamline yours.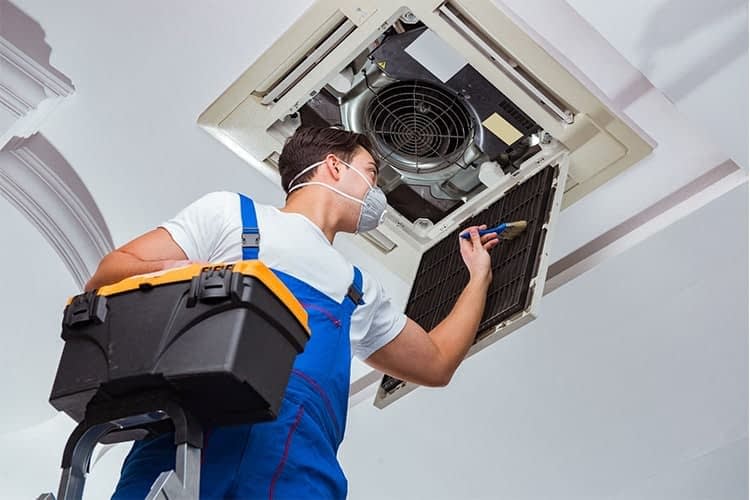 Our HVAC Business Management Software
Eworks Manager's Award-winning HVAC Software can help your business in the HVAC maintenance and installation field. Our software is built to streamline business operations for trades businesses like HVAC companies. All data is stored in a single cloud-based platform, meaning that managers can overview all ongoing jobs and status changes at the click of a button. Our software assists with the organisation of past, current, and future jobs, finances and more.
Guarantee better customer service with HVAC Software It enables you and your customers to log and plan jobs, monitor inventory, track your vehicles, monitor employees in real-time, and much more.
Save Costs Using Business Management Software
Dashboards can display all of your costs, including costs per workplace per month and costs per user. These reports help managers identify the saving potentials of your business and, you guessed it, save you money.
Asset Management
Our Asset Management Software can help you manage, create, and maintain recurring and urgent jobs, Invoices against assets, recurring invoices, and maintenance services. Keep track of your Internal Assets, whether that be your office equipment, vehicles and your customer assets. This includes boilers, or any other equipment provided to a customer that may require an annual service.
Online Quoting System
Eworks Manager's online quoting system gives you the ability to quote clients with ease and convert quotes to jobs. Create quotes for customers and print or email quotes directly to your customers. Our Mobile App allows you to create a quote on-site, speeding up the job process. Having an online quoting system on site speeds up the job process!
---
The efficiency of having your entire office in the palm of your hand is the next step forward for your HVAC business. HVAC Business owners should consider choosing Eworks Manager's Job Management System to streamline workflow and operations.
Eworks Manager's HVAC Business Management software and online quoting system will give you the boost your company has been looking for!
If you are interested in going paperless and your HVAC business is ready to run more efficiently than ever before, please give us a call or start a 14-day free trial of our system.