Every Field Service company should invest in Mobile and Vehicle Tracking. These systems provide a simple solution to keep mobile workers safe and on track when they're in the field. Our tracking tools come with features that make it possible to access the live location of your employees and manage their schedules when they're on-site. Without Mobile Tracking and Vehicle Tracking, the challenges of supporting a remote team would affect productivity and compromise worker safety.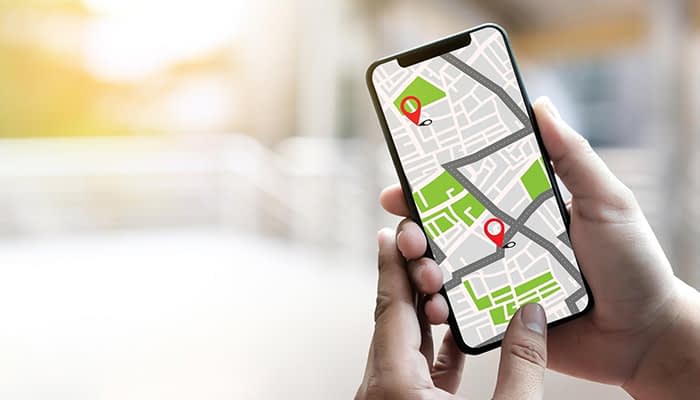 What is Live Mobile Tracking?

Live Mobile Tracking is an online tool that gives you access to the live location of your mobile workers when they're in the field. The system tracks your employees' mobile devices to provide an accurate live location.
What is Vehicle Tracking Software?

Vehicle Tracking Software is a tracking solution that gives you the real-time location of all your vehicles when your mobile workers are on the road.
The benefits of Mobile Tracking

With Mobile Tracking, you can support your team when they're in a field. Our live map shows you where your workers are at all times without the need for additional devices, using the live location of the worker's mobile device. If you often need to assign emergency jobs, use Live Mobile Tracking to find the nearest worker and allocate the appointment. Mobile Tracking can be used to keep your workers safe, as you can see where they are at all times and check in with them if they're not on the correct route. Tracking can be disabled at the end of the day to provide accurate tracking information and give your technicians freedom to travel without being monitored after hours.

The benefits of Vehicle Tracking

Vehicle Tracking is another solution you can use to support your workers and record their journeys when they're on the clock. With access to the live location of company vehicles, you can assign jobs to workers in the area or send them to job sites en route. If you need to find ways to reduce fuel costs, review your team's journeys and find more efficient routes to decrease fuel consumption. If your technicians use their vehicles for work, switch off tracking after hours. Vehicle Tracking offers insight into your workers' behaviour behind the wheel with driver behaviour reports. These reports provide information on speeding, braking, acceleration and idling, and you can use this to improve your drivers' skills with training.

Support your team remotely with our software

Our tracking solutions give you the power to support your team no matter where they are in the field. When you use Mobile Tracking and Vehicle Tracking with our Job Management Software, you'll have the tools you need to assist them with their day-to-day activities. Eworks Manager also gives you access to tools that can streamline Lead Management, Quoting and Invoicing, Job Scheduling, Asset Management and Stock Management.
If you're ready to sign up for Live Mobile Tracking or our Vehicle Tracking Software, contact our team for more information or start your 14-day free trial today.