Manage Your Entire Team's Schedules More Efficiently With Our Time Planner. For a 14-Day Free Trial, click here!
Mobile Workforce Management - Mobile Workforce Scheduling Software Built for Efficient Job Planning and Communications with Your Team.
Manage & Track your Mobile Workforce's Schedules From One System.
The Admin System and Mobile App are synced to bring you and your team together, wherever you are. View all your jobs lined up for the day, week or month, from your calendar. Our Time Planner on the Admin system makes it easy for you to forward schedule jobs for your entire team. The system is synced with the App, so every action that takes place on the app sends an update to the system.
Staff can use the app to indicate that they are on-route to the next job, add notes or photos, or get the customers' approval on their job sheets. The system automatically transfers all information from the Mobile App to the Admin System in Real-Time. Manage your Mobile Workforce from one effective and efficient system.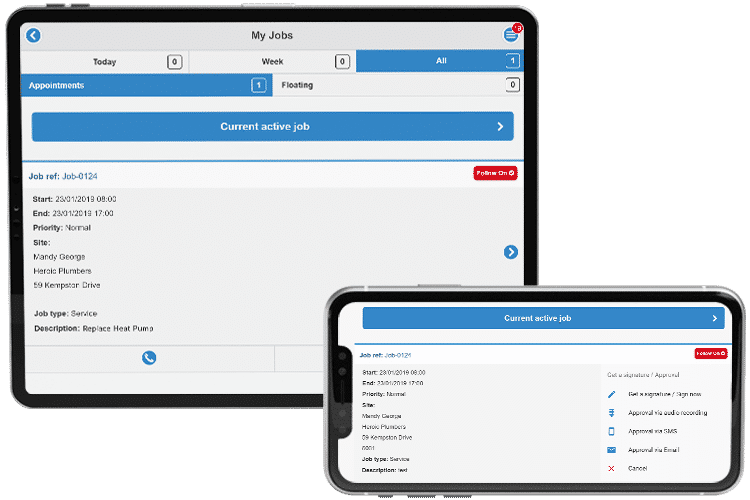 Plan and Schedule Jobs in Advance
Create and assign jobs to mobile workers on the admin system. The Time Planner lets you slot in each job or appointment using an effortless drag-and-drop method. The Time Planner will show your team's schedules, and once assigned, mobile users can accept and change the status of their jobs using the Mobile App.
The system tracks the time each worker takes on-site, including travel time, for accurate quoting. Scheduling jobs in advance saves time and is useful because staff schedules are automatically synced to their mobile app.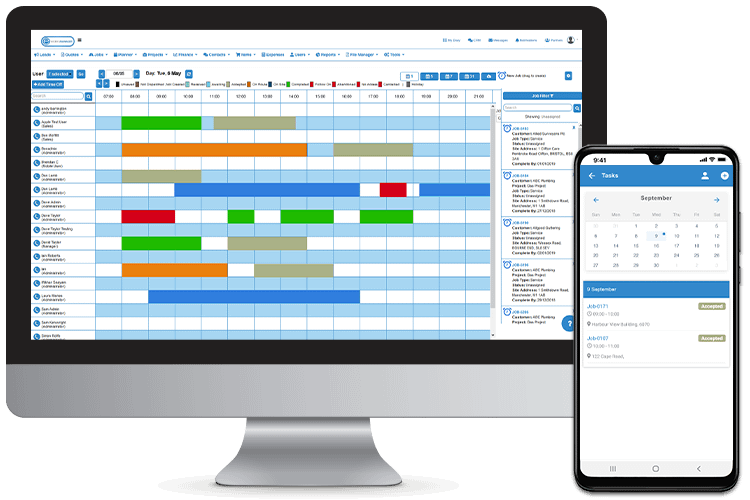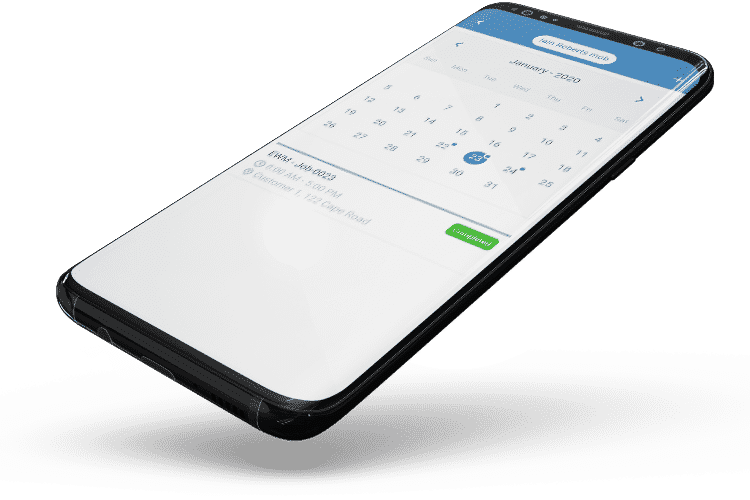 Improve Workforce Time Management
With Eworks Manager, you can be sure that your mobile workforce's time is managed effectively as their schedules are synced to the mobile app. Our system ensures that your team stays on track with their jobs for each day, as it records job progress and time taken on each job or appointment.
Stay Updated with Real-Time Notifications
The calendar integration lets you see where you need to be and at what time. The calendar lets your admin staff know when you are available to attend any emergency jobs that may occur. When the admin staff assign a job to your team, a notification will appear from their app, informing them of the recently added job. Your team will then be able to accept or decline the job and provide reasoning should they not accept.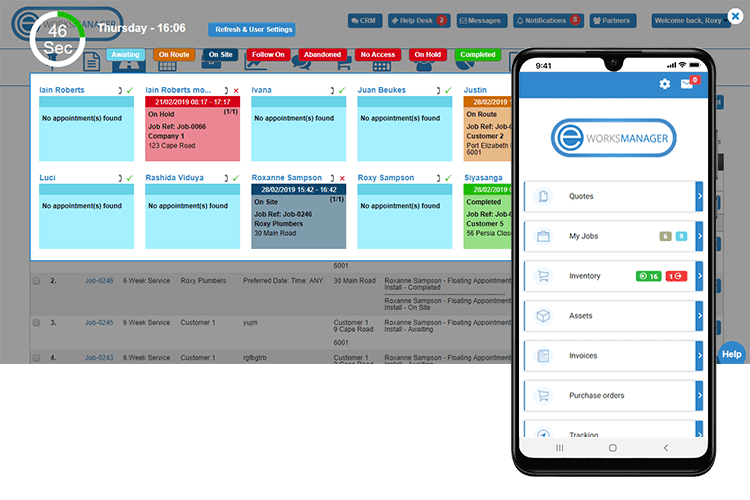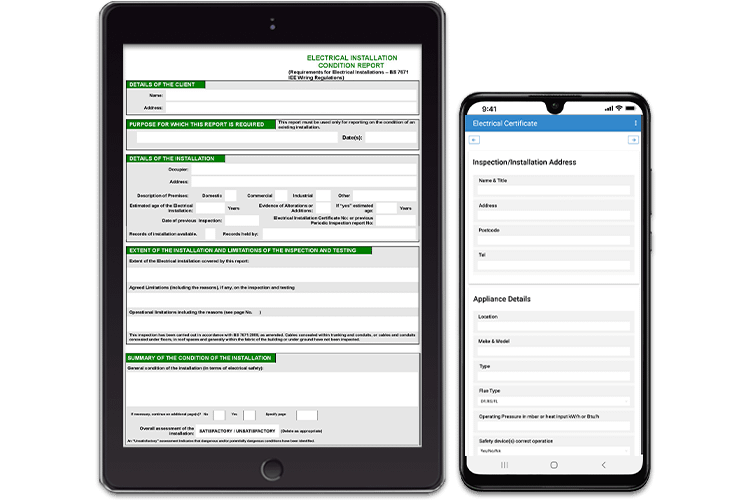 Attach Files, Documents or Certificates to Jobs
Upload or digitise paper documents and attach them to their relevant jobs. Your mobile workers can complete the documents from their phone or tablet device via our Mobile App. This feature is great for technicians to be able to pull up their compliance certificates on the app, and fill them in digitally on-site.
The Complete Business System
Some additional features that would benefit your business
Mobile Workforce Scheduling Software FAQs
1What is Mobile Workforce Management Software?
It is a set of tools that companies use to increase overall efficiency and productivity among employees. Effective
Mobile Workforce Management
software matches the right employee to the right job and allows management to oversee employee operations.