Optimise route planning to improve time management and fuel consumption. For a 14-Day Free Trial, click here!
Improve job scheduling and time management and boost productivity with our all-in-one system
Save time, reduce fuel consumption, and increase productivity with Route Optimisation Software
If rising fuel costs and time management are some of your field service company's biggest challenges, our Route Planning Software is the ideal solution for you and your team.
With Eworks Manager, you can find the quickest or most economical routes to reduce mileage, fuel consumption and fuel costs and improve time management in the field. You can improve workforce utilisation by using our software to assign jobs to specific technicians or workers with a particular skill set.
Find the Shortest Route or the Earliest Appointment Available
To save your team time or get a technician to a job site as quickly as possible, use Route Planning Software to find the quickest routes or the nearest available worker. With access to your team's live location, you can see where your workers are and the address of the job site and determine the best route or find the nearest available employee.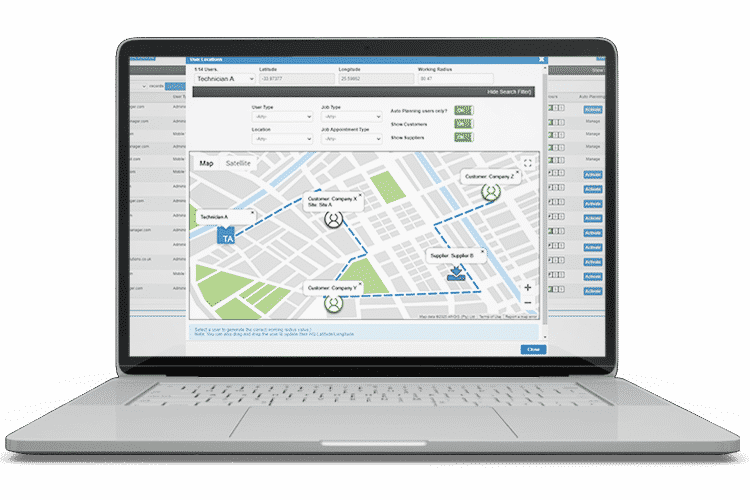 Reduce Mileage & Fuel Costs and Improve Time Management
One of the greatest field service expenses is fuel, so finding ways to reduce mileage can help you reduce this cost. You can seamlessly reduce mileage and fuel costs by using software to find the shortest routes. Route Planning Software also improves time management. Because you don't have to find the best routes manually, your admin time is reduced, and you can focus on more meaningful work.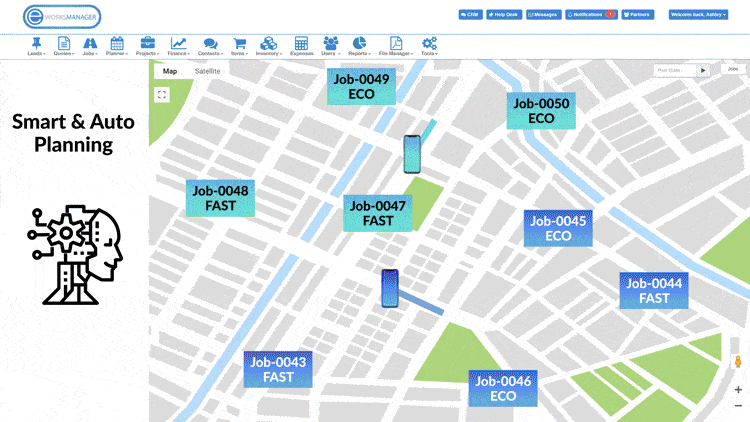 Find the Best Field Worker for the Job
If you're looking for a technician with a particular skill set, you can assign specific jobs to users with certain skills to ensure the work is done efficiently and on time. Giving jobs to employees with the right skills ensures you utilise your team's skills effectively, helping to boost productivity and morale.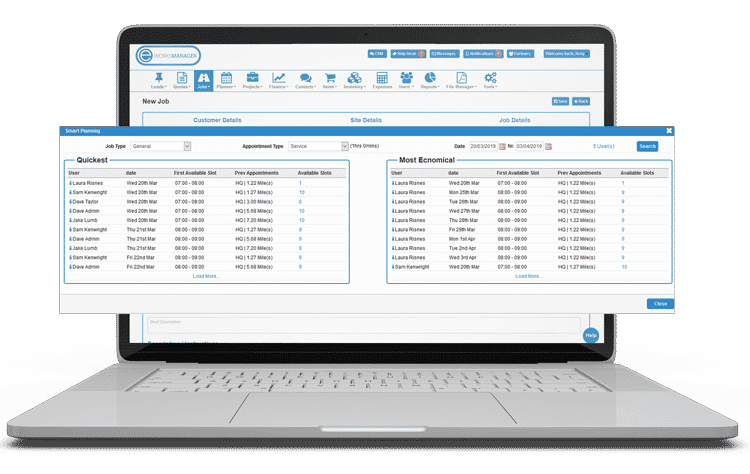 The Complete Business System
Some additional features that would benefit your business
Route Planning Software FAQs
1What is Route Planning Software?
Route Planning Software is a digital field service tool optimising route planning by finding the most direct paths or the nearest available workers. With access to the real-time location of your vehicles, you can find the quickest appointments or most economical routes.
2What are the benefits of Routing Software?
Route Optimisation Software can help you improve workforce utilisation, fuel efficiency and time management. Whether your goal is to reduce fuel costs or admin time or ensure your technicians' skills are fully utilised, our software will optimise route planning to help you achieve your goals.
3Can I use Route Optimisation Software without vehicle tracking activated?
Because our Route Optimisation Software requires the real-time location of your vehicles or technicians to find the quickest appointments or the most economical routes, vehicle tracking must be activated.