Schedule your Mobile Workforce Economically, or get the appointments done as quick as possible. For a 14-Day Free Trial, click here!
Route Planning Software - Create the Most Economical Jobs and Boost Productivity with One Feature on Our System
Routing Software was built to Optimise Your Job Schedules for Each Mobile Worker in Your Business.
Eworks Manager has developed the perfect scheduling plugin for your field service business. Our Route Planning System enables you to manage job scheduling, all while taking technician availability; travel distances and technician range into account.
This Route Planning feature allows for the accurate planning of jobs as they come in. Some jobs may be specific to a group of mobile workers, and so our Route Planning feature can be used to assign jobs to the correct users according to job types and pick the most economical appointment slot for your users.
Customers who have already activated Smart Planning have seen a huge difference in their business operations. Our Smart Planning feature was built for improving staff productivity, reducing mileage, saving on fuel costs, increasing work won, revenue and much more!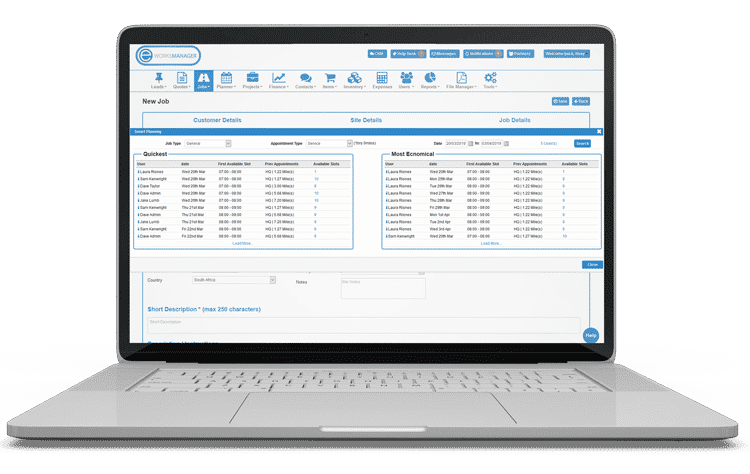 Assign Jobs to the Most Suitable Users according to Job Type
Some jobs may be specific to a particular skill set or user. Our Route Planning feature is used to assign jobs to the right users according to job types or skill set required. Route Planning your jobs ensures that the right person is always assigned to the right job.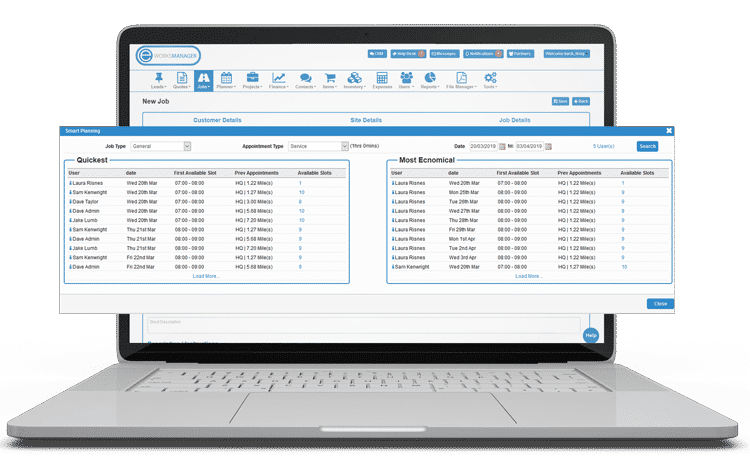 Save Plenty of Admin Time, Reduce Mileage and Fuel Costs
This feature saves a lot of time because the system automatically pulls through your workers' available time slots. From there, you can choose if you would like to give the job or appointment to the quickest or most economical worker.
Our Route Planning feature selects the closest available technician to do the job so that your business will be able to save on fuel costs and mileage in the long run!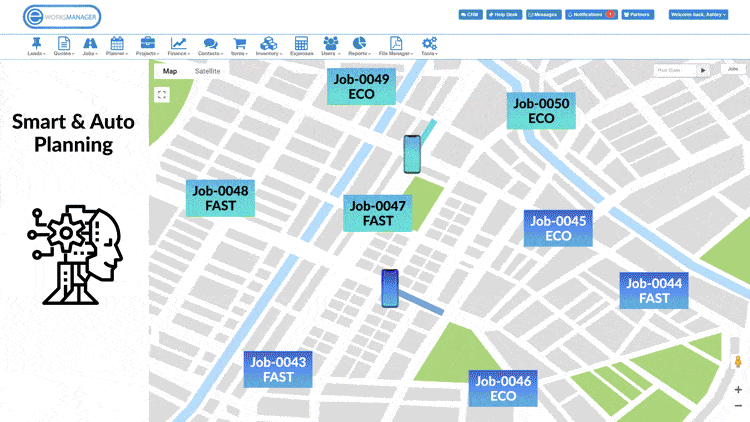 The Complete Business System
Some additional features that would benefit your business
Route Planning Software FAQs
1What is Route Planning Software?
Routing Software is designed to plan the most cost-efficient route. It's more complicated than simply finding the shortest path between two points. It also needs to include all relevant factors like the number of stops and locations on the route.
2How does Route Planning Software help my business?
Our customers have already given us great feedback about the
Route Planning Software
feature. See the statistics for yourself below!
Our customers have found that on average, they had an increase of 1.6 extra jobs a day.
Saving around 1 hour per office scheduler per day
21.5% Reduction in mileage costs