Time Tracking with E Works Manager
Time tracking software is vital to any business who finds their margins constantly getting tighter. It's important for a business to keep a track of time spent on site and any idol times where their engineers aren't working. E Works Manager has built-in software for time tracking online which allows any business to run reports that help manage their workers more efficiently.
We have seen many SMEs who consistently track their employees time and understand where their employees' most of the time being spent is a great thing to focus on and improve the better process and thus the overall productivity.
Time tracking is a great way to improve productivity, pinpoint cost and profits and increase company morale. But how do you integrate time tracking into your service or business? After Much research and years of development on our own time tracking tools here's are some time tracking tips which you could use from the below image.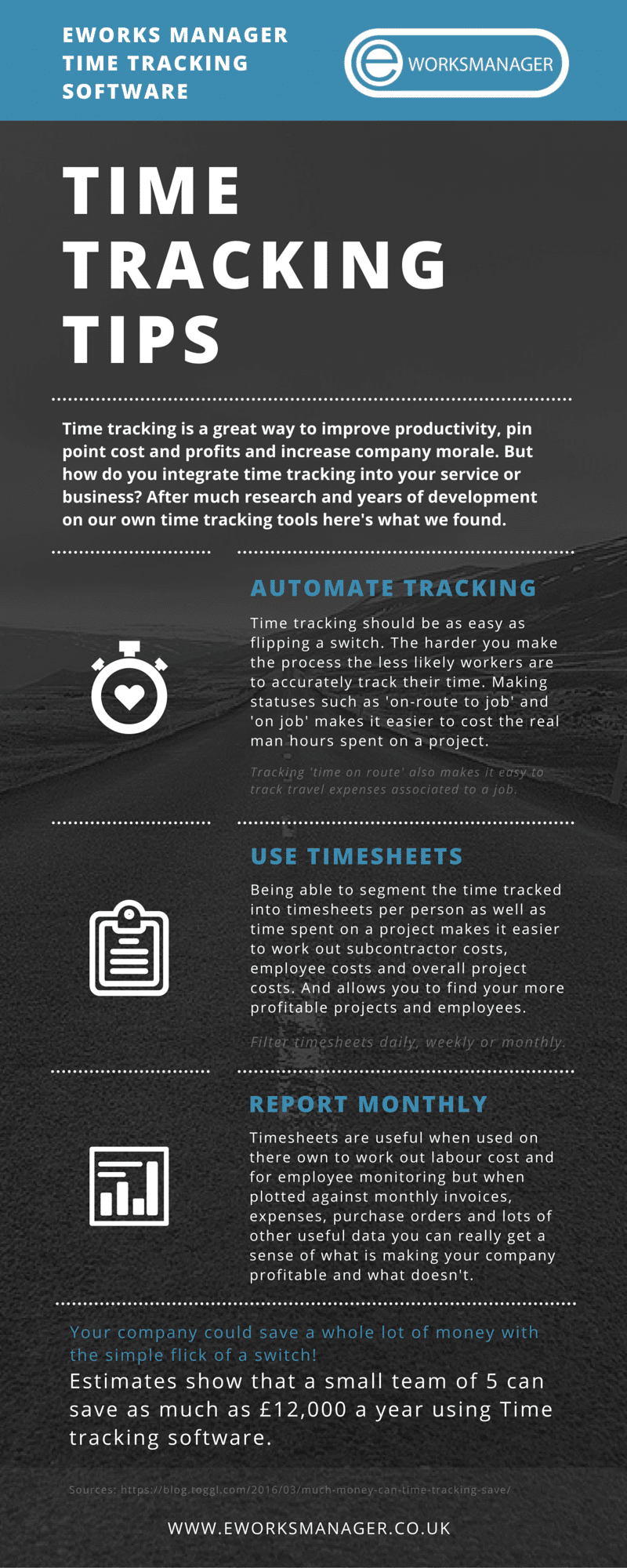 Deciding on which time tracking software to use for your business model may be ambiguous thing for many. Because employees' tasks and processes are different for each business.
However, we have tried our best in researching various SMEs to develop an ideal online software for tracking employees' time effectively.
Automating time tracking is extremely important to count work hours accurately, the tracking app makes it easier to update employees' statuses so that you will know whose doing what.
Time Tracking software is the solution for your business, no more worrying over expenses, guessing if you have made a profit or loss, losing accountability for time on site, E Works Manager can really save you time.
We invite you to browse our E Works Manager website or start your obligation Free 14 Day Trial to see what makes E Works Manager an award winning software system for all technical service industries.
You may want to refer this page for full details of time tracking app.
Stay tuned…