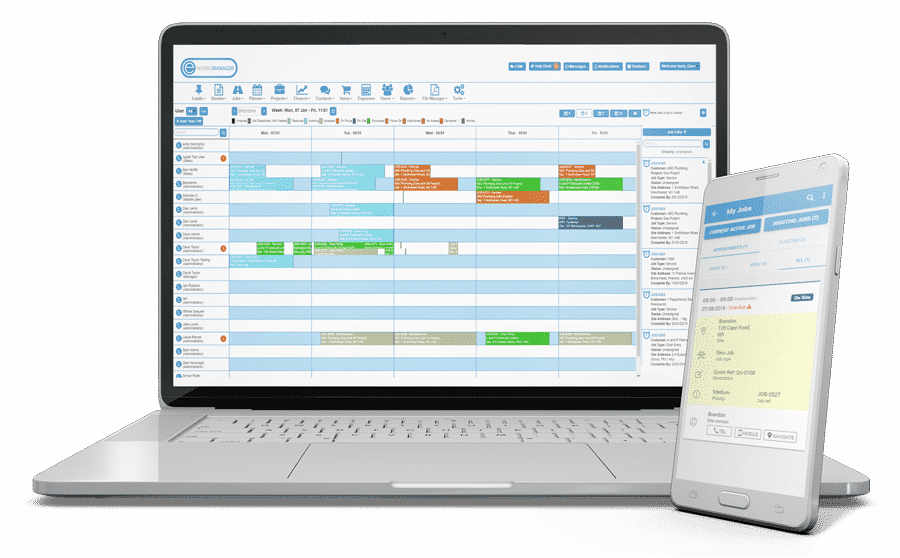 Time Tracking Software
Job Scheduling
When you add workers to our system, you have the option to add in their cost and charge per hour: whether they are a supervisor in the filed or an assistant helping for the week. Our software also tracks the times of each worker, ensuring that you quote your jobs correctly. This occurs once the Mobile App user accepts and changes the status of a job on the App. Each worker's travel and on-site time also adds to the costings of the job. All you have to do is add in your labour and travel line item with the correct quantity. Once this is complete, you can send the job through for invoicing. All of this, with a few clicks of a button.
Time Planner
As jobs are created and assigned to field workers, they are slotted into a specific time on the Time Planner. This gives you a visual representation of when jobs are to take place. If your office is unsure about who to assign to a job, they can send the job directly to the Time Planner. With the drag and drop method, the job easily adds into an empty slot. This automatically sends once saved. Jobs that you schedule as floating appointments (no specific date or time and only a complete by date) will only display on the Time Planner once the worker actions that they are on route to the job.
Project Planner
Each job that links to a project adds to the total time spent on a project for a specific customer. When a job links to a project, our system tracks, stores and adds each workers' times to the relevant report for a workers' timesheet. The total time of the project that a worker completes is shown on the report.
FAQs
1How Can Time Tracking Software Help Your Business?
Implementing software that will automatically track each workers time makes your office staff and field workers more efficient. Your office can rely on an all in one system to track travel time, time spent on site and travel time back to the office. Your office can pull reports that are built immediately and don't require manual input. This ensures times are accurate and that field workers are not over or under paid for their working hours. Your field workers will in turn become more productive as they won't have to spend time filling in their hours at the end of the day or week as time is tracked as the status of a job is changed on the mobile App.
---
Digital Job Sheets
Never lose a job sheet again.
Instant Completion
Don't wait for your job sheet to be handed in
Take photos
Store all your photos with your job sheets
Appointment Times
Get reports of all your worker's appointment times