In the ever-changing field service industry, customer satisfaction is more important than ever. To succeed, you must connect with your customers on a deeper level and build long-lasting relationships with them.
One of the most effective ways to do this is with a Customer Relationship Management (CRM) System. A CRM System is a powerful tool that enables you to manage customer data and interactions, gain insights, and improve customer relationships.
In this blog, we'll explore CRM Systems, including the following: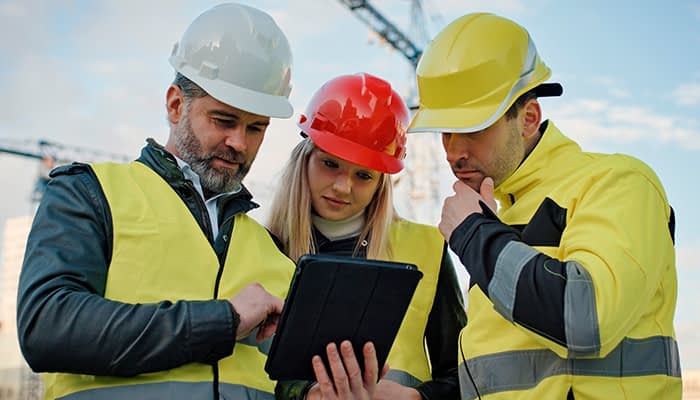 What is CRM?

CRM refers to the strategy companies use to manage and optimise customer interactions. The goal of CRM is to improve relationships with customers, streamline processes, and increase sales.
CRM typically involves using technology to manage customer data, track customer interactions, and get insights to help your business make better decisions.

What is a CRM System?

A CRM System is a technology platform your company can use to manage interactions with customers and prospects. It allows you to collect, store, and analyse customer data and interactions to understand your customers better and provide personalised experiences.
The system typically includes features such as contact management, sales management, customer support, and analytics. These features help you to manage customer interactions across multiple channels, such as email and telephone.
With a CRM system, you can gain insights into customer behaviour and preferences, track leads and opportunities, and improve team communication and collaboration. More efficient and effective CRM processes can increase customer satisfaction, revenue and profitability.

3 reasons why your business needs a CRM System

To help you better understand the value the technology brings your business, we've highlighted the top reasons why you need a CRM System.

Improved customer relationships

A CRM system can help you build better relationships with your customers by providing a complete view of their interactions with your business, including their job history, enquiries, complaints, and support tickets. This information can help you understand their needs and preferences, so you can offer an experience that meets their expectations.

Increased efficiency

You can use the system to streamline your CRM processes. For example, your team can manage and track all emails and calls in one place, and you can set up reminders for your sales and support teams to follow up on leads and tickets. Using the system to reduce manual labour ensures your operations run smoothly, improving the overall efficiency of your business.

Better data management

With a CRM system, keeping all your customer data up-to-date is easier, as all the information is stored online. You can easily access and update your digital database at any time. Improved data management can save time and help you make informed decisions regarding customer service.

The benefits of a CRM System

A CRM System offers many benefits for your business.
Centralised customer data: As mentioned, a CRM System provides a central location for storing and accessing customer data, making it easier to manage, track and analyse customer information and interactions.
Improved customer interactions: Communication is quick and efficient when you use one platform to manage emails and calls with prospects and customers. And with access to a customer's previous interactions with your business, you can answer questions or solve problems faster.
Increased efficiency: A CRM system can help you streamline operations and reduce manual data entry, saving time and resources.
Increased sales: You can identify potential leads and opportunities for cross-selling and up-selling by analysing customer data. You can also track sales performance and provide insights for sales forecasting and pipeline management.
Better team collaboration: Team members can work together more effectively by sharing data, tracking progress, and collaborating on tasks and projects.
Improved insights and reporting: The system gives your business valuable insights and analytics on customer behaviour, sales performance, and other key metrics, enabling better decision-making.
With a CRM system, you can build stronger customer relationships, increase sales and revenue, and improve operational efficiency and productivity.

Eworks Manager: The ultimate CRM System

Our CRM System is the perfect solution for your field service business. See what our software offers and why Eworks Manager is best for you and your team.

CRM and Job Management Software all in one

With Eworks Manager, you can manage all customer interactions and field service projects in one place. It's an all-in-one platform for lead management, quoting, invoicing, vehicle tracking, route planning, inventory management, asset management, and more.

Connect to apps you already use

Our Zapier integration allows you to connect our system to apps you already use to automate workflows. The integration makes sharing data, including customer information, between your systems easier and eliminates time-consuming, repetitive tasks.

Accept payments online

With EworksPay, our integrated payments product, you can accept payments online by sending the customer a payment link from Eworks Manager. EworksPay makes it easier for you to receive payments.

Access the system anywhere from any device

You and your technicians can access our system from your mobile device by downloading our Mobile App. Our App is user-friendly and gives you access to features like mobile quotes, invoices, job sheets, and inventory, so you can always stay connected.

Secure cloud storage for confidential data

All the data you upload to the system is stored in the cloud. Cloud-based software offers a reliable way to keep confidential information safe, and you can access your data from any device by signing into the system.

Free training and support

You can book free online training sessions with our support team to learn how to use the software effectively. We offer customer support to all our clients and can answer your questions via email, telephone and live chat.
Are you interested in signing up for our software? Contact us for more information, or try Eworks Manager for free with a 14-day trial.