Business Management Software - Grow & manage your business with our comprehensive BPM Software
Manage your business from anywhere with our Cloud-Based Business Management Software
Are you looking for an all-in-one Business Management Software to manage all daily business activities and oversee your business performance? Then Eworks Manager is the software for you! Whether you're an office manager at a letting agent or an electrical engineer, Eworks Manager suits any business of any size!
Our software consists of 2 main entities which are the Admin System and the Mobile App. When used together, you take complete control over your jobs and team, ensuring your company runs in the most streamlined and effective way possible.
Create and allocate jobs from the Admin System or the Mobile App, so whether you're on the move or at your desk, you can create emergency jobs and assign them to your staff with the click of a button. Our time planner lets you see who is available and their schedule for any given day or week! You can track all your field workers out in the field and see their live locations or track their routes with our Geo Planner, Live Tracking and Vehicle Tracking features!
It wouldn't be Business Management Software without being able to track and manage your sales and finances in one place. Eworks Manager stores all your quotes, expenses and invoices in one place so you can keep track of open quotes, what your clients have paid, outstanding payments and your staff/sub-contractor costs. We integrate with Sage, Xero and Quickbooks, which means importing all your data over to Eworks Manager is effortless!
Eworks Manager will help you achieve maximum profits from your business's products and services and will take away the stress of daily working life. Eworks Manager offers many benefits, and above all, the cost is negated as it creates an efficiency that aids cost savings.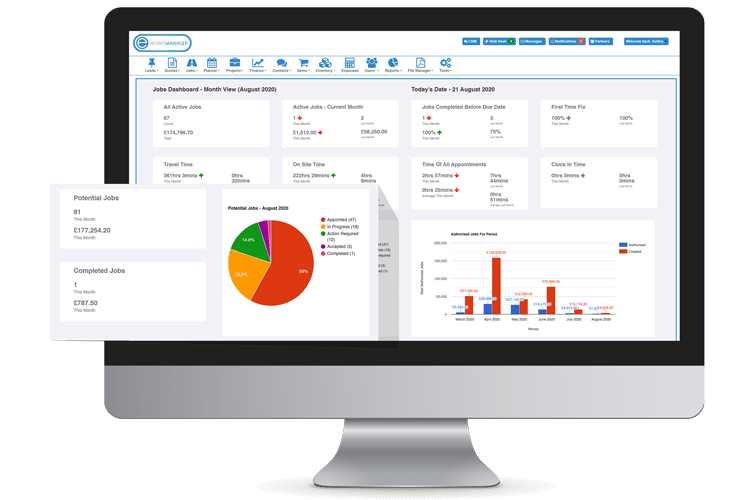 The Complete Business System
Some additional features that would benefit your business