Multiple industries use Job Management Software to streamline job scheduling and other business processes to improve the efficiency of their operations. As a SaaS provider, we've seen that the system's features are particularly beneficial for certain sectors, adding significant value to businesses in these fields. Discover the top industries that should consider using Job Management Software.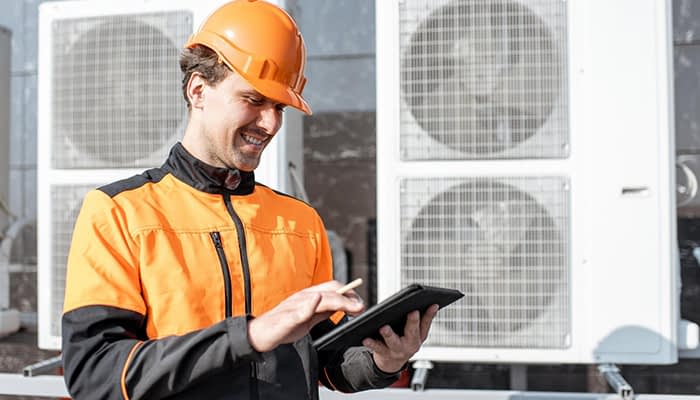 What is Job Management Software?
Job Management Software is a system that allows you to manage Quotes, Jobs, and Invoices with one platform. The software is designed to streamline your business processes to improve productivity and the efficiency of your day-to-day tasks.
As your plumbers are rarely in the office, it is essential to keep an eye on them when they're on-site. You can use Job Management Software to ensure they arrive at job sites safely and on time with the system's Vehicle Tracking feature. Vehicle Tracking gives you access to every worker's live location, so you know where they are during working hours. The feature can also be used to determine the mileage of every journey and collect information on their behaviour on the road, including speeding, braking, acceleration, and idle time. You can use these reports to reduce mileage with Route Planning Software and improve fuel consumption by developing your plumbers' driving skills.
If your Pest Control business is responsible for recurring maintenance tasks, you can Job Management Software to create and manage Recurring Jobs. For example, if you need to restock bait stations once a month, you can create a job and set a recurrence rule, and the system will automatically create the appointment, ready for your team to assign to an available technician. The software saves you or your admin staff time, and you won't have to worry about forgetting to create a maintenance job every time the work needs to be done.
Job Management Software is the ideal solution for any industry where technicians need to take documents to site, including Electrical Engineering. Your electrical engineers can carry digital copies of electrical installation condition report (EICR) certificates and capture data for electrical reports with their Mobile Devices. Once an EICR has been completed on-site, your technicians can email the document to the client from the system. You can also create questionnaires for your technicians if they need to complete a safety checklist or capture customer feedback on-site. All digital documents and questionnaires are stored securely on a cloud-based system.
With Job Scheduling Software, your Property Maintenance team can manage internal projects and send job details to external contractors with one platform. You can add them to the system as a contractor and use the software to send the Job Sheet information to them via email, where they can accept or decline the job. Job Scheduling Software saves you and your team time, as you don't need to follow up with contractors to find out if they can attend to a Job. If the contractor sends you an Invoice, you can attach it to the Job Sheet, helping you keep track of all documents related to a Job.
When the demand for your services is high during your busy season, you can use Job Management Software to tackle time-consuming tasks like Quoting and Invoicing. When you receive an enquiry, you can create and email a Quote to the prospect from the system or your mobile device with Online Quoting Software. All Quotes are stored on the cloud-based system if you need to resend or refer to your documents at a later stage. Once a Quote has been accepted, it can be converted into a Job and assigned to a technician. When a Job has been completed, you can use Invoice Management Software to convert the Job Sheet into an Invoice to email directly to the customer.
Why you should choose Eworks Manager
We offer several benefits that set us apart from other Job Management Software providers. When you sign up for our software, you'll receive free customer support and training to get your team up and running with the system as soon as possible. If you're interested in our software but are not ready to sign up, you can try our software with a 14-day free trial, which includes support and full access to our system.