Managing leads is a crucial task of any letting agent, as leads can convert into property rentals which will, in turn, increase your profits and income. There are numerous ways to manage leads – from writing everything down in a handy diary or daily schedule to having a handy Excel sheet at the ready – but arguably the best and most efficient way to keep track of all leads is to use lead management software for letting agencies.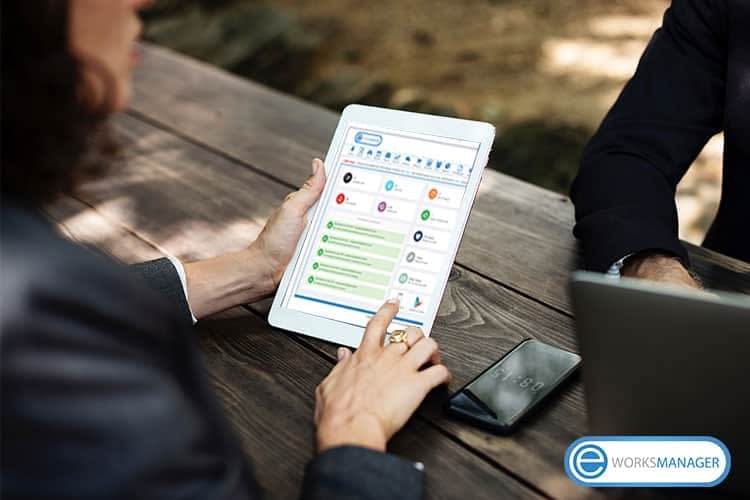 HOW DO I CHOOSE LEAD MANAGEMENT SOFTWARE?
When making the decision on which lead management software to use, there are a number of questions to ask yourself, as this software can mean the improved success and efficiency of your business! You should consider the following questions carefully before making any informed decisions:
What is my short and long term budget?
It is important to examine your ongoing costs as well as any upfront ones, before comparing your options. Many job management software systems with a larger variety of features will cost more, but the free versions are usually much more pared down, and do not perform as well as their paid counterparts. It is up to you to decide what additional features are worth the price.
How user friendly and automated is it?
User-friendliness is a vital factor when considering the use of any new software in your business, as it is probable that your entire team will be using the software. Eworks Manager's lead management system is highly user-friendly, allowing for customisation as well as automation for marketing emails and reminders to leads who have not followed up.
Should I work in the Cloud?
Cloud based software is becoming more and more popular with companies, as it allows access to information from wherever you are – which can be useful to letting agents who are out in the field with clients or possible clients. This route also does not require any extra hardware installation, but working with on-premise software does allow for more immediate control over data security and customisation.
Can it grow with my business?
Many lead management systems are tailored to fit a variety of business sizes, from SME's to corporations, but it is important to choose one that will fit your business and be able to grow with it. You should carefully examine the number of leads the software will have to manage, as well as the number of possible users who will need to access it.
How well does it integrate?
If you are already using software, such as accounting programs and so forth, it is important to choose a lead management software that integrates well with what you are already using, as this will save both time and money, as instead of having to purchase new programs or shift your data over to new ones, the lead management system will simply integrate with what is already in place.
HOW CAN LEAD MANAGEMENT SOFTWARE HELP ME?
Lead management system in the letting industry can provide numerous benefits, as it is an industry the requires a lot of time-management and efficiency, both of which a good lead management system can help to improve. Some of the many ways this software can help you include:
Filling your vacancies
If there are vacant properties in your portfolio, then your landlords might lose confidence in your skills as a letting agent. Marketing can be a time-consuming aspect of this industry, but with the tools that lead management systems provides you, it doesn't have to be.
You are able to use the contact details of applicants to match them with any vacancies that may appear in your portfolio – which saves you time from having to create a marketing campaign.
Easier follow-ups
Following up on leads is one of the most important steps in generating conversions, and with effective job management software, you will be able to create reminders and set call-backs to clients who have shown interest in certain properties or who may be ideal lessees for a property in your portfolio.
Simple document creation and delivery
With efficient features, lead generation software allows you to assign, generate and deliver documents that are specific to each client, without having to go through a lengthy process of gathering information – the information you need is already on the system!
If a new lead is introduced, creating and delivering documentation with Eworks Manager is simple, as all documents can be stored as templates that you or clients simply fill out in a digital form format.
Accuracy of existing data is improved
By utilising a lead management system, you are able to accurately confirm the existing data you have on the system.
Cleaning your data in an efficient manner will mean that you will be able to work more with your existing leads, and new leads. This also means that you will spend less time on tracking down updated contact information or any change of situation of current clients.
Accurate reports for future improvement
Most lead management options offer accurate reports on who has contacted you for valuations and sof forth, as well as how many of those contacts were converted into sales or confirmed rental clients.
These reports can also act as a guide for your employees, as they can have tangible reports in hand to see where they may need to improve their performance as both salespeople and letting agents.
FINAL VERDICT?
A lead management system such as what is available from Eworks Manager can provide an easy-to-use system of storing information and customer data, which can save time and money – moving away from having to write everything down in Excel and using filing cabinets that constantly need to be updated with customer information takes time away from focusing on the more important daily tasks.
If you want to see an improvement in your business, it is never too late to make the move to the modern way of managing leads. Sign up for a free 14 day trial or request a demo today!