Get Your Engineers to Record More Leads For You From The App.
Mobile Lead Management Software
Our mobile leads feature is a great tool to have for all sales operatives out in the field! Your workforce can manage all leads in your account, add new leads and access all information without having to use a PC!
This feature perfectly suits those who use telesales staff and outsourced companies for their appointments. With Eworks Manager's Mobile App, all your contact information is tracked which, in turn, allows you to run reports. These reports may be based on how your sales team are performing and how much profit is coming in. As well as this, you can also track if you are losing money. With Eworks Manager, nothing will slip through the net!
Leads can also easily be converted into an estimate or an appointment for your sales force to pursue. Having the ability to assign various leads to different sales staff makes managing your leads easy and effective and ensures a balanced workforce. You can also track who is performing well within your company and who may need a more training to boost those sales figures! With user security, you can furthermore manage those who can have access to leads which is accessible through both the admin and mobile system.
This hence ensures that your company data is safe and in the right hands. Managers can also reassign leads to other users to reignite lost interests and hopefully get them back on target. Record new leads, convert leads into a quote or customer, all on our mobile leads feature!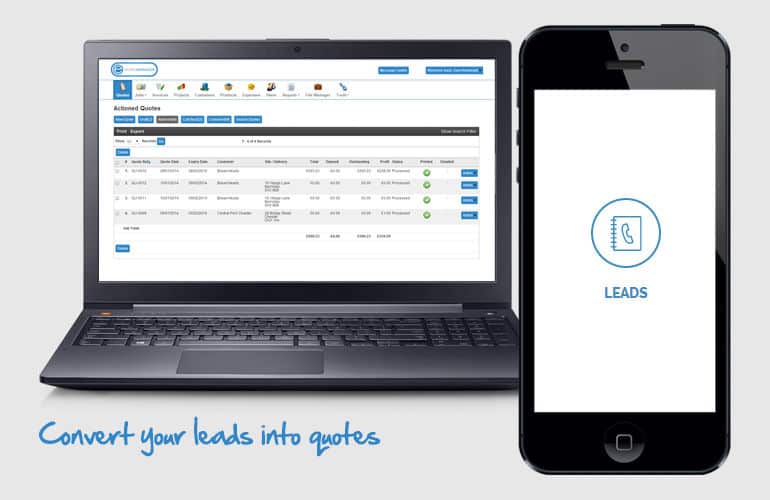 ---
Record Leads
Operatives can record further work for you to quote for
Customise
Customise the questions asked
Improve Sales
Recording potential work as it is asked by the customer
Create Quotes
Easily turn your leads into a quote