Web Based Scheduling Software to Create Your Staff Schedules Automatically. For a 14-Day Free Trial, click here!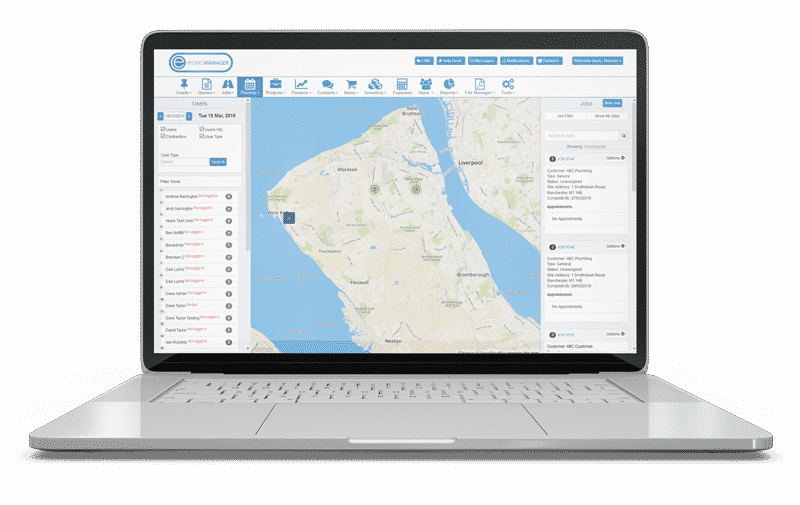 Scheduling Software
Recurring Jobs
With our Recurring Jobs Feature you can plan and create jobs that reoccur every week, month or year. Once you have set up a recurring job, this automatically creates jobs within the system with the re-occurrence rule you have set. You can even choose when you would like the job to show up on the system before it's due date. Once created, you can then manage your workforce to complete the jobs. You can also manage your company projects all within one system.
Future Jobs
The Eworks system allows you to manage and track all Future Jobs. Future Jobs refer to all scheduled, unassigned Recurring Jobs. Whether they are planned to take place weekly, monthly or yearly, they are placed within the Recurring Jobs software. To view them, simply activate the option to view all Recurring Jobs on the Time Planner. Because these jobs are scheduled to take place, you can slot them into a field worker's calendar. You can plan before the job needs to happen which allows your office staff to be proactive.
Smart Planning
Eworks lets you schedule your jobs efficiently and cost-effectively. With the Smart Planning feature, you can schedule jobs using the intelligence of Tracking. The system will find the worker that will be able to tend to the job the soonest or the worker who will be the closest to the job at the time, making it the most economical appointment. This minimises your fuel costs and ensures that the job is done in good time.
Time Planner
Our Scheduling Software has a Time Planner that gives you full control of your jobs using a simple, quick and effective system. This helps you organise your jobs using a simple drag and drop system. Drag one of your unassigned jobs displayed on the right-hand side of the planner and drop it onto a staff members diary. Once placed there you can then click and hold the edge of the 'job box' to change the time range of the job and click save so the job stays put. This is a great way to allocate jobs as you can see right in front of you, what members of staff are available and work around their diaries.
FAQs
1What is Scheduling Software?
Using Eworks Mangers Scheduling Software will keep your business organised and well prepared for jobs and ongoing projects. An easy to use system for your office staff to set up and schedule jobs, recurring and future jobs for workers out in the field and contractors. Keeping track of planned preventative maintenance has never been easier.
---
View Future Jobs
Automate your jobs to your planned maintenance plan
Monitor Contracts
Make sure you hit your goals and perform to your agreements
Setup Projects
Setup your projects and let them run - Get alerts if anything doesn't go to plan
Monitor Profits
With extensive reports, you will be able to see where you make a profit