Use Our Web Based Scheduling Software to Create Your Staff Schedule Automatically
Staff Scheduling Software
Schedule your employee shifts faster and smarter with our powerful and highly effective yet easy-to-use Staff Scheduling Software. Automatically create clear (error-free) schedules, import staff schedules of your choice, copy shifts and so much more.
Collaborative Approach to Staff Scheduling
Let your staff members set the availability and deal with business management. Managers are conserving up to 85% of the time formerly spent arranging by sharing staff scheduling duties.
Most Easy-To-Use Staff Scheduling & Management System
Whether you're dragging a staff member onto a predefined shift or moving your desired shift to a completely new date - all these tasks in our online software are interactive and visual, meaning you can save a lot of time handling the work schedule and more time on your own business.
Real-time Budgeting and Updates
Our staff scheduler updates instantly, meaning that you will save even more time. Our system will also show you weekly, daily or hourly period that is under and overstaffed - all in real time.
Constantly Available, To Everyone
Keep all your schedules up to date so you can refer them on the go with Eworks Managers tablet & mobile applications - with our support for all smart devices including iPhone, iPad, Android tablets, Blackberry & smartphones.
Bid farewell to Late Arrivals
Eradicate work schedule attendance excuses and related things. 24/7 having access to staff schedules & shift flexibilities combined with reminder emails & SMS give employees fewer chance to ignore/misread or forget about shifts.
Do away with Schedule Conflicts
Prevent staff schedule conflicts easily with up to date employee accessibility information and instantly view and correct any clashes due to shifts overlapping, unavailability, overtime, and the list goes on.
Multiple ViewsEworks Managers
web-based App allows you to access the employee schedule how you desire. You can select from different views including day-to-day, every week, and month to month in a visual list.
Destinations and Positions
Built-in position & location structures allow the freedom to properly set up your accounts just the method that you need. Whether you have multiple locations or departments or a single position, Our staff scheduler can be customised to meet your needs.
Sync Your Work Calendar and Take it Everywhere You Go
Keep your employee schedule up to date even on the go. Our software can be integrated with 3rd party Apps such as Outlook and Google Calendar.
Automatic Staff Scheduling
Automatically create clear, error-free employee shift schedules on the go. Once you are finished you have the chance to review & make any essential changes prior to publishing your schedule.
Create Unlimited Schedules
Easily create multiple personnel schedules with unique settings for each of your work teams within your company.
Numerous Staff Schedulers
Have several departments in your organization that handles different schedules? Not a problem - with
Eworks Manager
you can allow individual staff members access to whatever schedules they need.
Call us: +44 0151 653 1926
Email us:
[email protected]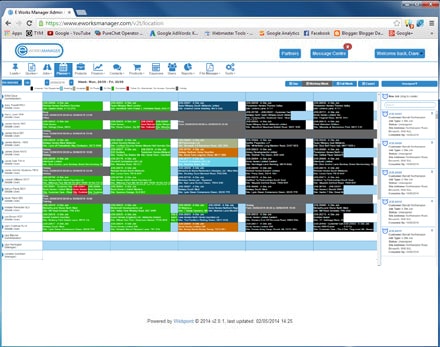 ---
Automate Jobs
Automate your jobs to maintain your performance
Attach files
Add specific files so they can be viewed for specific
Appointment Times
All time is tracked for all jobs and the users
Plan schedules
Planning your projects allows you to forward schedule your workforce