Use Our Web-Based Scheduling Software to Create Your Staff Schedule Automatically. For a 14-Day Free Trial, click here!
Staff Scheduling Software - Employee Rostering Software to improve efficiency and productivity
Our Full-Featured Staff Scheduling Software will help you Manage and Streamline Your Entire Business from Start to End
Managing your field workers' diaries can be a difficult task, especially if you are not making use of Staff Scheduling Software. With our built-in Time Planner and GEO Location Planning Software, scheduling and assigning your workforce is made simple with an easy-to-use drag and drop function. Our planner's calendar view allows you to see all the jobs scheduled for your entire team giving you great insight into where your field workers are and how productive they are.
Our system is perfect for assigning reactive emergency jobs to your workers as you can easily see where your mobile workers are while out in the field. This helps you manage time better and keep customers updated at all stages of the job. You can also see how long your mobile workers take to get to their job, how long they spend on-site and if they are completing their jobs on time. This allows for more efficient planning and increased productivity.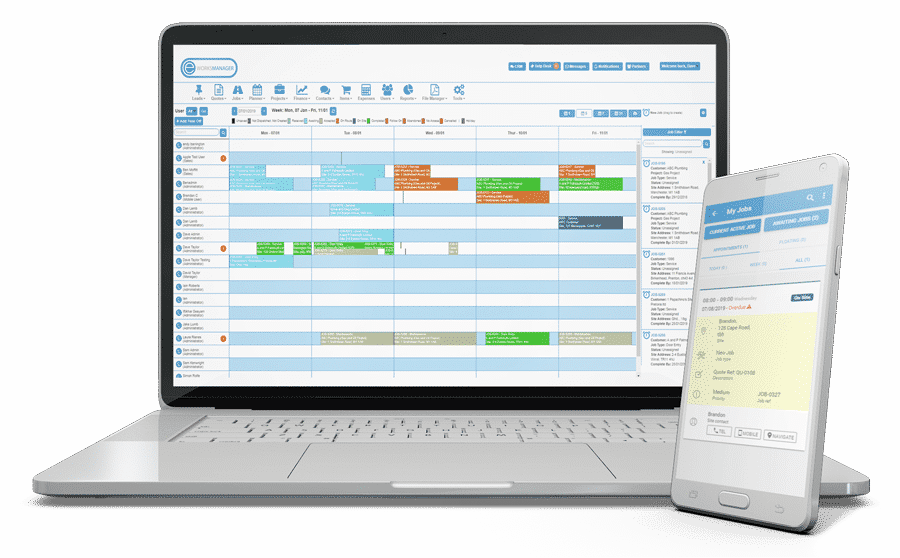 Manage Multiple Worker's Schedules in a Single View
With our simple drag and drop function, you are able to assign jobs to multiple users quickly and easily. View your entire teams diary and receive real-time updates on job progress while your mobile workers are out in the field. Our GEO Planner gives you the ability to see where your workers are at all times and can assign jobs to the closest worker as they come in. This allows for improved response times for reactive or emergency work which may come in during the day.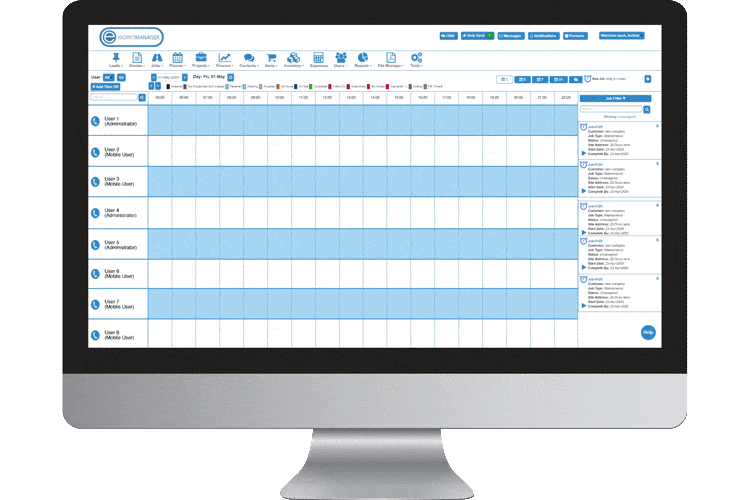 Error and Conflict-Free Planning
The Time Planner is the perfect feature to slot in unassigned jobs to available workers. See who's available and then, with our drag and drop method, slot it into your worker's calendar. Once saved, our Employee Scheduling App will automatically sync it to your workforce on the Mobile App. Need to create a new job but not sure who's available? When you assign a job to a worker that already has a job for that time, the system will raise a conflict notification. With these Real-Time Alerts, you can easily drag, drop and schedule a new job into the workers calendar.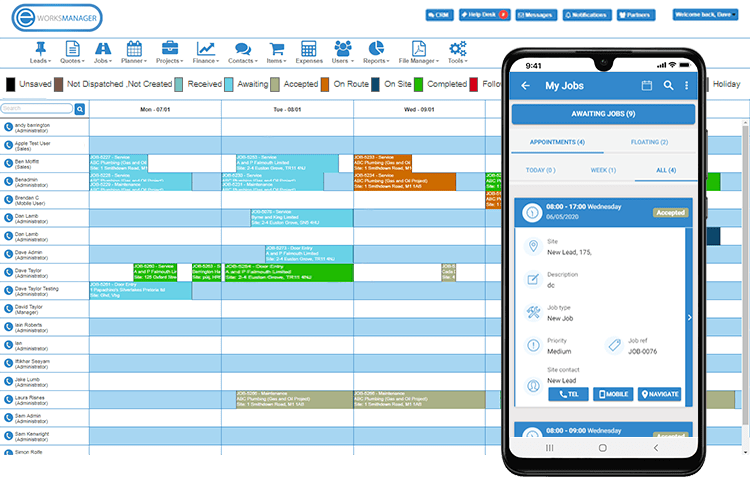 Colour Coded Calendar for Job Progress at a Glimpse
On the Time Planner, each status of a job has a different colour. This means that with a quick view, you can see where your workers are, the progress of ongoing jobs and if a job has been cancelled or put on hold. Our colour-coded blocks are updated in real-time, so when your field workers select On Route on the Mobile App, the colour of the block will change immediately.
Sync Your Work Calendar and Take it Everywhere You Go
Workers using the Mobile App can sync their work schedules with their calendar. By doing this, they can easily see what work has been scheduled for them for the month. Information pulled through from the job scheduler to the calendar includes the job number, the times, the customer with the address details and the current status of their appointment. This gives your workers in the field an idea of what jobs they have ahead of them.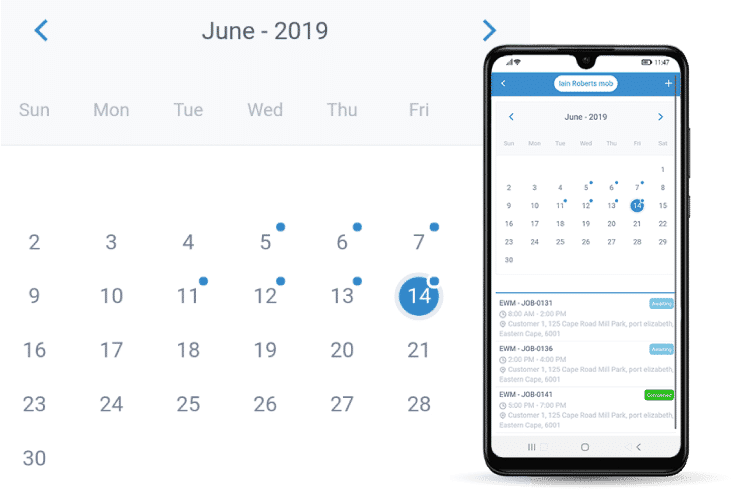 The Complete Business System
Some additional features that would benefit your business
Staff Scheduling Software FAQs
1What is a Staff Scheduling App?
Staff Scheduling App aids in the process of creating and managing a schedule. Speeding up the scheduling of employees increases productivity and allows businesses with teams to quickly allocate workers to jobs. This allows for better job tracking and real-time progress updates.
2What can I do with Employee Rostering Software?
Keep track of employee movements, both on-site and between jobs. Receive real-time updates on the progress of each job for admin staff to better schedule reactive jobs. With our easy-to-use drag and drop functionality you can plan your workforce with a few clicks of a button.
3Why is it important to roster staff for my business?
A good Staff Rostering Software ensures that each job has the right workers working on the job to keep things running efficiently. It also prevents double booking and errors in any manual planning. This can make all the difference in customer satisfaction and ensuring your job turnaround time is as good as it can get.