Manage All Your Stock and Control Your Supplier Purchasing While Out on the Field with Our Mobile App. For a 14-Day Free Trial, click here!
Mobile Inventory Software - Control & Manage Van Stock with a Comprehensive Inventory Management App
A Mobile Inventory App that helps you keep track of all your stock and inventory.
No matter what business you are in, some form of inventory management will be beneficial. A restaurateur could use it to keep track of their food and drink, a plumber might use it to keep inventory on their consumables or parts, and someone who owns a retail shop could use it to track their stock.
Contact us today for more information about our Inventory Management Software. It will dramatically transform the way you do business for the better.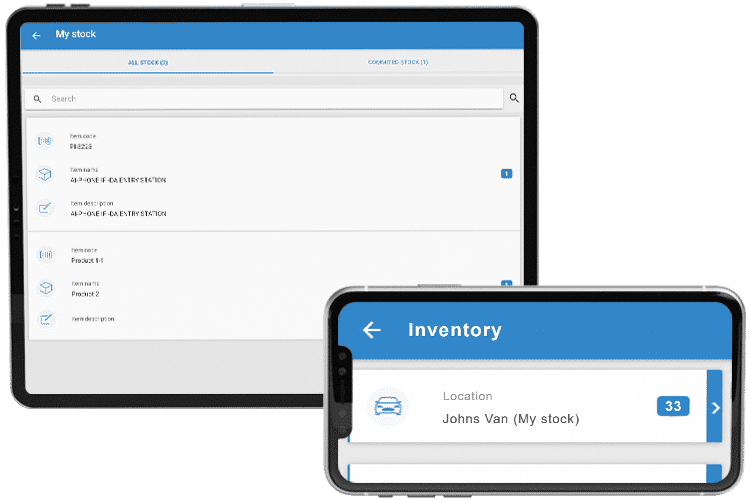 Easily Manage and Monitor Van Stock
When materials are allocated to a job, your admin staff can quickly see if the field operative assigned to the job has the necessary materials available in their van. If not, they can inform the operative to collect stock from your warehouse or a supplier should the warehouse be out of stock on an item. If your workers are running low, they can create orders from their mobile. The system keeps a full history of these orders. This gives them the freedom to replenish their van stock without having to wait for admin staff to mediate the order and collection or delivery process.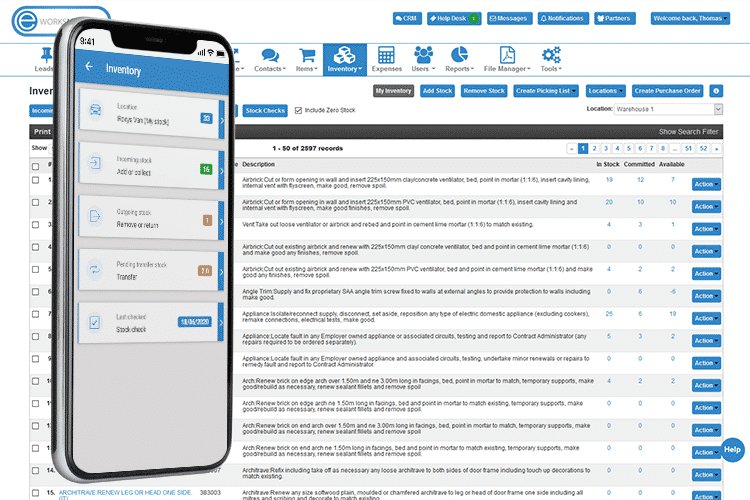 Processing Purchase Orders
Keep track of all Purchase Order information, whether you are ordering stock for a job or a location. With Eworks Manager's Inventory Management App, you can capture partial deliveries and Invoices from your suppliers, directly from your device. This ensures that you get all the stock you ordered and makes tracking ordered stock a lot easier.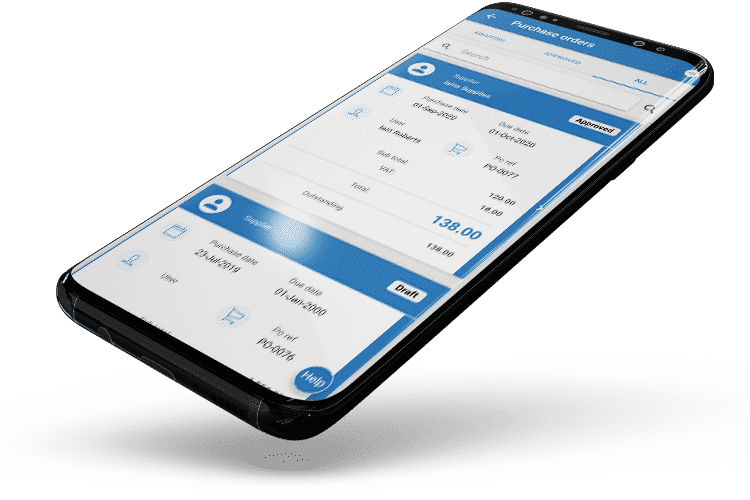 Move or Transfer Stock from One Location to The Next
As each stock item is added, transferred or collected from a location, it automatically adjusts each locations quantity. This removes the hassle of capturing every movement manually. When stock allocated to a job is not available in the worker's van, the system will automatically create a picking list for the worker to collect from their designated location. The office staff can quickly create picking lists to transfer stock from one location to another. Mobile stock management is an efficient way to carry out stock checks. Simply add your items and quantities, and once completed, any discrepancies can be pointed out.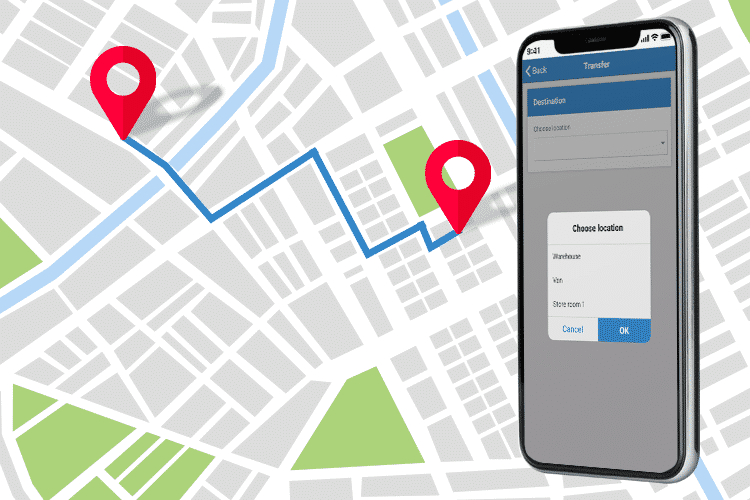 The Complete Business System
Some additional features that would benefit your business
Inventory Management App FAQs
1What is Mobile Inventory Software?
Mobile Inventory Software
will ensure you are reactive when it comes to over-ordering, under ordering and theft control, which in turn minimises your expenditure and allows for quicker turnaround time on your jobs. If you have a warehouse or a store that holds your stock and multiple workers out in the field, then our mobile stock management is the perfect tool for you!
2Will my employees have access to the Inventory?
Yes, your employees will be granted access to our Inventory Management App. If you work in an industry like plumbing, electrical, or even facilities management, your employees will likely spend their working days travelling between different jobs. You need a way to guarantee that your employees know what resources are available to them and our inventory tracker is the way to do it.
3How does an Inventory Management App work?
Our software is super-simple to use and can be introduced to both you and your employees through our inventory tracker app. You can use it for several different processes, including but not limited to tracking deliveries, creating work orders, and tracking sales performances. It is an invaluable tool which will give you a clear and current interpretation of your business.
4Is the App compatible with my device?
We have worked hard to ensure that our devices are compatible with any and all devices you may choose to use in your business. Our inventory tracker app is compatible with both iPads and iPhones, as well as with Android devices. The inventory control software can also be used on a computer so everyone can stay updated no matter what they are viewing the program from.
5Why should I opt for Inventory Management Software?
If you feel like you need a little more control over your stock and inventory, you should think about implementing our inventory management software. Since it covers much more beyond a stock inventory, it can also streamline other aspects of your business, leaving you to feel like you are in more control of everything overall. Decisions will be easier to make, and you will know that everything is running as efficiently as possible.