CRM or Customer Relationship Management refers to the methodologies in place in a business to manage customer relationships in an organised and efficient manner. CRM software is used to compile all customer information for use into gaining insight into current and prospective customers, by organising, automating and synchronising business processes such as customer services and data gathering.
CRM software from Eworks Manager allows you to keep all customer information  - from pertinent data to complaints and queries - in a secure, digital space, saving you time and allowing you to focus on more important aspects of your business.
It helps you to services and products that are more tailored to the needs of your customers, as well as efficient and organised responses and project management. Your staff and field operatives will also be able to respond to jobs timeously, as they will have full access to every piece of information about the customer and the job.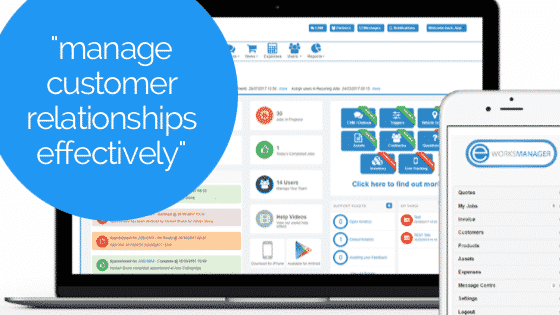 What are the advantages and disadvantages of CRM software?
While the advantages certainly outweigh the disadvantages of CRM software, it is vital to examine both when choosing a system to implement, as this will help you in deciding whether or not CRM software is the right decision for you.
Advantages of CRM Software:
You are able to manage all of your customer data in one place, on one platform, allowing workers to be more efficient by tracking customer history, and setting reminders for jobs, meetings or calls.
As your database grows, this software allows you to input all new and current customer data, growing with your business and saving time from having to re-enter old data and move new data into the system.
If there are automation capabilities, marketing to current and existing customers is as simple as sending out automated email and SMS campaigns.
Customer relationships are strengthened, as your staff will be able to answer any query and complete any job in a much quicker time frame.
By using CRM software, you are also able to find where improvements could be made in your business, with regard to job assignments, efficiency and more.
Disadvantages of CRM software:
Transitioning from manual customer relationship management techniques to digital can be a difficult and time-consuming process.
The possibility of your customer database being hacked may cause resistance amongst your sales staff or field operatives, but with safety measures in place, this is unlikely to happen.
Training your staff to use the system may take time and cost money, as you may have to hire a professional from the software provider's company to come and train you and your staff to use the various programs.
If the database is not correctly maintained or regularly updated, there can be data loss, which has a significant impact on many aspects of a business. Whether the updating has to be done manually or is Cloud-based, not keeping up the regular updating of data can result in a loss of information.
Some customers may feel that the "human element" is lost if a company relies too heavily on CRM software. This can affect customer satisfaction, which can in turn affect your income and profits.
CRM software for IT Companies
In the IT services industry, keeping track of the myriad of customers you deal with on a daily basis can seem an impossible task, but this can be remedied by an effective CRM system.
Implementing CRM software for IT companies has the following benefits:
Modern techniques with outstanding results: CRM software for IT companies allows the industry to move away from an old, complicated system of storing data, into a new and more modernised way of keeping track of everything. Our CRM software allows you to keep track of every piece of customer information, such as previous jobs performed for them, current jobs, their vital information as well as any complaints or queries they may have had, in one simple system.
Robust contact management: In the world of IT, everything is constantly changing, which means that any software system that you implement needs to be robust and able to operate smoothly, regardless of these changes. CRM also has to provide contact management for other parties that you may utilise, such as field operatives.
Easily and efficiently track customer history: Arguably the most important aspect of any CRM software, is its ability to accurately store and track customer data.
By doing this, you are able to quickly provide the correct IT assistance to any customer - such as a repeat client that has had similar issues in the past, or a company who has become a recurring client - as well as access any communication that they have had with you, in order to keep precise records of what jobs you have performed for them.
Communication throughout the office: IT companies often suffer from a lack of communication between employees, as many become absorbed in their tasks and forget to update customer and job information. By making use of E Works Manager's specialised job management software for IT companies, you can streamline the customer data entry process on a system that is constantly updated, so as not to lose any information.
Considering the above points, isn't it time to make the move toward a more organised and efficient business system? Your IT business will become more efficient and organised, with customers being more satisfied at your personalised service, rather than having simply been asked "Have you tried turning it off and on again?"