How can software help your electrical business grow while reducing wasted time, administrative time, and stress levels?
Eworks Manager's Electrical Engineering Software is an all-in-one job management software developed specifically for electrical engineering companies to help them communicate efficiently, improve efficiency, and gain a competitive position in the market.
Our software helps your electricians and office admin staff communicate better with each other and with customers and suppliers. It will help your business eliminate paperwork, and your team can make smarter scheduling decisions with the help of various planners and GPS tracking.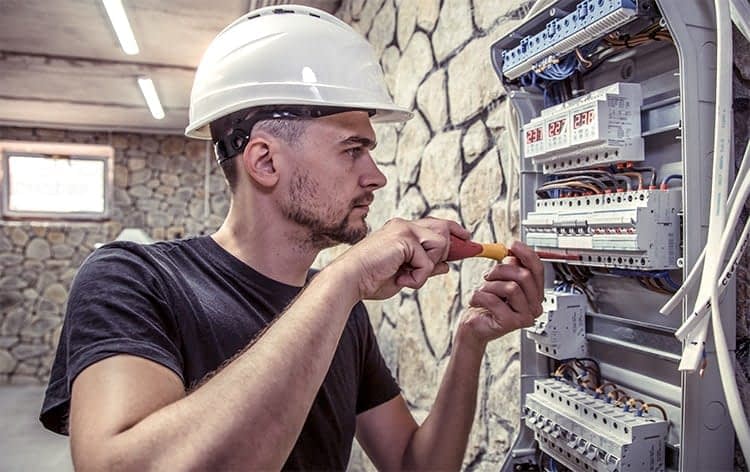 Why Eworks Manager's Electrical Engineering Software is One of the Best in the Market
Access it Anywhere, Anytime
Eworks Manager's Job Management Software is cloud-based, so you can access it anywhere. The admin staff can use the cloud-based platform to assign tasks to the electricians, and the electricians can use the cloud-based Job Scheduling App to get notifications regarding their assigned tasks.
Our Mobile App also works in Offline Mode using Offline Task Management Software, which means your technicians can still access their jobs and digital documents even when working in remote locations without an internet connection. Once your technicians regain a connection, the app will sync and update all the job information back to the system.
Assign Jobs to your Electricians Easily
You can easily schedule jobs by using electrical engineering software. You can find your workers' locations on the map and assign jobs to them using the drag and drop function.
Our system offers various features like the Smart or Auto Planning feature, the Time Planner feature, and Geo Planning feature that will assist you in assigning jobs to your electricians based on their live locations or their availability on the calendar. You can easily assign and manage jobs by using electrical engineering software.
View the Live Location of your Electricians
You can track your electricians by using the Live Mobile Tracking feature. Tracking enables you to view the location of electricians, helping you to easily assign jobs to them. Our system also offers a Vehicle Tracking Software feature, which allows you to record journey reports, driving behaviour reports, and much more.
Ensure All Tasks Are Executed Safely
Make sure that all of your electricians are following the safety and health protocols by using the Questionnaire feature. You can create a field service questionnaire and make it compulsory for your electricians to fill it out when they arrive on-site. Safe execution of tasks is necessary to make sure that none of your electricians are harmed during their jobs.
Manage Leads and Convert Them to Quotes
Capture and manage information and details of potential clients or business opportunities for your electrical company. It's never been easier to handle your leads, because our system offers a Lead Management System. You can turn eligible leads to quotes or quote clients immediately using our Online Quoting System, whether you're in the office or out in the field. Keep track of your quotes' statuses and convert approved quotes to jobs for easy scheduling.
Eliminate Paperwork
Our software helps you to get rid of paperwork by allowing your electricians to digitise paperwork into mobile documents, take photos, add notes and customer signatures on-site, helping them to sign off jobs without the need for paperwork.
Our system allows you to digitally store documents in one place, helping you to get rid of the paperwork. Your electricians can complete their electrical certificates on-site by using the mobile app.
Create and Manage Invoices Conveniently
You can quickly generate invoices by using our Invoice Management Software on the Mobile App or on the CMMS System. Your electricians can create mobile invoices so that they can immediately send them to the client as soon as a job is completed.