Manage Your Team and Assign All Your Jobs with Our Time Planner. For a 14-Day Free Trial, click here!
Work Scheduling Software - Effective Job Planning and Management of Your Mobile Workforce in the Field
Work Scheduling Software Designed to Manage and Streamline Your Field Service Business from Start to End.
Eworks Manager offers Work Scheduling Software for companies of all sizes. Whether you are big or small, 1-5 users or 100+ users, planning work across the board has never been simpler. Our Job Management System helps organize and manage your company's workload. It will even help you develop a better relationship with your customers as you will always know the status of a job and who is working on it.
When reactive jobs come in, you will be able to view who is available and who is the closest to the job using our Geo Planner, and then assign the job to the selected worker. You will be notified if your worker has accepted or declined the job, and then be able to check the progress of the job throughout, giving you peace of mind.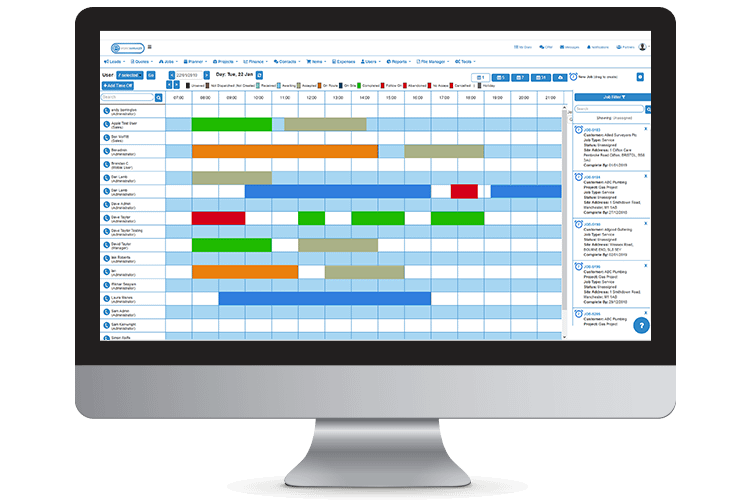 Organise Team Schedules with our Time Planner
Eworks Manager offers a virtual whiteboard called the Time Planner, a simple and beneficial feature in which you can have full control over all your jobs and workers out in the field. By using the simple drag and drop method, this planner can also help you organise your jobs.
Drag one of your unassigned jobs displayed in the planner and drop it into an open slot. Once placed there you can then click and hold the edge of the 'job box' to change the time range of the job and click save so the job gets assigned. This is a great way to allocate jobs as you can see right in front of you, what members of staff are available and work around their diaries.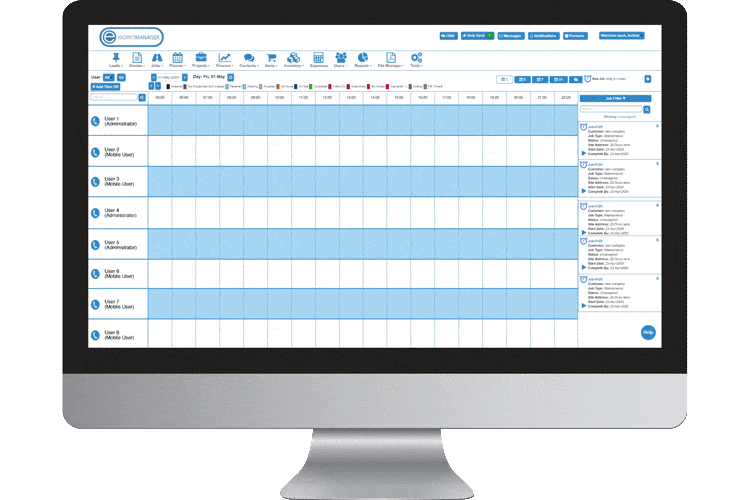 Sync Calendars between the Admin System & Mobile App
Mobile workers using the Eworks Manager Mobile App can sync their work schedules with their calendar. The app will show the jobs that have been scheduled for them. Data pulled from the job scheduler to the calendar includes the job number, job times, the customer's details and the current status of their appointment. Your team will have an overview of the jobs they have ahead of them.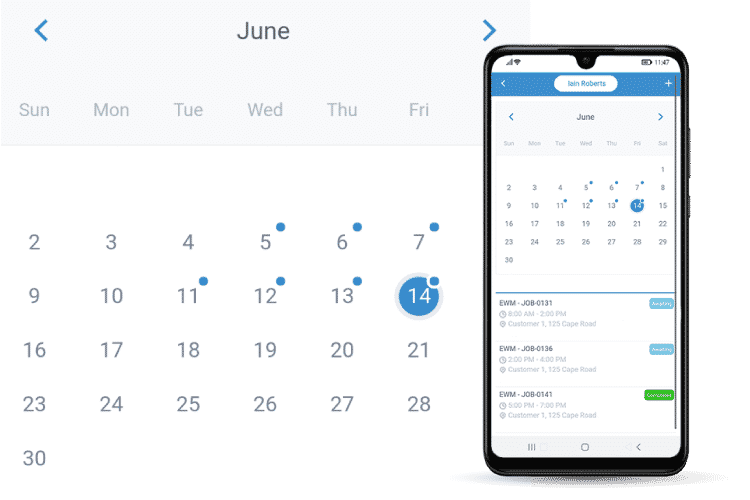 Assign Jobs to the Closest Available Worker
Our Geo Planner lets you view the live location of workers out in the field. When a new job comes in, your office staff can quickly allocate the job to the closest and next available mobile worker. This feature will also make sure you are assigning jobs the most efficient and economical way possible.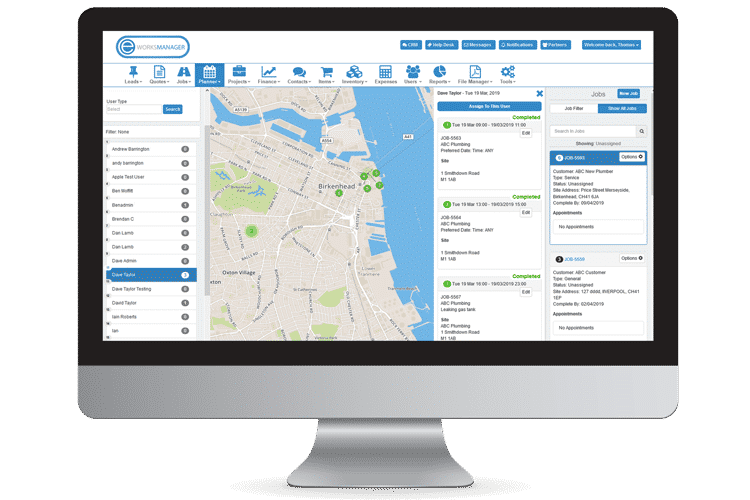 Real-Time Updates on Job Progress
Eworks Manager's Live Panel displays a live feed of your team's job progress and job statuses. Designated admin staff can authorise jobs from the system and send projects for invoicing. The system guarantees that jobs are never forgotten about or lost because you no longer have to wait for workers to bring the job sheets back to the office.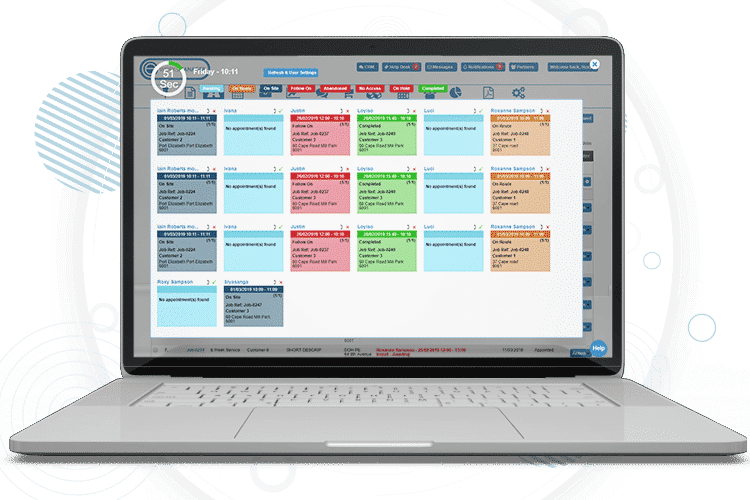 The Complete Business System
Some additional features that would benefit your business
Work Scheduling Software FAQs
1Do you offer a Mobile App?
Yes we do! Eworks Manager has a fantastic Mobile App that integrates with our system. Our Job Scheduling App was designed for businesses with staff members who are working in the field and need their job cards and mobile documents on hand with them.
The Mobile App eliminates the use of paperwork in the field, and automatically syncs with our Job Management System. Your admin staff can easily communicate with your team in the field, as well as keep updated with active jobs in the field.
2What is a work schedule used for?
A work schedule is used for the day-to-day operation of many businesses, e.g. retail stores; manufacturing facilities; trades and field service businesses. An effective work schedule considers the needs of all stakeholders such as management, employees and customers.
With Eworks Manager, your schedules are digitised and show every job booked for each day, so that your staff always know exactly what jobs are planned for each day.
3What types of business can benefit from scheduling software?
Several industries can benefit Eworks Manager's Work Scheduling Software, including:
Field Service businesses
Gas Engineers
Electricians
Plumbing
Construction
Manufacturing and Industrial Maintenance
Trucking and Fleets