Implementing an automated tool like Facility Management Software that enables full mobility is critical as a business owner, especially in the facilities management industry, where mobility and management are essential.
Eworks Manager helps you plan and manage jobs, create recurring jobs, track your employees, and monitor job progress.
How Can Eworks Manager's Facility Management Software Improve your Facility Management Business?
Assign Jobs to your Field Workers
Our Task Management Software assists you in scheduling and managing your jobs. Using our Staff Scheduling Time Planner feature, you can delegate jobs to your employees.
Our system helps you find out who is available for a new job, and then by using the drag-and-drop function, you can easily assign the job to the available worker by dropping the job into the worker's calendar. Once the job has been assigned, our Task Management Software helps you to stay informed on all job progress, as your team can update the status of their job from our Mobile Job Scheduling App.
Streamline your Workflow by Creating Recurring Jobs
You can use our Work Scheduling Software to create and manage recurring jobs. You can set your jobs to recur every day, week, or month by choosing a specific recurrence rule. Once you have set up the job and the recurrence rule, our system will use that recurrence rule to add the jobs to your calendar automatically. The automatic generation of jobs will help you optimise business operations and set up recurring maintenance against multiple sites and assets.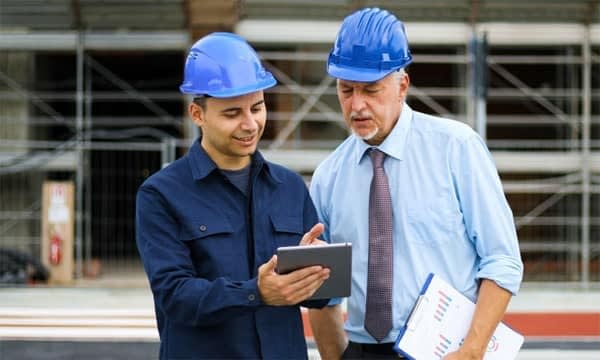 Track and Monitor your Team in Real-Time
Our Facility Management Software allows you to track the progress of your jobs at multiple sites and monitor your team's productivity. Our Work Scheduling Software helps you to track and monitor your workers in real-time. You can check the locations of your workers and the progress of their jobs via the Live Mobile Tracking system.
Our software provides a central platform from which you can easily and efficiently manage all of your business activities. Managing several projects from different systems and using paperwork instead of one single system often causes confusion and increases errors. You can minimise the chances of errors by switching to facility management software as it can simplify the management of your Facility Management business by providing a centralised interface to manage everything.
Improve the Tracking and Management of your Assets
You can find it tedious and time-consuming to monitor and maintain your properties using spreadsheets and other manual methods. Eworks Manager allows you to effectively keep a full history of your assets and their movements while still saving your valuable time that could be spent on other important tasks.
Using our Asset Management Software feature, you can conveniently track and manage all of your company's and your customers' assets. Eworks Manager's Mobile Assets feature allows you to manage your assets from your mobile devices. This feature is very convenient for your team members who are constantly on the move because they can quickly add data about particular assets from anywhere via the Eworks Manager Mobile App.
---
The Eworks Manager's Facility Management Software is an all-in-one management solution that can help you to maximise the productivity of your Facility Management business. Try our software for a 14-day free trial!